Deployment day is here and it's time to get your new remote branch up and running. Months of planning and preparation have gone into this project to ensure that everything goes smoothly. All of the vendors have been scheduled and the latest dry run went off without a hitch, so everyone is feeling confident. The phase two team is standing by and ready to move in as soon as the network is up and running. With such strict deadlines, any setbacks will cause a ripple effect that could severely impact the project deadline and cause a loss of revenue.
The Pressure is On
As the deployment is progressing, the tech from your Internet Service Provider ( ISP) seems to be having difficulties bringing up the internet connection. After further troubleshooting, they let you know that there is a problem with the equipment and they won't be able to complete their portion until the next business day. Without network connectivity the deployment will need to be postponed, thus setting everything back and causing a huge problem for all of the other teams. With so much on the line this simply is not an option, but what can you do without an active internet connection?
Be the Hero
Planning for the unexpected is crucial for any pre-deployment planning and testing. With so many parties involved and multiple vendors on call, even minor issues can lead to large amounts of wasted time and money. Luckily, you did your homework and chose the solution with a backup plan, so you're ready to handle anything this deployment can throw at you.
Introducing Bluetooth Pairing for Nodegrid
ZPE System's Nodegrid comes ready to go right out of the box with no pre-configuration required on the unit itself. Simply unbox the unit and power it on; you don't even need to connect it to your local network to get started. No local internet connection? No problem!
Connecting Nodegrid via Bluetooth® to a cell phone is simple: The new Nodegrid device is powered on (no screen or keyboard required)
On a cell phone, Nodegrid will show up as an available device within Bluetooth® settings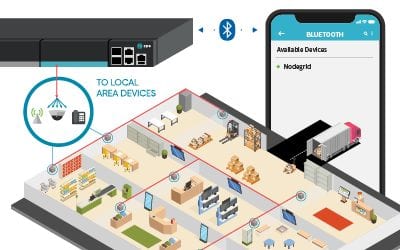 After just a few taps, Nodegrid goes live and automatically connects to the ZPE Cloud. There, all of your saved configurations are ready and waiting to be downloaded to your new device. Once configured, your device is now secure and ready to unlock the full potential of the Nodegrid Platform. Just plug Nodegrid into your network and allow it to serve as a temporary gateway for your other connected devices. Within minutes, your internet connection is established and you're back on track to finish on time, as expected.
Instant Reset
With Nodegrid, resetting and restarting the process is just a click away. Simply press the factory reset button and start with a clean slate, anytime, at any location. Less worry, more convenience.
As Easy as it Gets
With ZPE Systems Nodegrid, provisioning has never been easier and more reliable. From Zero Touch Provisioning (ZTP), to automation via deployment scripts and more, your new remote branch is ready in no time with minimal on-site resources required. Combined with ZPE Cloud, provisioning is fast, secure, and consistent across your entire network. Once up and running, Nodegrid's 360° network visibility allows your team to monitor and maintain all of your connected devices from one easy to use, vendor neutral platform.
Ready to take your network to the next level?
For more information on ZPE's full product line, please visit our products page.
Have a specific question or want to experience a live demonstration for yourself?
Reach out to us via our Contact page. We're here for you!