ISP Network Infrastructure Solutions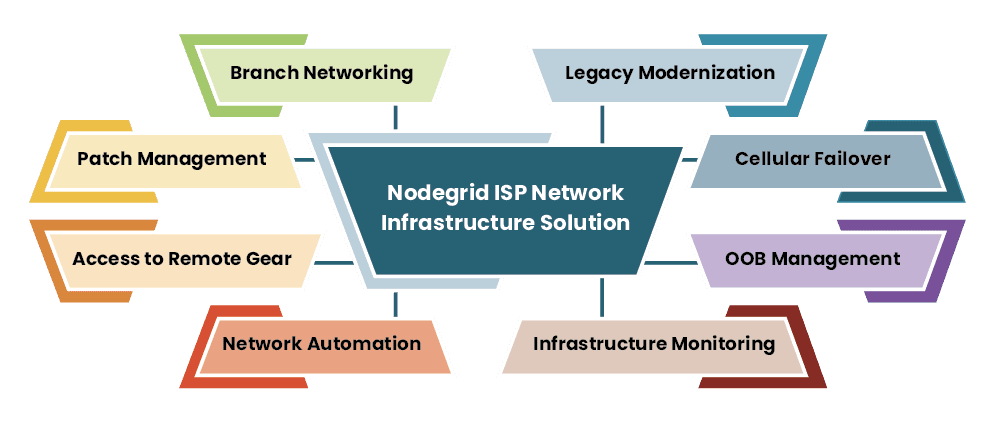 Nodegrid delivers unified visibility, 24/7 availability, and end-to-end automation for ISP network infrastructure, no matter how distributed or complex. Deploy Nodegrid at data centers, regional offices, and customer sites to gain remote access to every piece of gear from a single, centralized platform.
Solving ISP network infrastructure challenges with ZPE Systems
| | |
| --- | --- |
| The challenge: | ZPE's solution: |
| Supporting a complex infrastructure is difficult when there are so many moving parts and potential points of failure. | Vendor-neutral, all-in-one networking solutions that simplify infrastructure and unify remote management. |
| Unpatched, out-of-date software is a major security risk, but staying on top of patch schedules at so many sites is difficult. | Centralized infrastructure monitoring and automated patch management with a vendor-neutral platform. |
| ISP network configurations are complex and prone to human error, which leads to outages and security breaches. | An isolated, out-of-band (OOB) management plane that enables automation and the ability to revert from mistakes. |
| Tech dispatches to fix remote infrastructure issues often involve lengthy travel, extending the duration of downtime. | OOB management with jumpbox functionality so techs have continuous access to remote infrastructure and tools even during network outages. |
| Downtime must be avoided to meet customer SLAs, even in rural areas with limited telecom infrastructure. | Cellular failover for the production network to provide a seamless customer experience while techs troubleshoot outages. |
| To support automation, legacy systems must be updated across the architecture, which is time-consuming and costly. | The Nodegrid OS with multi-vendor support to extend automation to otherwise unsupported legacy devices. |
Ensure 24/7 remote management access with Nodegrid out-of-band (OOB) management solutions
When a site goes down in a rural area, getting a tech on-site to start troubleshooting can take hours, making it very difficult to meet customer SLAs (service level agreements). Nodegrid OOB management solutions use secondary network interfaces (such as a dual-SIM 5G cellular modem) to provide a dedicated management path to remote network infrastructure. Using Nodegrid OOB, administrators have continuous remote access to all gear at a site, even when the primary internet connection or local network goes down.
That 5G interface can also be configured to provide cellular failover for the production network, keeping services online while techs resolve the underlying issue. Plus, Nodegrid's vendor-neutral hardware can directly host the custom scripts or third-party applications your technicians use to diagnose and repair issues, ensuring they always have access to their toolkit even when the site is cut off from the rest of the network. That means most outages can be resolved remotely, saving precious time and improving customer satisfaction.
Learn more about out-of-band (OOB) management:
Gain end-to-end automated control over legacy, modern, and mixed-vendor infrastructure
ISP networks are only getting larger and more complex over time, so the only way for administrators to keep up is with automation. However, with so many legacy and mixed-vendor systems deployed around the networks, it can be challenging to get complete automation coverage, leaving gaps and inefficiencies. Not only can Nodegrid's vendor-neutral hardware directly host your third-party or custom automation tools, but it's able to dig its hooks into every single device on the network. This allows you to extend automation to every nook and cranny of your infrastructure for complete, end-to-end control.
Streamlined ISP network management with Nodegrid
ISP network architectures are highly complex, with many moving parts that could fail and bring customers offline if not managed properly. Some examples include customer premises equipment (CPE), high performance core and edge routers, and last-mile connection technology. In addition, teams must keep these various systems and devices up-to-date so cybercriminals don't exploit vulnerabilities.
The Nodegrid ISP network infrastructure solution from ZPE Systems is a vendor-neutral platform that unifies infrastructure management behind a single pane of glass. One Nodegrid box can deliver branch routing, switching, serial console management, jumpbox capabilities, cellular failover, and more to combine up to nine functions and significantly reduce the tech stack at each remote site. By simplifying your remote deployments, you reduce the potential points of failure while improving remote management efficiency.
The Nodegrid ISP network infrastructure solution from ZPE Systems delivers streamlined management, 24/7 connectivity, and end-to-end automation coverage.
Contact ZPE Systems to learn more.