MSP Network Monitoring Platform
The vendor-neutral Nodegrid MSP network monitoring platform from ZPE Systems delivers consolidated, unified management and orchestration to streamline operations and ensure 24/7 availability.
Solving MSP network monitoring challenges with ZPE Systems
| | |
| --- | --- |
| The challenge: | ZPE's solution: |
| A lot of expense and management complexity is created by deploying all the hardware and software needed to host management tools and deliver services to the customer. | The vendor-neutral Services Delivery Platform consolidates management, networking, and more by directly hosting third-party and custom applications. |
| There's a high risk of human error and management inefficiencies due to the scale and complexity of customer infrastructure managed by MSPs. | ZPE's cloud-based or on-premises management software supports automation through built-in workflows, custom scripts, and third-party integrations with your choice of automation tools. |
| When failures or ISP outages cause network downtime, monitoring tools lose their ability to report back to remote admins which hampers recovery efforts and leads to more truck rolls. | ZPE's Nodegrid devices provide cellular failover and Gen 3 out-of-band management over 5G/4G LTE to ensure 24/7 availability and seamless remote access. |
| It's difficult for MSPs to get the holistic overview required to prevent issues from falling between the crack because they manage so many different tools, configurations, vendor solutions, and automated workflows. | The vendor-neutral Nodegrid platform provides holistic coverage which enables MSPs to take a proactive approach, reduce the tech stack, and streamline operations by unifying network monitoring, management, and orchestration behind a single pane of glass. |
The benefits of MSP network monitoring with ZPE Systems & Nodegrid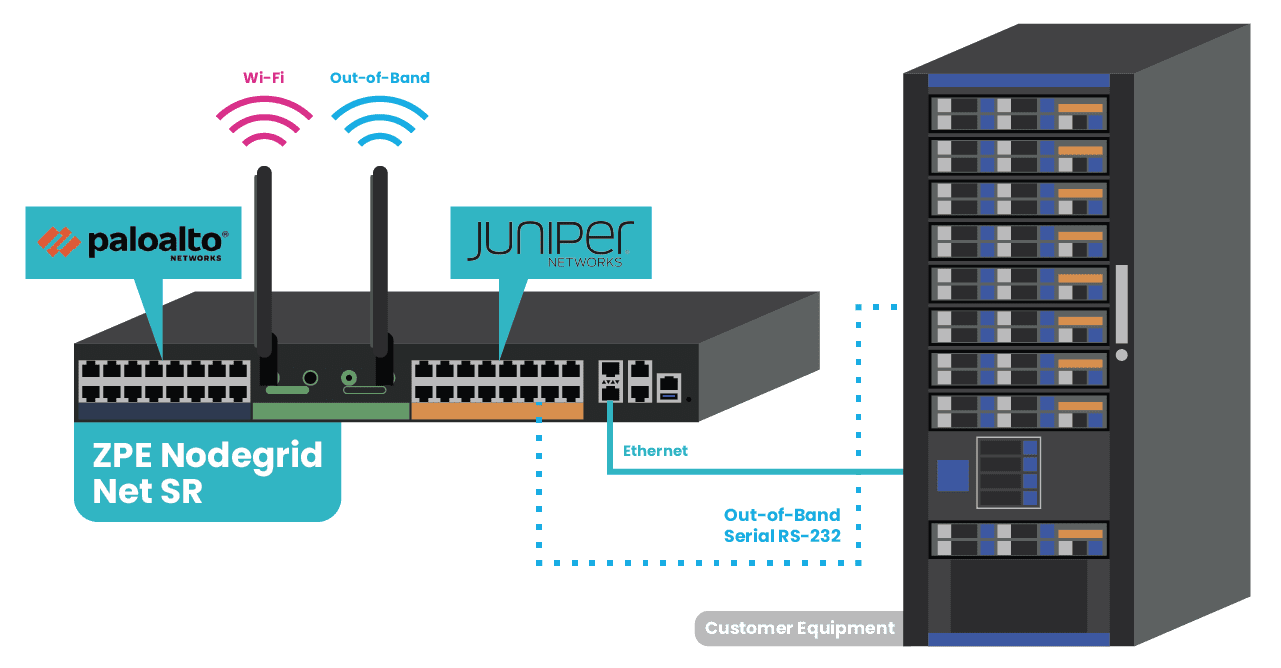 End-to-end network automation – Nodegrid hardware and software are completely vendor-neutral, allowing you to host or integrate your choice of automation tools and even extend that automation to connected end devices.
24/7 remote availability – Nodegrid's Gen 3 OOB management uses 5G/4G LTE to provide an alternative path to remote infrastructure in case the LAN, WAN, or ISP goes down, ensuring MSPs always have access to identify, troubleshoot, and recover from problems.
Seamless customer experience – Nodegrid's cellular module also provides network failover capabilities to keep critical resources online, using high-speed 5G/4G LTE to limit the performance impact on customers and end-users.
Unified network orchestration – The Nodegrid platform brings all your various tools, solutions, and workflows under a single management umbrella, giving MSPs one pane of glass from which to observe, deploy, and orchestrate all the moving parts across the entire network architecture.
Consolidated MSP networking – With ZPE's Services Delivery Platform, you can directly host monitoring solutions, SD-WAN, next-generation firewalls (NGFW), and more on the same device that delivers out-of-band management, in-band networking, cellular failover, and even Wi-Fi.
How MSPs deploy Nodegrid
The European Business Reiliance Center (EBRC) is a managed service provider working with organizations in finance, healthcare, security, and other industries. They turned to Nodegrid out-of-band because they needed tools in place to prevent downtime and disruptions so they could meet SLAs. Learn more about How Nodegrid's Out-of-Band Eliminated EBRC's Single Points of Failure.
Nodegrid Net SR
The Nodegrid Net Services Router (NSR) is a modular solution that's customizable and scalable to handle any size or type of deployment. With expansions for additional port configurations, computing power, storage, or cellular/Wi-Fi/SATA, as well as the ability to run third-party applications and Docker containers, you can use the NSR to build a bespoke MSP multi-tool that provides all the functionality you need in a single package.
Nodegrid Gate SR
The Nodegrid Gate SR is a powerful network management solution that connects to dozens of assets without taking up rack space. Deploy the Gate SR at branch locations, edge data centers, or any remote site that needs all-in-one networking with a smaller footprint.
Learn more about MSP network monitoring with the Gate SR in this product overview video:
Environmental monitoring sensors
Nodegrid's environmental monitoring sensors collect valuable data about conditions in remote data centers and other customer sites. Nodegrid sensors monitor airflow, temperature and humidity, particulates, smoke, and proximity, giving MSPs a virtual presence so they can respond to changing conditions before they cause failures or downtime.
Ready to see how Nodegrid can help you
deploy, manage, and simplify MSP network monitoring?
The Nodegrid MSP network monitoring platform from ZPE Systems delivers streamlined management, holistic coverage, and 24/7 remote access through consolidated, vendor-neutral solutions. Contact ZPE Systems to learn more.