Simplify your branch infrastructure
for smooth network management
Your distributed network doesn't have to hold you back.
Nodegrid's vendor-neutral software, virtualization capabilities, & all-in-one devices simplify management, for branch networking without the costs or headaches.
Get intuitive control built into branch networking
Your branch networks should be in tune with your needs. That's why Nodegrid simplifies your infrastructure. Get vendor-neutral management, virtualization, & consolidation for intuitive branch control. Scroll or use the menu for details.
Unify your physical & virtual solutions under one vendor-neutral platform
Nodegrid's vendor-neutral software gives you one clean management interface. With normalized controls, you no longer need to sort through a mess of UIs, and can fill in gaps between legacy & modern features. It's networking tailored to your business.
Deploy custom-fit virtualization
with application hosting & VNFs
Get the flexibility you need with all-in-one devices. Nodegrid features guest OS, application hosting, & virtualized network functions so you can deploy right-fit uCPE & vCPE solutions. Set up your environment for simple & efficient branch management.
Trim CAPEX, OPEX, & staff fatigue using a consolidated branch infrastructure
Nodegrid's all-in-one devices cut your stack for lower CAPEX & deployment costs. Use a single appliance to access your infrastructure, with an intuitive interface that puts everything at your fingertips. Watch OPEX fall thanks to support that's quick & easy.
Get business-friendly branch networking
ZPE Systems' Nodegrid consolidates & virtualizes branch networking, with vendor-neutral software that makes management simple.
Click the button below to set up a free demo.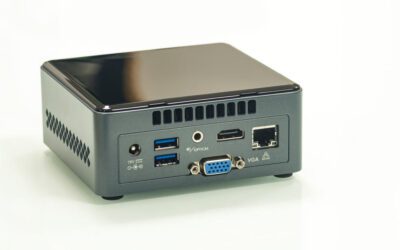 The Intel NUC, or "Next Unit of Computing," is a small, appliance-like minicomputer that's widely used across a variety of industries and applications. They're tiny and relatively inexpensive, so...
read more