Campus Network Architecture Solutions
The Nodegrid platform addresses the unique pain points and requirements of campus networking. Deploy Nodegrid campus network architecture solutions to bridge the gap between legacy systems and modern requirements, integrate IoT and automation, and centralize control of distributed heterogeneous and specialty infrastructure.

Centralized management of modern, legacy, and mixed-vendor infrastructure across the entire university system from a single pane of glass.

All-in-one networking and control of IoT deployments in remote or cramped spaces like laboratories and field research sites.

Unified orchestration of MDFs (main distribution frames), security appliances, networking equipment, and other infrastructure in a modular solution.
Solving campus network challenges with ZPE Systems
| | |
| --- | --- |
| The challenge: | ZPE's solution: |
| Management is tedious and time-consuming because campus networks are distributed with a complex mix of modern and legacy infrastructure. | A vendor-neutral network orchestration platform that connects to legacy and modern solutions to eliminate complexity, saving IT teams time and effort by making management centralized and efficient. |
| IoT devices and applications require network connectivity but are often deployed in remote, outdoor areas like farms and sports facilities. | Tiny, all-in-one devices with 5G/4G LTE to provide network access, out-of-band (OOB) management, and edge computing anywhere on campus without increased hardware overhead or management complexity. |
| It's hard to efficiently control a complex campus network with multiple MDFs and many different networking and security solutions. | Modular campus networking solutions customizable with extra ports, additional storage or CPU power, cellular modules, and more to unify campus control and improve operational efficiency. |
| Maintaining and troubleshooting campus networks requires a lot of travel time for IT teams which decreases efficiency and increases the duration of outages and hardware failures. | Remote out-of-band (OOB) management using 4G/5G-enabled serial consoles to ensure 24/7 remote access to campus network infrastructure, improving management efficiency and decreasing the mean-time-to-resolution (MTTR). |
Contact us today to learn more about solving your networking challenges with ZPE's campus network architecture solutions.
Unified automation and orchestration of mixed-vendor infrastructure
Higher education networks often include a lot of old or outdated equipment that's too expensive, time-consuming, and disruptive to replace. In addition, different campuses in the university system may use infrastructure from different vendors, and interoperability is very challenging. That means network administrators are left juggling multiple management platforms and cannot gain a complete overview of the entire architecture.
The Nodegrid platform from ZPE Systems centralizes your current scripting, automation, visibility, and control over every component of your heterogeneous network environment. Nodegrid's vendor-neutral serial console servers and integrated branch routers connect to any solution on your network to bring them all under one management umbrella. Nodegrid's software platform, available as an on-premises or cloud-managed solution, gives administrators centralized and isolated control of management and maintenance over the entire network architecture in a secure, streamlined, and efficient management.
Increase network resilience and management efficiency
Campus networks can be as large, complex, and geographically distributed as large enterprise networks, but they rarely have the technology budget to match. Small campus IT teams may need to manage tens of thousands of devices located all over the state, requiring frequent travel and lengthy on-site visits. When a network or service outage occurs, it can take hours for a tech to arrive and begin troubleshooting, significantly increasing the duration and impact of the interruption.
Nodegrid's out-of-band (OOB) serial console solutions provide 24/7 remote management access to campus network architectures from anywhere in the world. Nodegrid uses 4G/5G LTE cellular to create a dedicated path to remote infrastructure that doesn't rely on the primary WAN or LAN. This dedicated control plane is accessible even during equipment failures and outages that bring down campus internet access, so teams can perform recovery operations without traveling on-site. Nodegrid increases management efficiency by reducing the frequency of site visits while minimizing the duration and impact of service outages.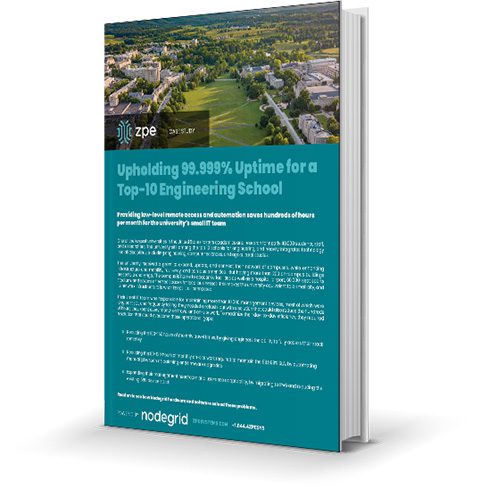 Customizable campus network architecture solutions
Campus networks have many moving parts, with multiple MDFs, a variety of security solutions, and a lot of specialized infrastructure. Every campus network is different, so a one-size-fits-all management platform likely won't provide all the functionality you need or cover your entire network architecture. This is why so many campus network admins are left struggling to maintain a bloated patchwork of solutions, making efficiency impossible.
The Nodegrid family of campus network architecture solutions includes a wide range of serial consoles and integrated services routers with a variety of port configurations, storage capacity, and compute power. Nodegrid provides customizable fixed form-factor and modular form-factor solutions so you can create a bespoke network management platform that fits your unique campus deployment. Instead of juggling many different solutions, admins get a single streamlined management experience for improved operational efficiency.
Watch a free demo of the Nodegrid campus network architecture solution.
The Nodegrid platform from ZPE Systems delivers consolidated campus networking with unified management, 5G capabilities, and customizable solutions. Contact ZPE Systems to learn more about Nodegrid campus network architecture solutions.