Healthcare Network Solutions
Resilience is critical in healthcare organizations. A resilient healthcare network provides continuous business operation with minimal disruption, rapid recovery when failure does occur, and the ability to scale to meet rapid or unpredictable demands. Nodegrid secure healthcare network solutions deliver resilience through:
Full-stack networking with software-defined overlay and underlay
Full compute capabilities for containers and VMs
Ample storage for recovery and content delivery
Automation to minimize human error and streamline recovery
Drop Nodegrid's network solutions into any architecture to instantly gain Zero Trust, 5G cellular failover, out-of-band (OOB) management, and secure delivery. Nodegrid also enables healthcare providers to create an isolated management infrastructure (IMI) to get full transparency and control of security, resilience, and compliance across their entire network architecture.
Solving healthcare networking challenges with ZPE Systems
| | |
| --- | --- |
| The challenge: | ZPE's solution: |
| MDIoT, remote branches, and large campus facilities make it hard to maintain diverse infrastructures at scale without human error. | All-in-one solutions providing unified access and automated control of your current stack in every site across the entire architecture from a single platform. |
| Managing patch schedules for so many remote systems is difficult, leaving vulnerabilities open. | Centralized infrastructure monitoring with automatic patch management for multi-vendor devices. |
| Healthcare regulations like HIPAA place a greater burden on network teams keep systems secure and private while maintaining transparency through robust logging. | Network solutions providing centralized security monitoring, automation, secure reporting, log collection, and management to aid in data governance and compliance. |
| Equipment failures, ISP outages, and security breaches make it hard to maintain the 24/7 availability required for critical healthcare systems. | IMI, network failover, and out-of-band (OOB) management ensure seamless network access for users and administrators in strenuous scenarios. |
Contact us today to learn more about solving your networking challenges with ZPE's healthcare network solutions.
How to build a resilient healthcare network with Nodegrid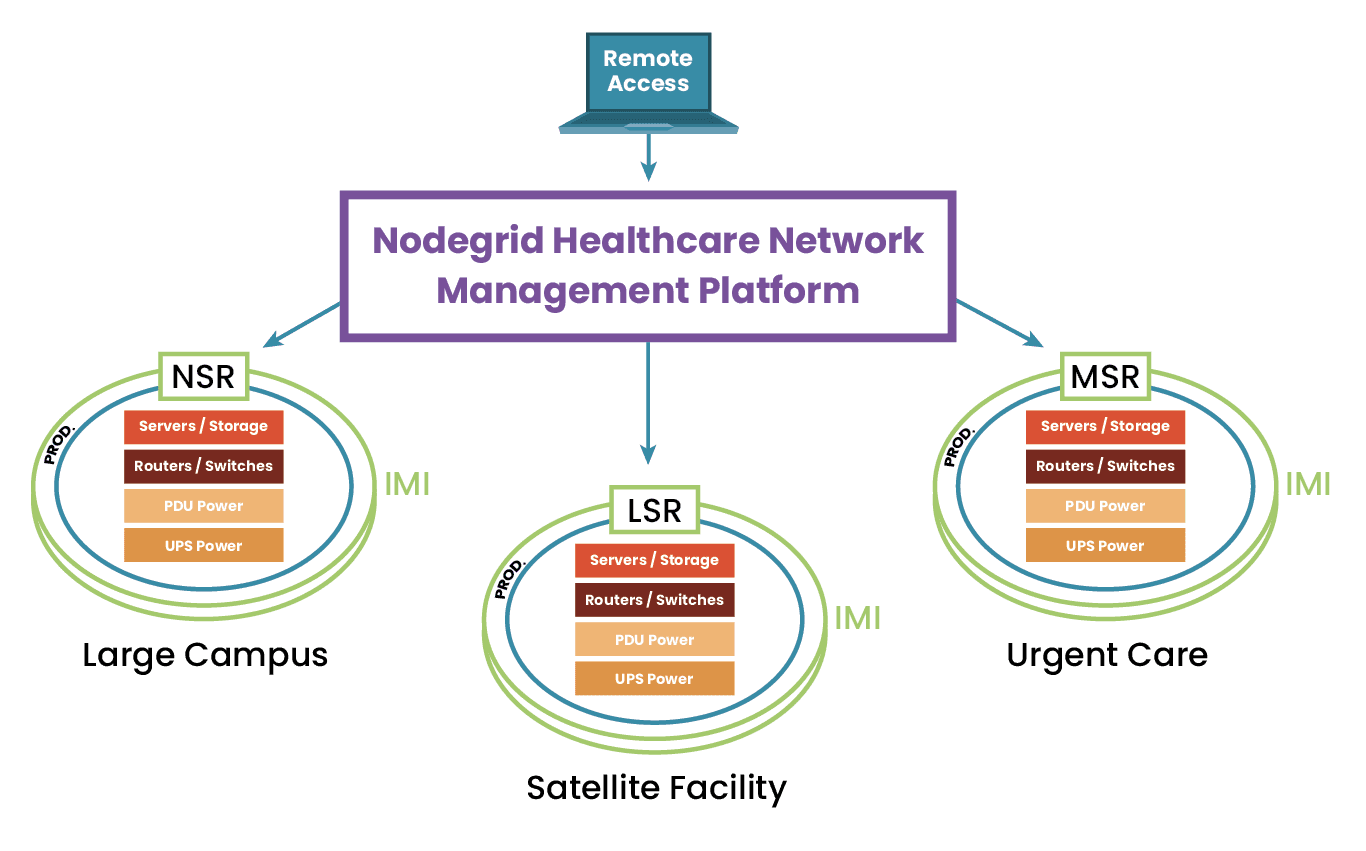 Healthcare network automation and control
Human error is a major risk to patient safety, data security, and network resilience. Automation mitigates this risk while enabling organizations to streamline infrastructure maintenance to extend the lifetime of critical equipment. The vendor-neutral Nodegrid platform simplifies network automation by extending automated control to every device in a diverse healthcare network. Nodegrid even hosts third-party and custom applications so you can run automated tools without additional hardware overhead, improving efficiency and decreasing management complexity.
Doing more with less
Remote IoT (internet of things) medical devices, such as pacemakers, insulin pumps, and heart rate monitors, generate a lot of data. Moving that data to a cloud or on-premises software application adds latency and increases the chances that data will be intercepted in transit. Edge computing for healthcare solves this problem by moving software applications closer to the network's edge where data is generated, significantly reducing latency and simplifying security. ZPE's Nodegrid solution simplifies healthcare edge computing by providing a completely open, vendor-neutral platform that can manage or host any other solution on the network. Nodegrid's network edge routers run the Linux-based Nodegrid OS and have powerful computing and storage options to run third-party healthcare applications. Plus, these devices are protected by robust hardware and software security features, including integrations with SAML 2.0 authentication providers like Ping and Okta.
Adding security & resilience to healthcare networks
Isolated management infrastructure, isolated recovery environments, and automated tools for remediation and recovery are game-changers in the medical field. This technology ensures that admins have a dedicated environment in which to rebuild and restore critical services during a ransomware attack, network degradation, or operational disaster. Nodegrid is the perfect platform to build isolated environments because it combines network functionality with OOB management and automated tool hosting, significantly reducing hardware costs and providing a unified portal for recovery management.
The Nodegrid platform of healthcare network solutions ensures the performance, security, efficiency, and reliability of healthcare networks.