RSA Conference – April 24-27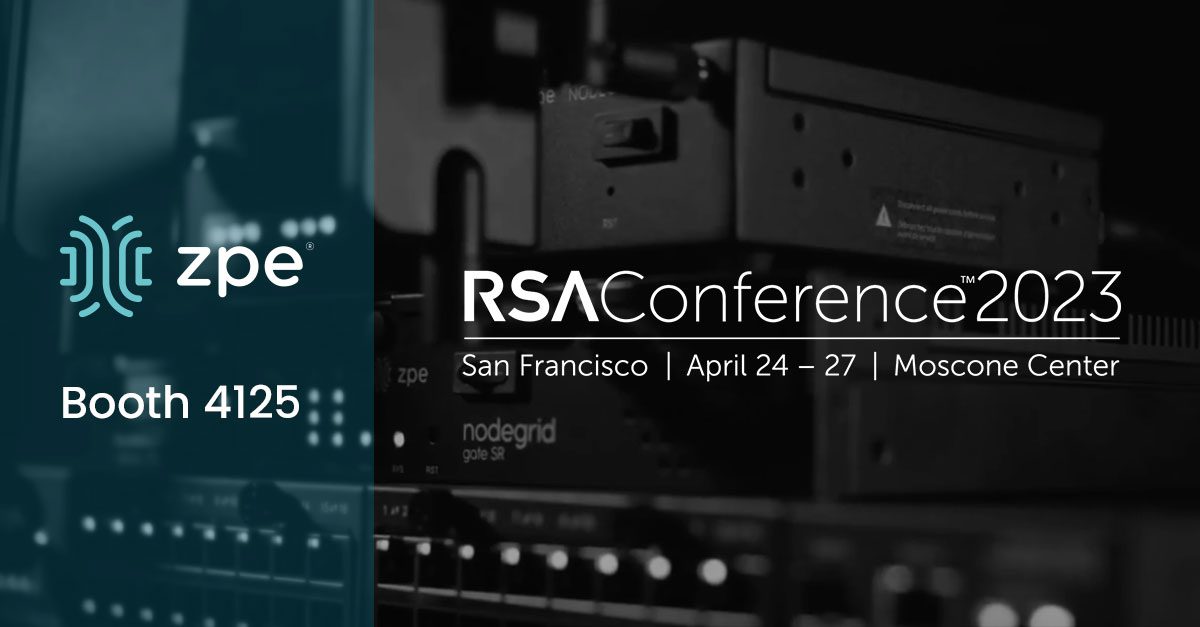 ZPE Systems is proud to sponsor the RSA Conference!
Join ZPE Systems for RSA, the world's largest security conference. Come to booth 4125 to get hands-on with our automated ransomware defense, Services Delivery Platform, and OT cloaking solutions. See why 6 of 10 tech giants and 3 of 5 top European banks trust ZPE for:
Sealing out ransomware through automated infrastructure patching
Hosting every app, everywhere, all at once on our Services Delivery Platform
Removing OT from the attack surface with nano segmentation
Use the form to set up a meeting. Join us at our booth 4125 near the South Hall to learn more and get your chance to win fabulous prizes, like a Playstation 5!
Set up a 1-on-1 with a ZPE Systems Team Member
Get your free expo pass to the RSA Conference
Use code 52EZPESYSXPto get your expo free pass. Head to the RSA registration page to register now.
Seal out ransomware with automated patching
Patching keeps ransomware out, but also risks breaking infrastructure. Take the anxiety out of Friday-night upgrades with automated patching via separate control plane — a best practice recommended by Gartner and in use by Big Tech.
Orchestrate complex ops on the Services Delivery Platform
Security means using hundreds of different products, which adds complexity & attack surface. Stop this ops nightmare with ZPE's Services Delivery Platform, which simplifies orchestration so you can deploy the services you need, anywhere, at any time.
Become invisible to attackers with OT nano segmentation
Attackers target OT devices, since they make up 50% of a company's gear and lack built-in security. See how to remove OT from the attack surface using the Mini SR, which hosts security apps & sets up an overlay network to fully cloak devices.
Join ZPE Systems' Ecosystem Partners at RSA Conference
About ZPE Systems and Atsign

ZPE Systems and Atsign joint solutions will enable organizations to safely and efficiently manage network infrastructure worldwide. ZPE customers will have access to comprehensive network management and security features, including advanced authentication and access control, centralized management of user accounts, and real-time monitoring and alerting. All this is available without any open ports (including port 22!) or static IP addresses.
Join Atsign at the ZPE Systems booth (4125) Tuesday through Thursday from 10:00 AM to 12:00 PM for live demos.

Atsign created the open-source protocol, a new Internet protocol that allows for the secure exchange of information between known endpoints. It guarantees security via end-to-end encryption, with the keys cut on the requisite devices, right at the edge. For IoT, it removes the need for static IPs and VPNs, allows for data exchange without firewalls, and lets you remotely access devices without the device having any open ports. Pretty neat, right?