In recent years, SD-WAN has addressed enterprise networking challenges by virtualizing the components of traditional WANs. This software-defined approach offers greater reliability by using augmented connection types, improved traffic routing through increased network transparency, and added security over broadband pathways. In all, SD-WAN provides more operational agility thanks to simple, centralized network management that allows you to remotely view and control WANs. However, traditional SD-WAN technology applies to the larger network, and does not permeate into the LANs of your individual branch locations. This leads to ever-present issues regarding performance optimization, security, and visibility. These are only compounded by the fact that each branch typically must manage a complex array of boxes that can include servers, ethernet switches, Wi-Fi controllers, and other elements, all with their own unique operating systems and management consoles.
Enter SD-Branch,
the solution that simplifies WAN and LAN management by consolidating multiple network functionalities. SD-Branch integrates SD-WAN, routing, firewalls, security, and LAN functions in a single platform, giving you the advantage of even greater operational agility. SD-Branch helps monitor and manage all the devices within a branch, including printers, TVs, thermostats, and other IoT devices. Benefit from more efficient bandwidth use & improved QoS, hardened security, and granular visibility at the branch level. SD-Branch can be deployed in greenfield locations, or used to upgrade branch-office boxes in smaller branches.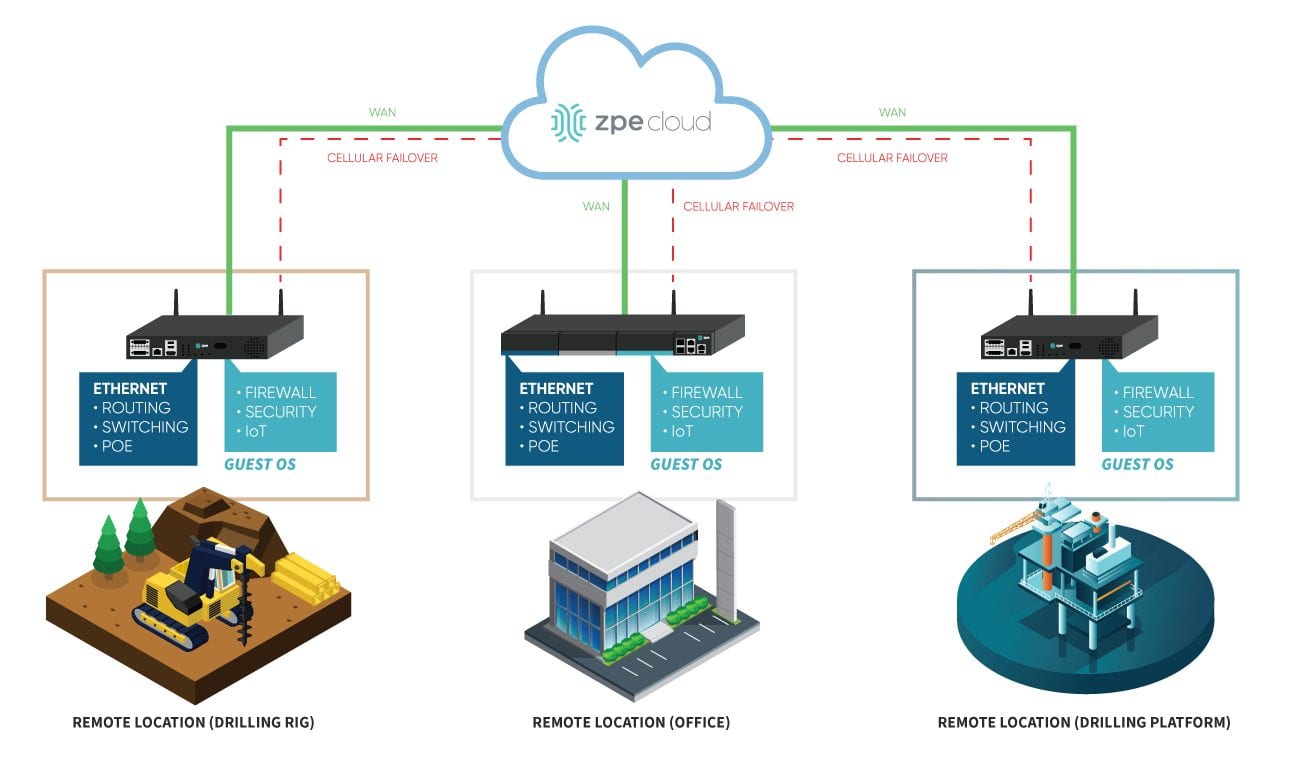 ---
How does it work, and what makes it better?
SD-Branch integrates SD-WAN, routing, firewalls, security, and LAN or Wi-Fi functions in one platform to provide centralized and unified network management. All of these are combined as virtual functions in a cloud-like NaaS model, which allows for automated management as well as services that can be easily adjusted as business needs change. Improve operational agility thanks to rapid deployment and provisioning, centralized management, and reduced hardware costs and operating expenses. IT teams can now rapidly deploy and provision a network branch-in-a-box, and remotely identify and remedy application slowdowns. This eliminates the need for IT personnel to physically visit branch locations for support purposes, which can significantly decrease operating expenses. And to further reduce costs, branch software can be deployed on specialized hardware that consolidates network functions. Using a single pane of glass, SD-Branch provides you with centralized management for all your branch locations.
---
Consider this business case:
Your business has 100 office locations around the world, and each location uses an array of network devices. For network-related issues, your IT teams average 25 hours per month on-site at each location — performing troubleshooting tasks, updating devices, and addressing security breaches.
Standard Remote Location Deployment – Pre-ZPE Systems' Nodegrid Solutions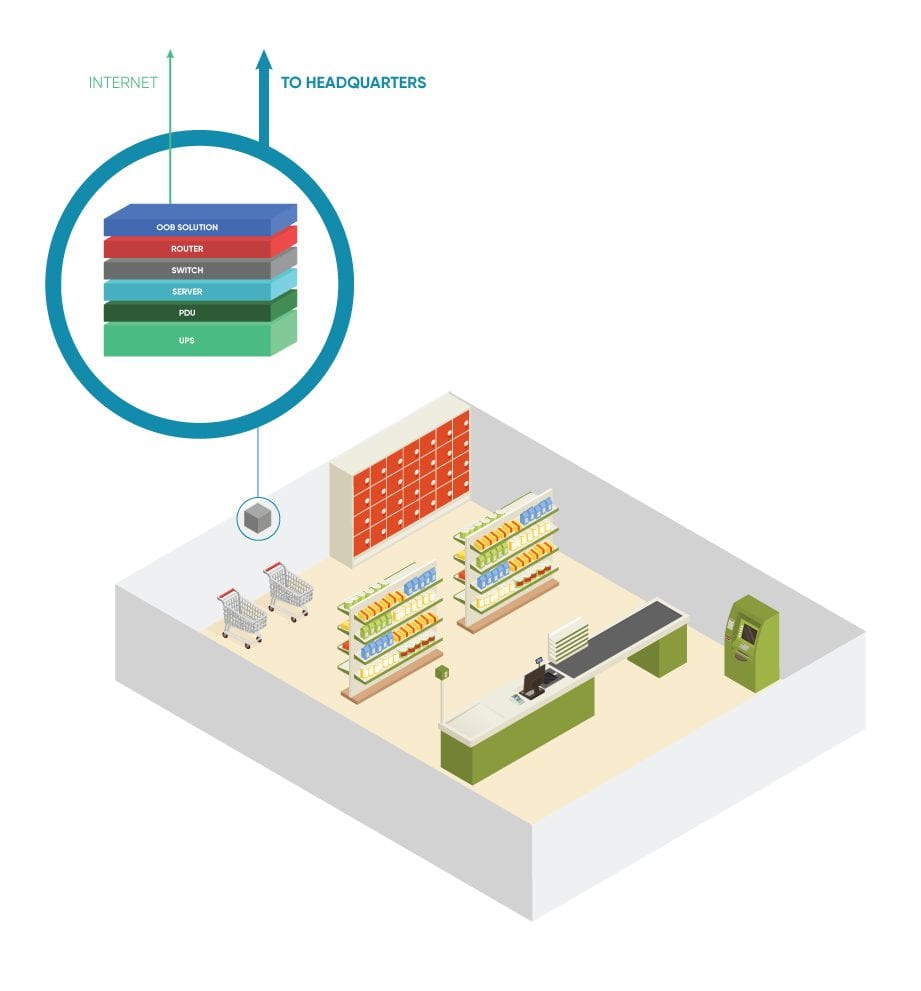 100 locations x 25 hours = 2,500 hours every month
While teams are on-site at these locations, they are unable to attend to more business-critical IT functions. Your organization loses 2,500 hours every month to basic networking tasks, which is time that could be spent caring for your business' needs.
Remote Location Deployment – With ZPE Systems' Nodegrid Solutions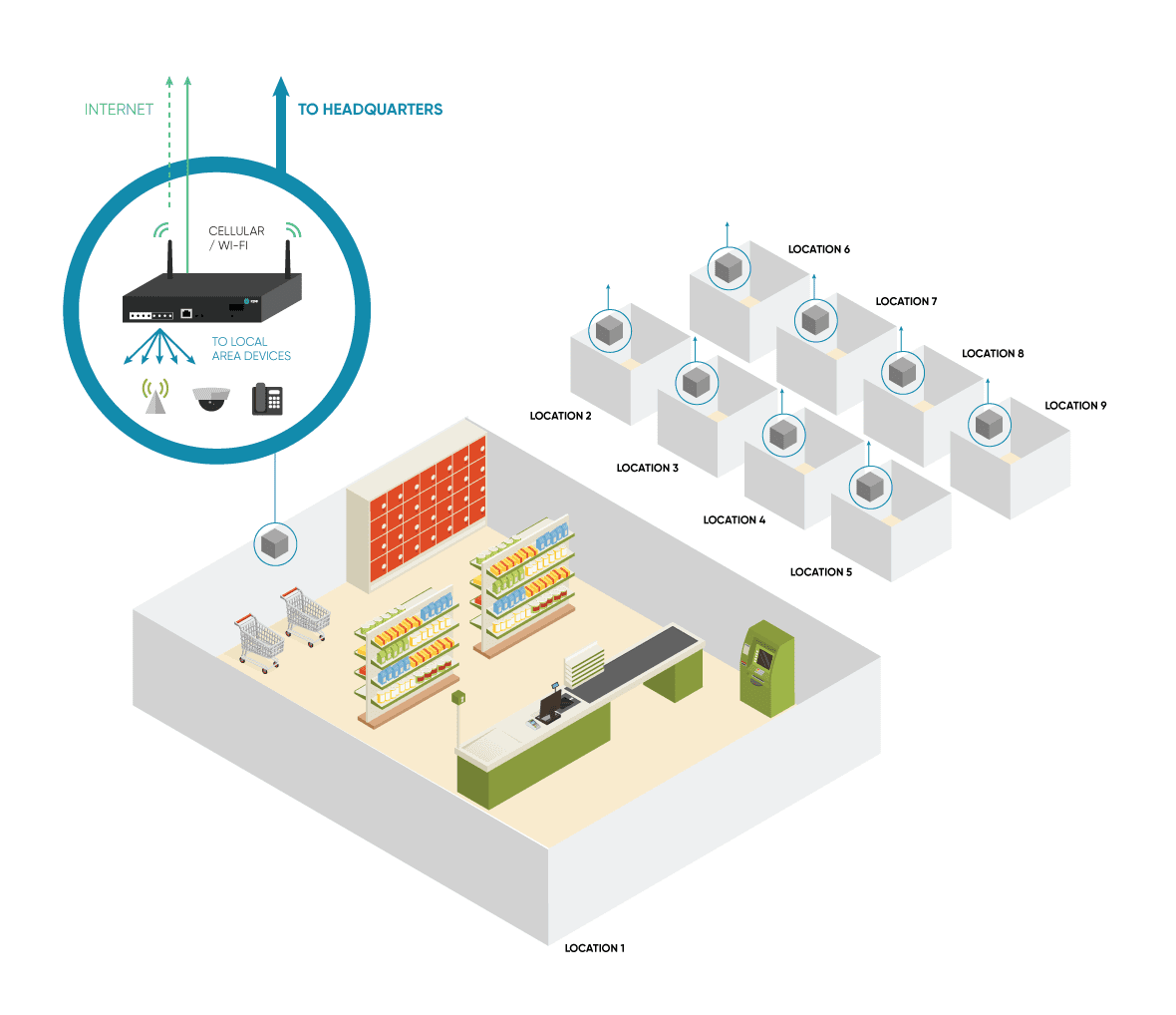 SD-Branch significantly reduces the time needed to perform networking tasks, by virtualizing your networks' separate functions and running them on a single platform. With centralized management, your IT teams can remotely view and control all of your organization's SD-WANs and branches using a single interface.
Are a location's users experiencing Wi-Fi outages?
Reboot the router remotely in seconds.
Do employees suffer slower speeds due to a network password leak?
Use SD-Branch to reset it and define access policies that allow only employees to use the network.
Are casual video streaming and social media browsing sucking up valuable bandwidth?
Set a rule to block specific sites altogether. Because SD-Branch allows you to see the activity within the branch, you can view and optimize each location's network to suit your business needs. You get better operational agility using a system that consolidates functions and gives you control of your network via a single pane of glass.
---
What your SD-Branch is missing…
ZPE Systems offers a secure branch network solution with our Nodegrid family of products. Get a 24×7 remote virtual presence throughout your network thanks to our out-of-band (OOB) expertise, and take advantage of SASE capabilities for additional security. Coupled with the ZPE Cloud, Nodegrid provides you with a complete solution, from deploying an office-in-a-box, to easily and remotely managing your entire network infrastructure. Get in touch to discover how Nodegrid simplifies and secures your branches.
Let's Talk SD-Branch and SASE
If you would like more information on how the Nodegrid family of Open Infrastructure Management Solutions brings a refreshing new solution to the branch, contact a ZPE solution specialist by giving us a call -or- sending us an email. We look forward to hearing from you.