Application hosting and guest OS are transforming enterprise network operations. With the ability to globally distribute software via the cloud and take advantage of applications regardless of operating system requirements, application hosting and guest OS deliver major benefits to NetOps teams. Here's a more detailed look at what they are, how they help business, and how they're made better by Nodegrid.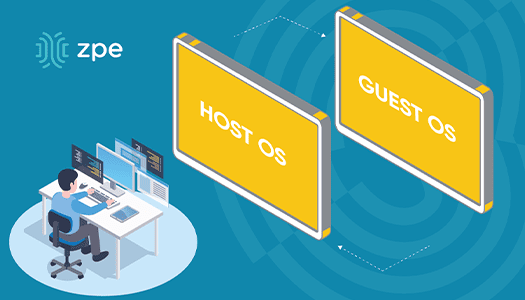 What Are Application Hosting and Guest OS?
Application hosting is essentially putting your apps in the cloud (think SaaS). Instead of having applications installed locally on each device, you can host them on a server. This way, you can virtualize your enterprise applications and have them delivered to clients throughout your organization.
Because virtualization requires virtual machines (VMs) to run in your environment, guest OS becomes a key component in application hosting. Guest OS is the software that is installed and running on a VM, and it's this software that dictates what applications can run on that VM.
Here's another way to look at it using an example: you want to use three separate applications on a device, but your device's operating system, or host OS, is compatible with only one of the applications. The two others require Windows Server 2012. You don't have to do without, because on the device you can deploy a VM using Windows Server 2012 as the guest OS, which then allows you to take advantage of the remaining applications.
---
What Issues Do They Address?
You're probably used to juggling network infrastructure solutions throughout your organization. It takes time and resources to deploy, manage, and maintain physical devices at each location. The same goes for all of your applications – installing, updating or rolling back, and troubleshooting can add to your management headaches.
It can take days or weeks to get a new service up and running
Having localized applications bogs you down with on-site support
Your edge network suffers from inconsistencies, leaving you open to security threats and disruptions
Application hosting and guest OS drastically uncomplicate how you manage your infrastructure, by eliminating these issues.
You can deploy and distribute applications on demand
You can make applications available globally and manage them remotely
Your edge network is standardized, with the latest application updates and fixes keeping you safe
You don't have to worry about the problems or interruptions that can occur from, say, having different software versions across your network. Application hosting and guest OS let you deliver a consistent experience no matter how distributed your infrastructure might be.
---
How Do Application Hosting & Guest OS Help Business?
The business benefits of application hosting and guest OS can be summed up with one word: savings.
For starters, you save space and resources at each location, which helps you slash CAPEX and OPEX costs. When deploying, you no longer need to spend time and money on many pieces of hardware, or put together a hodgepodge stack that sacrifices on capabilities. You can instead deploy consolidated devices running all the OSes and applications you need, for a network that's flexible and adaptable. And because ongoing maintenance can be performed remotely, you don't need to put support staff on-site.
You also increase uptime, because having a virtual presence allows you to respond fast from anywhere.
Your network staff benefit from easier deployment and maintenance. To bring a site online, they don't have to manually install and configure every device and app. Instead, they can take advantage of zero touch provisioning, which builds the network itself and helps make applications available quickly. To maintain and manage the network environment, your staff have a virtual presence that lets them update apps, install patches, or troubleshoot as needed — without having to commute to the location and physically connect to devices. Application hosting and guest OS also simplify integrations within your network, and they boost security by centralizing your authentication processes.
---
How Does Nodegrid Make Them Better?
ZPE's Nodegrid hardware and software allow you to host applications and guest OSes, putting both layers in one place for simplified management. Not only can you easily perform app installations and maintenance, but you can also troubleshoot any issues should you have problems with the guest OS layer.
Nodegrid also makes it easier to deploy your own tools and utilities. If you've developed custom applications, whether for added security, better traffic routing, or faster kickoff configuring, you can deploy them directly on Nodegrid devices. You don't have to find third-party hosting providers, and can instead use Nodegrid to get your private cloud and applications running in no time.
Consolidated appliances support automation and containerization using common tools like Puppet, Chef, Docker, and Kubernetes. These devices and capabilities deliver a vendor-agnostic system to help you free up rack space and streamline your NetOps workload. Since your network functions can also be hosted on a single Nodegrid device, you no longer need to separately maintain additional IP addresses, either.
For the ultimate in uptime and accessibility, Nodegrid provides you with a secure out-of-band management path. This allows you to remotely manage guest OSes and applications across your network, without having to put teams on-site. This secure OOB network is also accessible via 4G/LTE cellular failover. Should any main-line outages or disruptions occur, you can keep your network running and continue to manage your applications no matter where you are.
Keep up with the latest in application hosting, zero touch provisioning, and more networking innovations from ZPE. Visit our blog page for tons of free resources to help turn your network into a powerful asset.