Nodegrid 3.0 Generally Available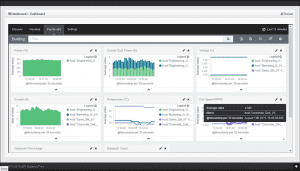 FREMONT, CA, September 29, 2015 — ZPE Systems today announced general availability of Nodegrid version 3.0, the core software platform that runs Nodegrid Out-Of-Band and In-Band infrastructure management products including Nodegrid Serial Console™, Nodegrid [CI]™ and Nodegrid Manager
Nodegrid 3.0 is based on the latest 64-bit Linux OS and delivers key features requested by ZPE Systems' global customers in the OOB IT Infrastructure Management market. Features like Zero-Touch Provisioning for easy and simple configuration; Environmental and Power Monitoring with NodeStash™ data collection, correlation, natural language search and dashboard; Vendor-Neutral Power Management for VMs, IPMI and PDUs; Embedded Docker Apps Integration; and Browser-in-a-Container for secure HTML5 navigation to IT infrastructure devices without deprecated NPAPI/Java code viewers. In addition, Nodegrid supports more devices than ever.
The vendor-neutral Nodegrid platform expands vendor support for seamless IT device and converged infrastructure management to include: HP/Dell/IBM/Nutanix/EMC Converged Infrastructures, VMware, KVM, Cisco UCS, Redfish, Intel IPMI, Dell iDRAC, HP iLO, IBM IMM, Oracle ILOM, OpenStack, AWS, Azure, NetApp, EMC, Avocent/Emerson, Raritan/Legrand, ServerTech and APC/Schneider, with more names coming every month. Nodegrid monitors and displays relevant data center fitness indicators for all of these platforms.
Nodegrid NodeStash continuously measures critical data points of all managed devices in your multi-vendor IT Infrastructure. Nodegrid monitors your devices via IPMI, SNMP, SSH and various other protocols to provide vital information regarding power draw, temperature and other critical data center environment variables, that can be displayed in one centralized view.
Nodegrid 3.0 continues providing robust management features such as:
Secure In-Band and Out-Of-Band Access and Control of numerous vendors' IT device types including: Virtual Machine, Server, IPMI Service Processor, Networking, Storage, Serial Console and Power
Industry-first security measures: system configuration security checksum, bare metal booting, selectable 1024 bit encrypted cryptographic protocols
Premise, Hybrid and Cloud device management
Docker apps integration and 64-bit Linux shell for powerful scripting
Vendor-neutral power management: Cyclades/Avocent, Raritan/Legrand, ServerTech, Emerso­n, APC/Sheneider
Supports Serial consoles from: Cyclades/Avocent, Raritan, OpenGear, Lantronix
Supports KVM Switches from: Avocent, Raritan
Availability
All ZPE Systems products are available now and shipping globally with Nodegrid 3.0.
About ZPE Systems, Inc.
ZPE Systems is the data center industry's first provider of Software Defined Infrastructure to manage physical and virtual IT devices. The company's Nodegrid platform simplifies access and control of compute, network, storage and power infrastructures. Nodegrid Manager provides vendor-neutral OOB management of IT devices. Nodegrid Serial Console enables OOB access & control of serial devices. Nodegrid [CI] protects converged infrastructure. Nodegrid Flex and Nodegrid Bold control devices at the edge of the network. Nodegrid USB provides a high-density USB type C mobility development cycle environment. Nodegrid Service Processor secures IPMI management ports and IoT devices.
ZPE provides smart, consolidated IT management solutions that reduce downtime and CAPEX/OPEX. The company is headquartered in Fremont, California with resellers in Japan, UK, Germany, Netherlands, Brazil and India. ZPE Systems, the ZPE logo and Nodegrid are registered trademarks or trademarks of ZPE Systems. Other company and product names may be trademarks of their respective owners.
---
Press Contact
ZPE Systems, Inc.
Alvin Chan, Marketing Manager
510-298-3022
alvin.chan@zpesystems.com