Background/Problem
A Global customer had to deal with various vendor solutions implemented throughout their infrastructure – The customer wanted a single point of management to provide access and control over their devices.
With an environment built up of various manufacturers offerings, vendor lock-in is inevitable. What works to manage one device doesn't manage same device types of different vendors – i.e PDU's from Company A and Company B.
Another common pain point in the data center is the use of older Java based KVM management solutions that cause version match issues based on browser, applet, etc…
The Solution – Nodegrid Manager
ZPE Systems' Nodegrid Manager® allows management of various devices, regardless of manufacturer all under a single software platform – That's why Nodegrid Manager is Software Defined Infrastructure.
Gone are the days of having to use vendor specific viewers/apps to manage singular devices. Every manufacture has a best-fit solution for your infrastructure – Why can't it all work together? With Nodegrid Manager, you no longer have to ask that question – Nodegrid Manager was made to be THE management solution for In-Band and Out-of-Band physical and virtual Infrastructure.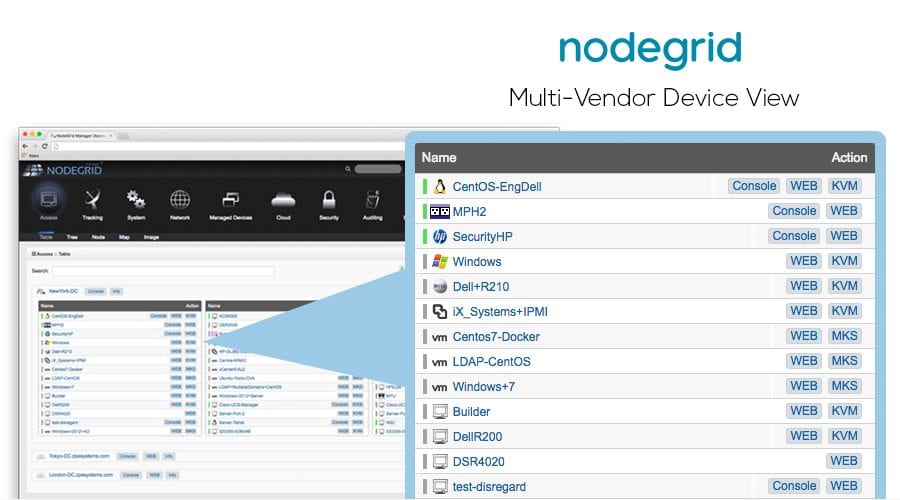 Nodegrid Manager® Infrastructure Management software provides secure, vendor-neutral, out-of-band access and control of physical and virtual IT infrastructures. Make use of our comprehensive solution to control and manage all data center devices from one unified interface.
Existing Environment
Java security settings were causing issues, not allowing the customer to run the KVM applet
Browser refuses to connect with unsecure certificate
Management solution bound to single vendor appliances
Authentication limited by single method, server or domain
Monolithic solution doesn't allow segmentation by organization and location
Scalability compromised by all nodes storing all data
Nodegrid Manager
Nodegrid Manager uses HTML5 connections to communicate with target devices, eliminating the need for Java
Browser-in-a-container handles untrusted connections
Seamless integration with multi-vendors KVM, PDU, Console Servers
Multiple authentication methods with fallback capability
Distributed nodes interconnected through SSL
Each node stores only its own data
Data is indexed and shared among other nodes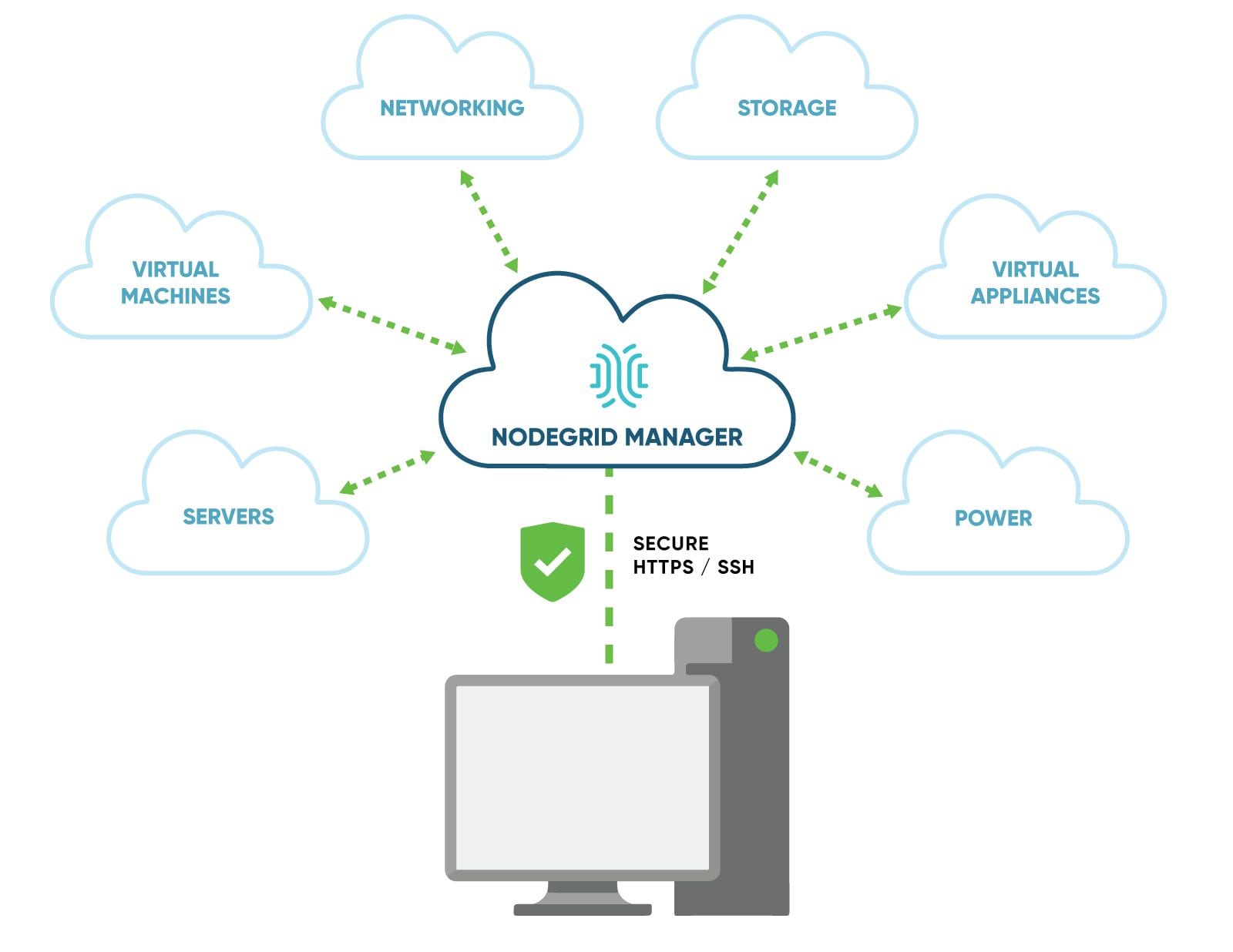 How Nodegrid Manager Works
Multiple Authentication methods with fallback options
Ability to discover and access KVM target devices from multiple vendors
KVM sessions via HTML5 (no Java required)
Support to Servertech, APC, Emerson, Legrand and others smart PDUs
Power merged to managed devices
Support to IPMI (Power and vKVM access)
DeviceURL direct access
Discovery of existing VMs and IPMIs out of the box
Device access, control, monitoring and logging via CLI and WEB
Device search and 360° device view
Data logging, event notification and alarms
Next Step: Schedule a Demo and See What Nodegrid Can Do For You
We are perfectly positioned to meet anything manufacturers can throw at us. We pioneered IT infrastructure access and control back in the day and we're pioneering IT infrastructure access and control for today and the future. Check us out. You'll be glad you did.