Protecting IPMI Networks with Nodegrid®
Background/Problem
A top financial organization was concerned about security problems with their IPMI management network. They were having to deal with security vulnerabilities on the Management Port of IPMI enabled devices.
In addition, the IPMI credentials had to be changed periodically to reduce their security exposure and Java based KVM (Keyboard-Video-Mouse) viewers had compatibility and security issues.
They also needed secure serial and power solutions to best utilize the space.
The Solution – Nodegrid Serial Console™
ZPE Systems' Nodegrid Serial Console™ secures the access to all serial ports and allows a network separation implementation via its two network interfaces, protecting IPMI and IoT management ports. With Nodegrid Serial Console running Nodegrid software, the customer is able to manage all devices, regardless of vendor for unparalleled security, access, and control.
Only authorized users are able to access serial ports, and IPMI / IoT management ports in Nodegrid. Weak IPMI credentials and IPMI security vulnerabilities are no longer exposed to the network. Nodegrid functions as a gatekeeper of all the devices, elevating the security of the management network.
Nodegrid also understands multi-vendor Java based KVM viewers and knows how to render them in HTML5 format.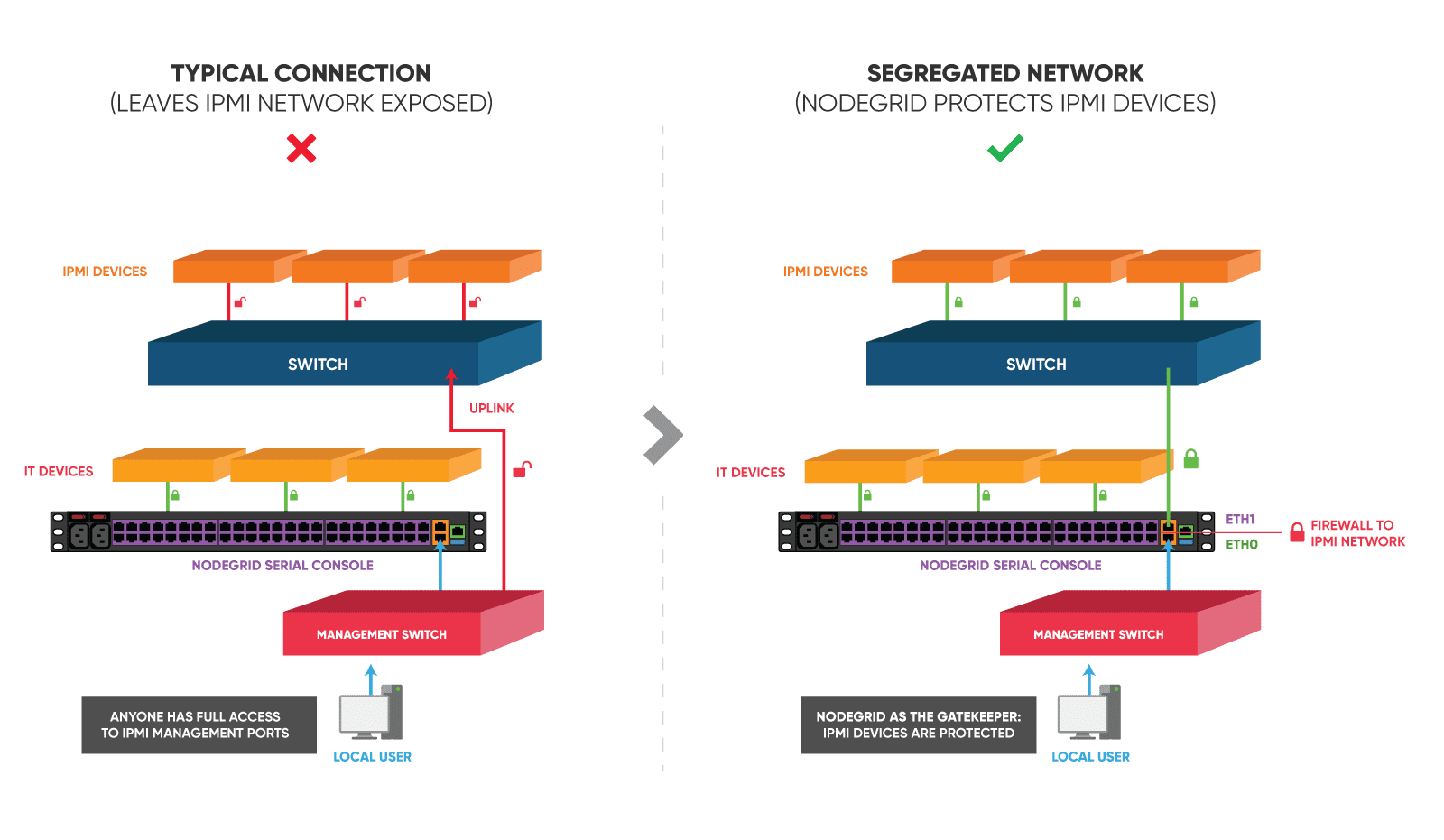 Nodegrid Serial Console is the Next Generation of Serial Console
Nodegrid Serial Console is robust, extensible and programmable. Nodegrid Serial Console (NSC) helps data center managers improve productivity and reduce MTTR costs with the latest technologies. The world's fastest serial console server also sports industry-exclusive system configuration security checksum™, bare metal booting and recovery capabilities, and Docker readiness. No competing product comes close.
IT staff can manage more devices with fewer cables, IP addresses and configuration time using our industry-exclusive 1U 96 port serial console server. The Nodegrid Serial Console server consolidates and manages attached devices via a Serial Port Connection including: servers, network routers and switches, storage, PDUs, UPSs, and any other device with a serial port.
Nodegrid Serial Console also creates a secure network separation to protect IPMI and IoT management ports and maps IPMI and IoT devices to authorized users. Nodegrid has the ability to handle native Java based KVM viewers, translating them to HTML5 sessions and addressing security and compatibility issues. Provide DHCP IP addresses on the secure management network to your IPMI and IoT devices out of Nodegrid Serial Console and save configuration time.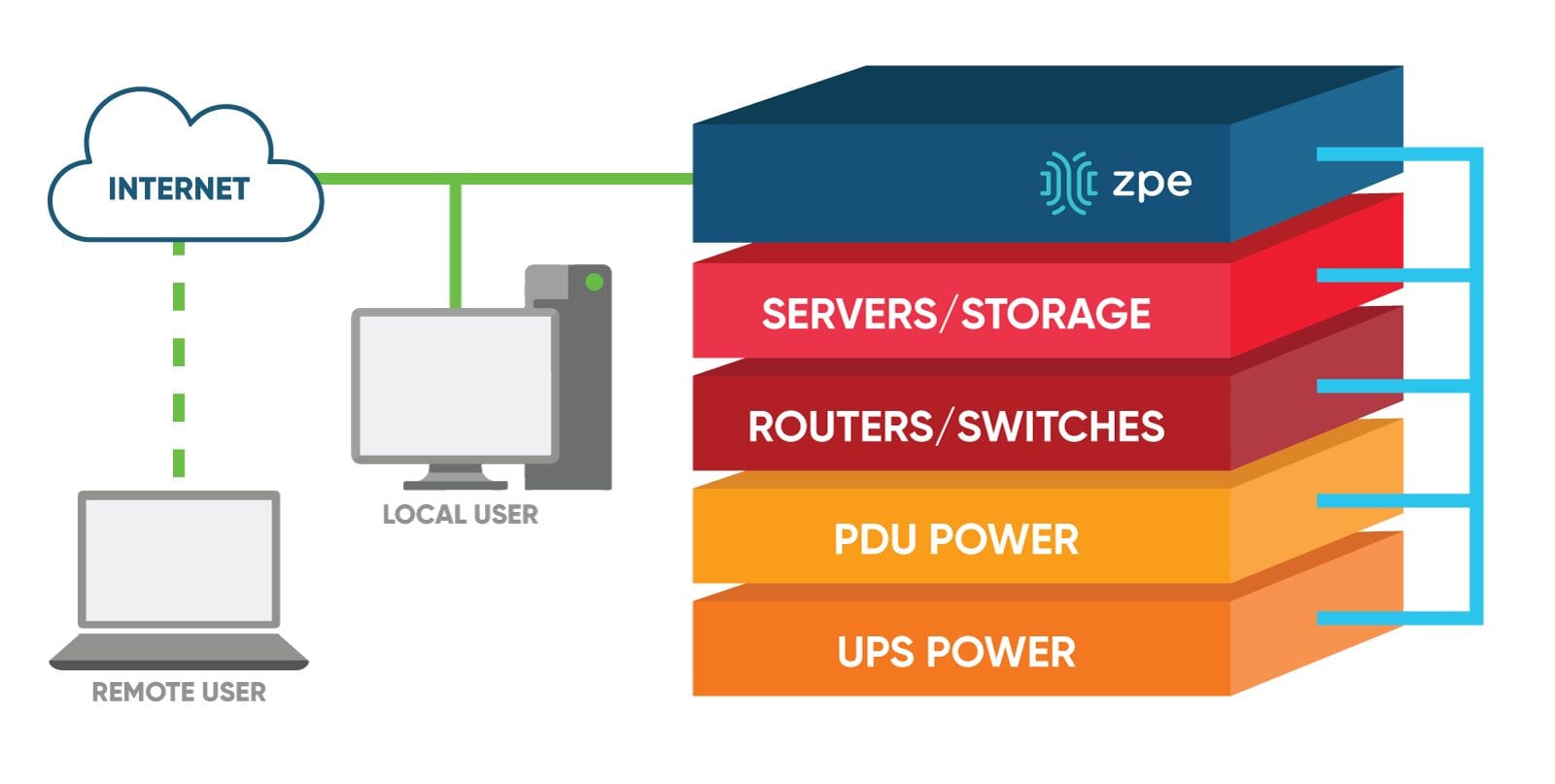 Modern 64-bit Linux OS
World's fastest serial console server: Dual-core x86-64bit Intel CPU with 4GB RAM and 32GB SSD memory (upgrades available)
World's highest concurrent session in a serial console: 1,000+ sessions, 20 users per port at 115,200bps
World's first all in one vendor-neutral PDU, support for IPMI and IoT management ports.
World's first high-density 96 port 1U serial console server, also available in 16/32/48 port editions
HTML5 remote console access – no
Java issues unlike outdated competitors
World's first serial console server optimized for Docker and Open Compute Hardware Management
World's first serial console server with bare metal booting and firmware recovery
Zero Touch Provisioning and failover to any cellular service provider of your choice (no vendor lock-in)
New, easy-to-use software development kit for software innovation
Next Step: Schedule a Demo and See What NodeGrid Can Do For You
We are perfectly positioned to meet anything manufacturers can throw at us. We pioneered IT infrastructure access and control back in the day and we're pioneering IT infrastructure access and control for today and the future. Check us out. You'll be glad you did.