SD-Branch delivers some major advantages over traditional SD-WAN capabilities. Where typical software-defined approaches fall short at the branch level, SD-Branch picks up the slack to help you see and do much more.
In case you need to catch up, here's a 90-second video showing some ways you can benefit from using SD-Branch.
If you're super short on time, the advantages boil down like this:
SD-Branch lets you see inside your branch locations, by combining SD-WAN, routing, security, and all your network functions
You can see & control on a granular level, including activity for IoT devices, cameras, laptops, & all clients on your branch networks
You get more operational agility with a system that centralizes your infrastructure management & lets you take control remotely
Now that you're caught up, you might be wondering…
How does Nodegrid make SD-Branch better?
Nodegrid gives you SD-Branch capabilities and a lot more. All-in-one Nodegrid devices, like the Nodegrid Services Router (NSR), reduce your stack thanks to the ability to handle many network functions in a single box. Support for automation and containerization via tools like Puppet, Ansible, Docker, and Kubernetes takes your orchestration and management capabilities to an entirely new level. It gets even better with out-of-band management that you can use even during an outage (thanks to cellular failover). Nodegrid hardware and software are vendor neutral, too, which means you can adapt your network to your changing business needs.
Sounds Pretty Awesome. But How Does it Work in the Real World?
See What SD-Branch Brings to a Leading Digital Security Company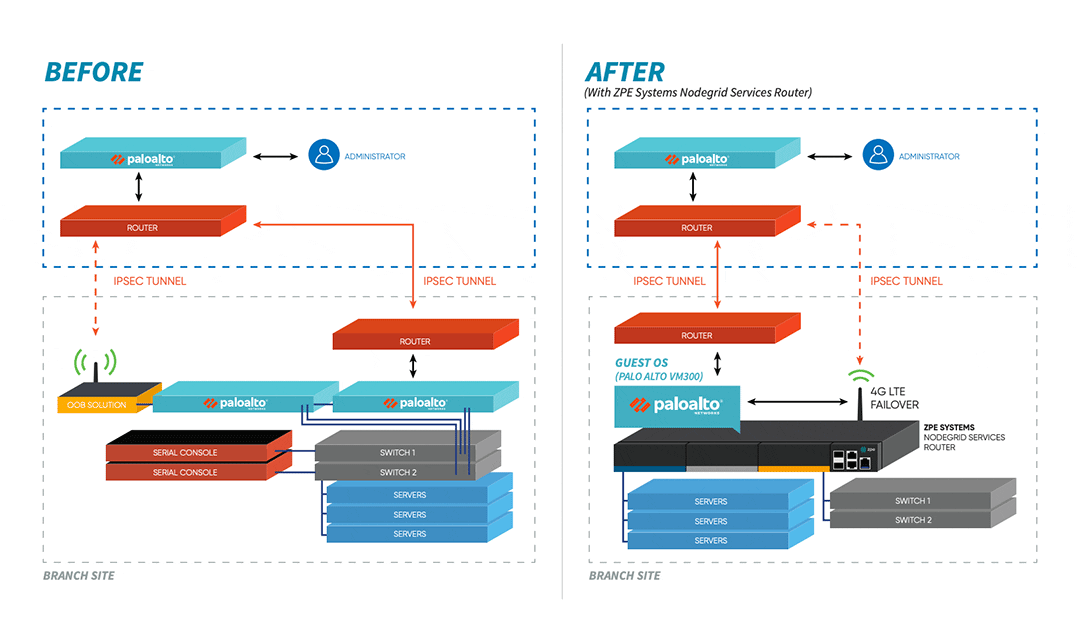 When a digital security enterprise, whose offices span the globe, needed help with their complex network infrastructure, they chose ZPE Systems' Nodegrid. The powerful NSR solution relieved many of their branch network headaches, and even extended additional benefits to their data center operations. Their large, cumbersome stacks were replaced by a streamlined, all-in-one solution that made management easy, provided reliable backup via cellular, and leveraged the world-class security of Palo Alto Networks' next-gen firewalls. Ready for the details?