Quando o seu servidor para de responder, está "fora do ar", toda sua empresa sofre as consequências e fica "fora do ar"
Não é a apenas a área de TI que está com problemas, mas sim a empresa inteira pois os e-mails podem parar de serem enviados e recebidos, talvez justamente na hora de um pregão eletrônico ou de responder um RFP. Se o seu sistema de e-commerce pode estar fora do ar, suas vendas online estão impactadas.
Todos os funcionários estão parados, aguardando não tão pacientemente o retorno do servidor.
De acordo com uma pesquisa em 2020, 25% dos entrevistados relataram que o custo médio devido a inatividade e interrupções críticas de servidores estava entre $301.000 e $400.000 dólares americanos.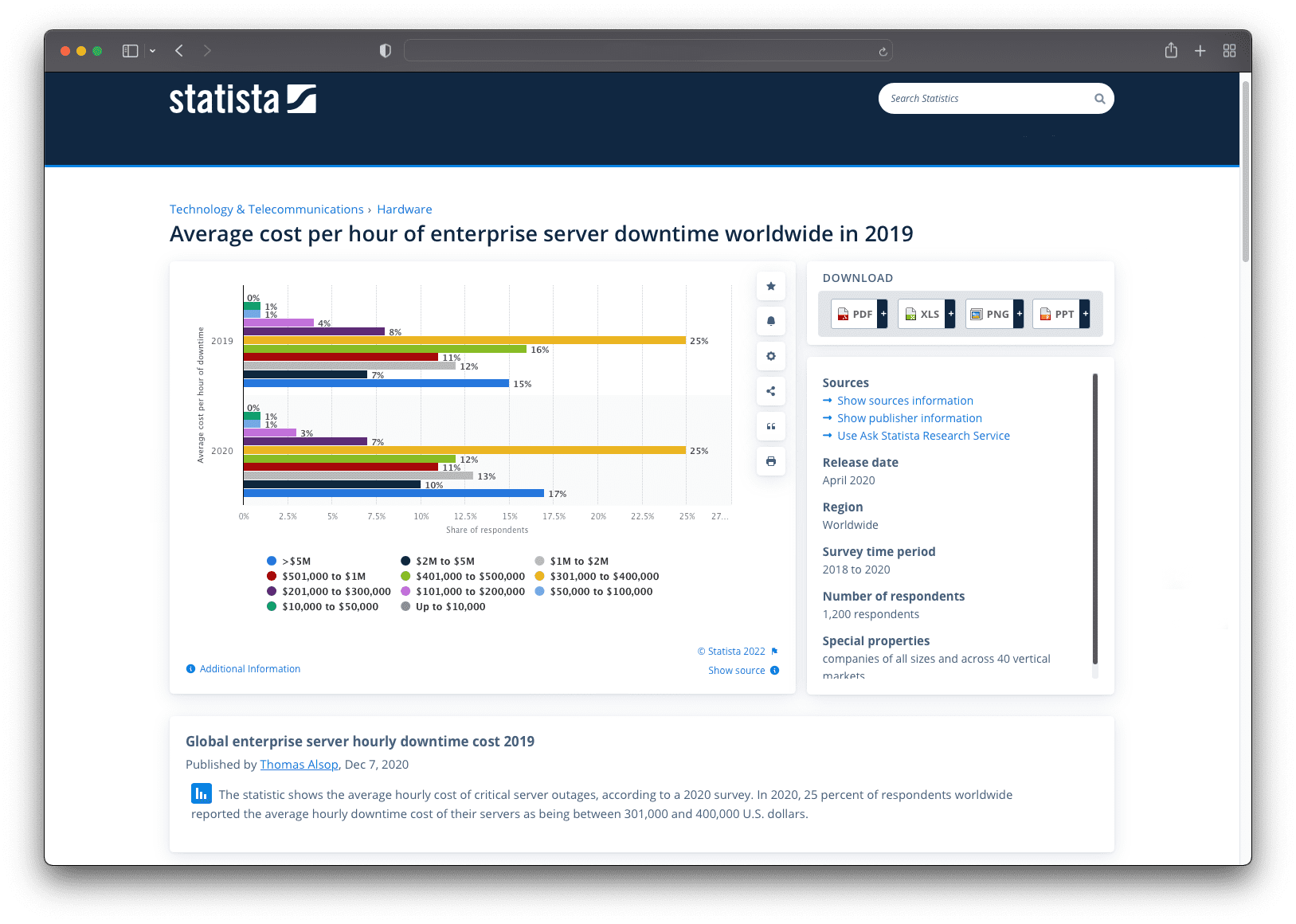 Fonte: Statista.com
Você então pode mencionar: – Basta reiniciar o servidor e estará tudo ok?! Pode ser, mas nem sempre isso é tão simples e fácil.
Lembre-se, normalmente estes fatos ocorrem em horários ou em dias incomuns e muitas equipes não estarão disponíveis para atendimento local.
Quais são os custos de mão de obra para o tempo de inatividade da rede? Um artigo de Kasia Subieta mostra uma maneira de calculá-lo:
Custo da mão de obra = P x E x R x H.
P = número de pessoas afetadas
E = porcentagem média de que são afetados
R = custo médio do funcionário por hora
H = número de horas de interrupção
Então o que fazer?
Uma solução para isso é a gerência OUT OF BAND, ou solução FORA DA REDE.
Mas o que é isso?
A solução OUT OF BAND, permite acesso remoto a toda sua infraestrutura de TI acessando a console dos equipamentos, permitindo acesso seguro e uma gerência eficaz. Se torna muito efetiva, mesmo quando a sua rede IP está comprometida e sem acesso, em casos de DDOS ou até, lembrando-se das "telas azuis" dos computadores, onde o dispositivo esta à ligando mas não respondendo a comandos.
Tradicionalmente nestes casos, precisamos deslocar um técnico para fazer um acesso local, perdendo-se tempo e performance da rede. No caso de uso de sistemas ZPE, podemos ter uma acesso remoto via IP ou rede celular 4G/5G LTE, teremos uma comunicação segura ao "core" do equipamento abrindo uma porta de comunicação para acesso da equipe de TI, que poderá atuar na gestão direta dos devices da rede, independente da marca do produto ou do vendor existente.
A ZPE SYSTEMS possui soluções OUT OF BAND e permite o acesso e gestão remota e eficientes de todos os seus equipamentos de rede visualizando quaisquer dispositivos (servidores, roteadores, switchs, smart PDU, UPS, Storage, etc) em um único painel de gerenciamento, aumentando a segurança na gerência e ampliando a confiabilidade e performance de sua rede.