ZPE Systems – A Smarter Vantage Point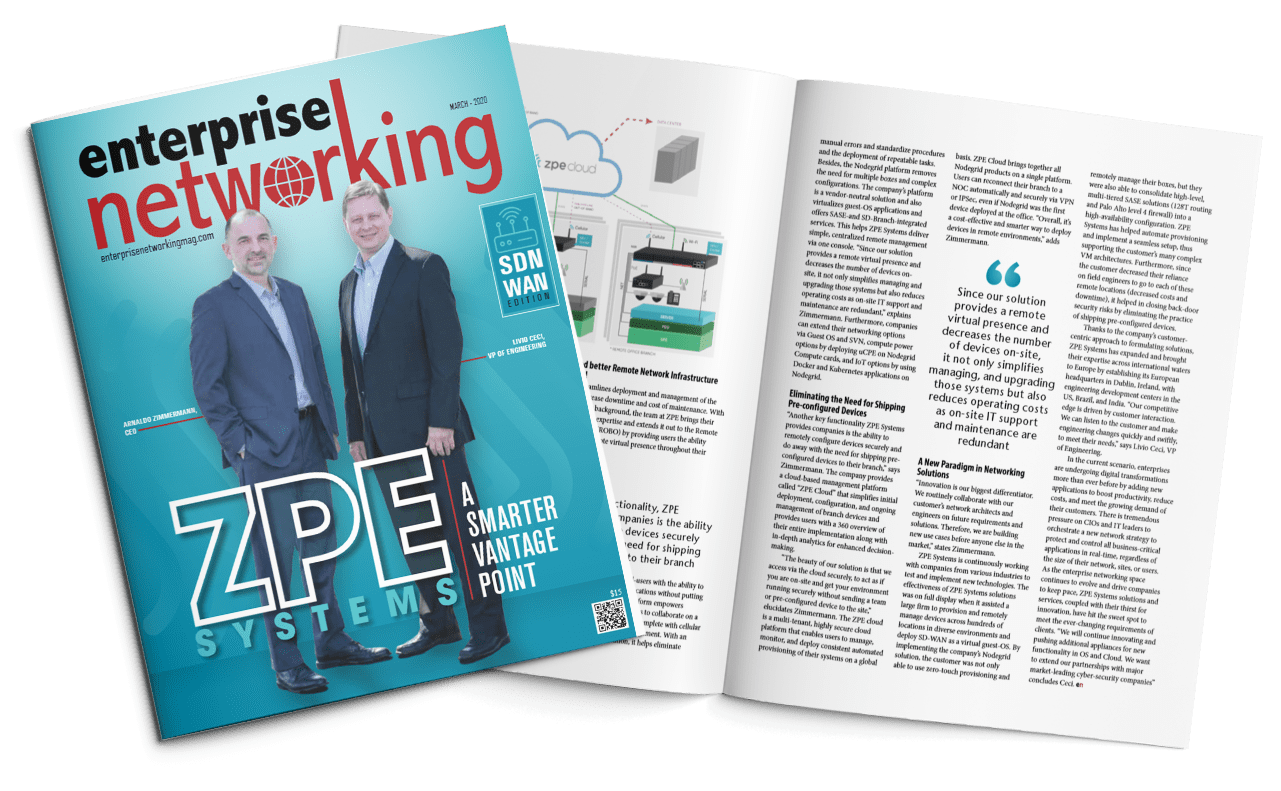 Today, as broadband services have become more reliable and cost-effective, companies are shifting from expensive MPLS links to SD-WAN, which promises firms more agile, dynamic, and inexpensive branch-office connectivity that doesn't lose its quality of service. Enterprises can define the traffic steering rules for each application, centralized monitoring, and analytics to support deployments and reduce management complexities in sites. However, the managing, deploying, and provisioning of remote offices as companies strive to shift from MPLS lines to SD-WAN has become an expensive and time-consuming process. Traditional SD-WAN requires pre-configuration and is not capable of zero touch provisioning/deployment at the final location. This limits the deployment and scalability of remote offices and branch locations and typically requires specialized personnel on-site to aid in the implementation of the network.
That being said, it is a tedious task to manage one or more appliances such as servers, switches, access points, and more at each branch as every single appliance has its own unique operating systems and management tools. These require manual updates and configuration changes, adding complexity as teams try to manage devices from different vendors. In short, companies spend too much time performing manual, inefficient, and repetitive processes to support their network hardware and software. Also, the lack of visibility of the total deployment with no centralized management, clustering, or absence of search capabilities to track changes in the network adds to the company's woes.
Although the enterprise network solutions market is replete with companies that purport to solve the problem—one company, ZPE Systems, provides the vantage point. ZPE Systems offers secure hardware-and software-based remote access and control to bridge the gap between existing legacy systems and emerging technologies by supporting data center, SD-Branch, and edge networks with an integrated infrastructure platform—a single pane of glass interface. The company was the first solution provider to offer an "Open Infrastructure Management Solution" for in-band and out-of-band access and control of the network, compute, storage, and power devices in both physical and virtual IT Infrastructures. "Using a single pane of glass (ZPE Systems integrated infrastructure platform) that supports automation and provisioning, you can keep your network secure, up to date, and, most of all—running smoothly through otherwise costly outages," states Arnaldo Zimmermann, CEO of ZPE Systems.
Why you need better Remote Network Infrastructure Management!
ZPE Systems streamlines deployment and management of the SD-Branch to decrease downtime and cost of maintenance. With a strong data center background, the team at ZPE brings their Out-of-Band (OOB) expertise and extends it out to the Remote Office/Branch Office (ROBO) by providing users the ability to establish a 24×7 remote virtual presence throughout their network.
ZPE System's Nodegrid provides end-users with the ability to provision and deploy devices in remote locations without putting specialized staff on-site. The Nodegrid platform empowers SD-Branch, SASE, Firewall, and IoT partners to collaborate on a symbiotic network and OOB environment, complete with cellular failover, network clustering, and cloud management. With an automation feature built into the solution, it helps eliminate manual errors and standardize procedures and the deployment of repeatable tasks. Besides, the Nodegrid platform removes the need for multiple boxes and complex configurations. The company's platform is a vendor-neutral solution and also virtualizes guest-OS applications and offers SASE-and SD-Branch-integrated services. This helps ZPE deliver simple, centralized remote management via one console. "Since our solution provides a remote virtual presence and decreases the number of devices onsite, it not only simplifies managing and upgrading those systems but also reduces operating costs as on-site IT support and maintenance are redundant," explains Zimmermann. Furthermore, companies can extend their networking options via Guest OS and SVN, compute power options by deploying uCPE on Nodegrid Compute cards, and IoT options by using Docker and Kubernetes applications on Nodegrid.
Eliminating the Need for Shipping Pre-configured Devices
"Another key functionality ZPE Systems provides companies is the ability to remotely configure devices securely and do away with the need for shipping pre- configured devices to their branch," says Zimmermann. The company provides a cloud-based management platform called "ZPE Cloud" that simplifies initial deployment, configuration, and ongoing management of branch devices and provides users with a 360 overview of their entire implementation along with in-depth analytics for enhanced decision making.
"The beauty of our solution is that we access via the cloud securely, to act as if you are on-site and get your environment running securely without sending a team or pre-configured device to the site," elucidates Zimmermann. The ZPE cloud is a multi-tenant, highly secure cloud platform that enables users to manage, monitor, and deploy consistent automated provisioning of their systems on a global basis. ZPE Cloud brings together all Nodegrid products on a single platform. Users can reconnect their branch to a NOC automatically and securely via VPN or IPSec, even if Nodegrid was the first device deployed at the office. "Overall, it's a cost-effective and smarter way to deploy devices in remote environments," adds Zimmermann.
A New Paradigm in Networking Solutions
"Innovation is our biggest differentiator. We routinely collaborate with our customer's network architects and engineers on future requirements and solutions. Therefore, we are building new use cases before anyone else in the market," states Zimmermann.
ZPE Systems is continuously working with companies from various industries to test and implement new technologies. The effectiveness of ZPE Systems solutions was on full display when it assisted a large firm to provision and remotely manage devices across hundreds of locations in diverse environments and deploy SD-WAN as a virtual guest-OS. By implementing the company's Nodegrid solution, the customer was not only able to use zero-touch provisioning and remotely manage their boxes, but they were also able to consolidate high-level, multi-tiered SASE solutions (128T routing and Palo Alto level 4 firewall) into a high-availability configuration. ZPE Systems has helped automate provisioning and implement a seamless setup, thus supporting the customer's many complex VM architectures. Furthermore, since the customer decreased their reliance on field engineers to go to each of these remote locations (decreased costs and downtime), it helped in closing back-door security risks by eliminating the practice of shipping pre-configured devices.
Thanks to the company's customer centric approach to formulating solutions, ZPE Systems has expanded and brought their expertise across international waters to Europe by establishing its European headquarters in Dublin, Ireland, with engineering development centers in the US, Brazil, and India. "Our competitive edge is driven by customer interaction. We can listen to the customer and make engineering changes quickly and swiftly, to meet their needs," says Livio Ceci, VP of Engineering.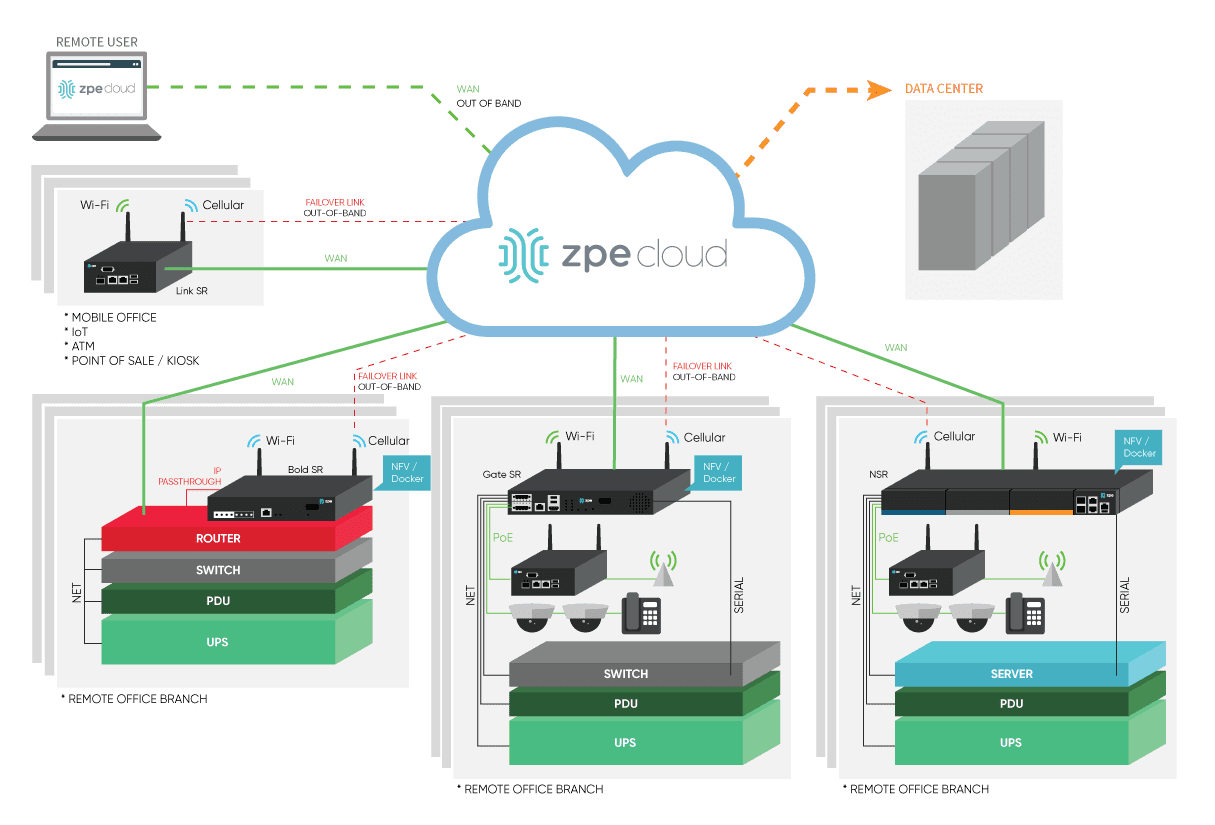 In the current scenario, enterprises are undergoing digital transformations more than ever before by adding new applications to boost productivity, reduce costs, and meet the growing demand of their customers. There is tremendous pressure on CIOs and IT leaders to orchestrate a new network strategy to protect and control all business-critical applications in real-time, regardless of the size of their network, sites, or users. As the enterprise networking space continues to evolve and drive companies to keep pace, ZPE Systems solutions and services, coupled with their thirst for innovation, have hit the sweet spot to meet the ever-changing requirements of clients. "We will continue innovating and pushing additional appliances for new functionality in OS and Cloud. We want to extend our partnerships with major market-leading cyber-security companies" concludes Ceci.
I Want to Learn More About Nodegrid