Out-of-band management is an essential tool that should be part of your business continuity strategy.
But What Exactly is Out-of-Band, or OOB?
Your network is comprised of many devices and solutions, and it allows your organization to carry out normal operations. To gain access to your hardware and infrastructure, you typically might use an in-band connection, which relies on the production network.
Out-of-band management uses a completely separate network that's dedicated strictly to managing infrastructure. So if you need to reboot a router, collect data for regulatory compliance, or adjust QoS settings due to traffic changes, OOB makes it possible — even if your production network is down.
IT admins across the globe love OOB for its exclusive connectivity and extended capabilities. See for yourself with these 3 reasons why your business needs out-of-band management.
Here's a brief look at how OOB helps keep your network up and running from anywhere.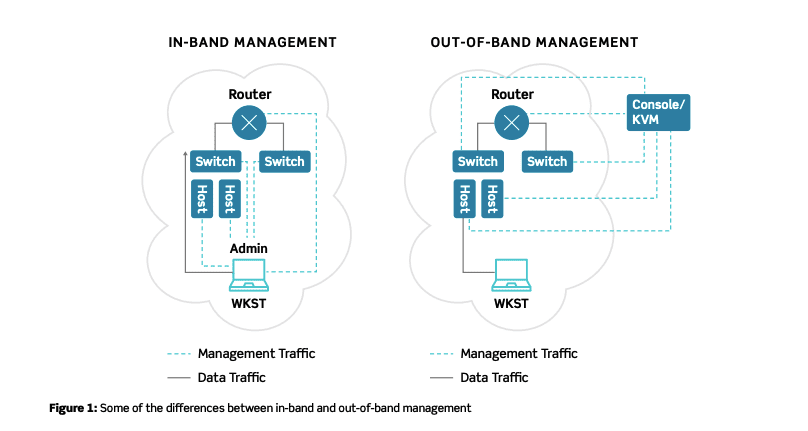 Restore Uptime Fast From Anywhere
One of the biggest benefits of OOB is that it gives you the ability to restore uptime faster.
Think about this scenario: on the other side of the world, one of your most isolated sites loses connectivity. If you don't have OOB, you need to troubleshoot on-site, which means finding the right support staff, spending time & money on travel, and making a host of other arrangements — all while the site continues to suffer from downtime. To add insult to injury, what if the fix is as simple as rebooting a device? You spent thousands in support costs and lost uptime just for someone to flip a switch.
Out-of-band management gives you remote control of your devices, which allows you to troubleshoot from anywhere and resolve issues without being on-site. And if you choose a complete solution, like ZPE Systems' Nodegrid, you can even cycle power from thousands of miles away.
Get Unified Control of Our Network
To manage your infrastructure without OOB, you need to juggle many interfaces, protocols, and UIs specific to each device. This can require you to invest loads of time and resources into support, considering you need to train staff on how to use the different pieces of your infrastructure.
But with OOB, you can remotely manage everything with one tool. Support staff won't get overwhelmed or fatigued switching from device to device, and instead can easily control it all from one platform — whether it's networking, compute, storage, or power.
---
Manage More Functions
Hardware consolidation is on the rise, which means fewer devices are responsible for controlling more functions. Routing, switching, serving, and more are being crammed into single appliance offerings. This is great for boosting efficiency and reducing your footprint. But with everything, there's a tradeoff.
In this case, issues can have a greater effect on your network and take down several functions at once. If one of your consolidated devices fails and you don't have out-of-band, you need on-site staff who can troubleshoot issues across the board. However with out-of-band management, you can troubleshoot and control all your network functions and applications remotely using a single tool.
Did you know: OOB lets you put your best people on the job, no matter how far away they are from your network devices. And with a solution like Nodegrid, you get screen- and session-sharing features, so your top experts can collaborate in real time to keep your network running.
Overall, out-of-band management supports business continuity by giving you more control over your network infrastructure. It helps you quickly recover from and prevent downtime, gives you one simple tool to make management easy, and puts you in charge of all your network functions.
Download the Tech Brief