In the finance industry, network modernization protects the most confidential customer data. Whether for processing minor withdrawals & deposits, or recording asset transactions & real estate purchases, your network must be secure and reliable from the ground up. This is one of the biggest obstacles when trying to modernize.
Using traditional solutions forces you to overhaul your infrastructure and disrupt your business, or endure a very slow, piece-by-piece implementation. Either approach requires plenty of time, money, and resources. And without careful planning, you may end up with a solution that becomes obsolete sooner rather than later.
In this post, you'll see why you need to focus on network modernization, and how it helped one of ZPE Systems' finance customers protect their data.
What is network modernization?
Network modernization means updating your infrastructure and management tools, so that you can address current challenges and future requirements. This approach allows you to get the most out of your legacy solutions, while setting up a foundation that can help you adapt to change. Network modernization involves at least one of the following:
Deploying a solution that integrates in-depth control of legacy and modern systems
Eliminating points of failure using more resilient systems and streamlined architecture
Adopting extensible software or hardware that can accommodate changing needs
Why focus on network modernization?
When you adopt an approach that focuses on network modernization, you can realize many benefits even into the future. The most important thing to understand is that the more you modernize, the more benefits you'll see. For example, if you focus solely on deploying new hardware, you may experience advantages at the onset but eventual diminishing returns without modernized software. And if you implement only newer software, you'll run into the same issue due to the limited capabilities of your legacy hardware.
Network modernization is a multi-faceted concept, but comes with many benefits:
Using powerful, multi-function devices helps you save on deployment costs & efforts. You can replace many purpose-built appliances with a single box. This shrinks capital & shipping expenses, streamlines setup, and makes ongoing management much simpler.
Using an in-depth software solution for management helps you save on support expenses. You can control your legacy systems and extend functionalities to them, while giving IT teams remote access to your infrastructure layer. Instead of training on many UIs and dispatching technicians to troubleshoot issues, modernized software lets you control everything seamlessly from afar.
With an extensible solution, you get peace of mind knowing you can adapt to future requirements. Demands will continue to evolve (especially at the edge), and a flexible platform helps you accommodate changes. This could mean implementing the latest SD-WAN solutions, deploying compute power at the edge, or further reducing hardware stacks to meet business goals.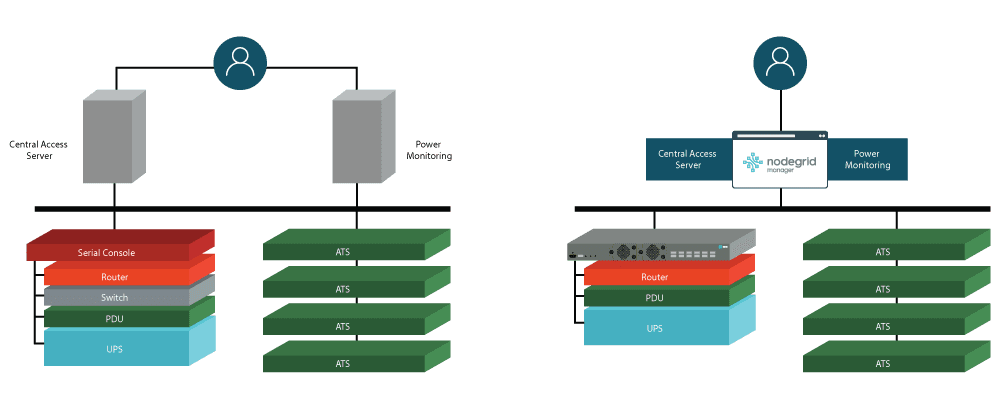 Network modernization helps a large financial firm
A major financial institution began to see weaknesses in their legacy system, and they knew that modernization was the solution. Their traditional infrastructure employed too many disparate systems that were difficult to manage, even to maintain everyday operations. Security and compliance issues were also developing, and to top it off, they would need to implement a new solution by taking a gradual approach.
For out-of-band management, they were using too many devices at the rack level. Their management solutions also lacked the ability to give them control over all their systems. Their servers and automatic transfer switches required separate gateways, which increased response times and made support difficult to manage.
So how were they able to replace these headaches with an efficient, cost-saving network? They used Nodegrid hardware and software to achieve a comprehensive network modernization solution.