Your out-of-band (OOB) network can make scaling more bitter than sweet. Growing your business comes with exciting new opportunities, and you know how to
set up your OOB connections for proper network management. But if you're still using traditional deployment methods, just the thought of opening a new location can take the wind out of your sails.
Challenges With Typical Out-of-Band Network Deployment
There are a lot of moving pieces that you need to coordinate when deploying remote or branch locations. You typically spend a lot of time and money preparing the physical devices that make up your stack. On top of this, you need to orchestrate your IT support staff so they can work on-site to perform necessary tasks, like installing, configuring, updating, etc. All of this leads to scaling that's more rigid than nimble, which can slow down your business operations.
---
Prepping Your Stack and Coordinating Staff
Traditional deployment protocols involve plenty of manual configuration. If you ship unconfigured devices to the new location, you need to put IT staff on-site to manually configure and install every component in your stack. This can be very time consuming and costly. Also, the more your deployment relies on manual input from IT personnel, the more chances there are for issues or failures to arise as the result of human error.
To help with this, you could preconfigure devices before sending them to their destination. However, this could add costs if you need to ship these appliances multiple times (for example, from HQ to the staging location to the final destination). When you also consider the fact that preconfigured devices contain sensitive information, you're risking your data's security.
What Would you do if your devices get sent to the wrong location?
Can you incur the costs of multiple shipments, especially if you're shipping through customs and/or over long distances?
And what protocols are in place to address lost or stolen devices?
Whichever procedure you choose to follow, you'll also need to involve IT staff once your appliances have arrived at the destination. This presents its own set of challenges, because you'll have to coordinate schedules, set up travel arrangements, and in some cases maintain an on-site staff presence full-time or part-time. Initial deployment can take days or weeks, even if the work goes smoothly with the right people on the job.
Overall, traditional out-of-band network deployment at remote locations presents issues like:
Security risks

Increased potential for human error

Heavy reliance on staff
These issues make scaling difficult, and even more so when you need to deploy distant, isolated locations. Luckily, recent developments have taken advantage of the cloud's flexibility, and now you can address these problems for smoother deployments.
---
Use the Cloud for Smooth Out-of-Band Network Deployments
Thanks to the cloud, you can eliminate major challenges during branch deployments. Using the right solution allows you to gain comprehensive visibility and control over your remote out-of-band networks. You can easily set up each location and maintain ongoing management with little or no on-site staff presence.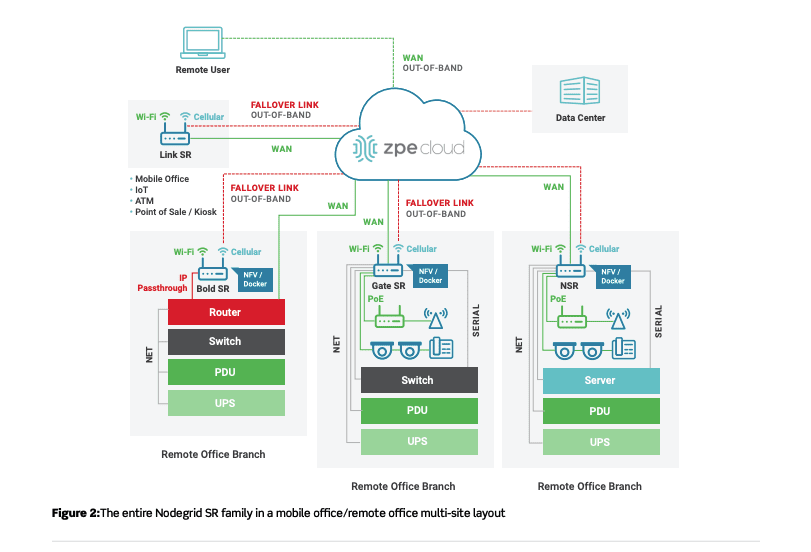 The cloud adds convenience and peace of mind to your deployments:
Better security — A proper cloud solution allows you to deploy using secure, encrypted connections. In addition, the cloud allows you to perform configuration and provisioning tasks remotely. You no longer need to ship preconfigured devices containing sensitive data, and instead can send plain-vanilla or bare-metal appliances. The cloud helps you set up these appliances only when they're safely under your control.
Fewer errors — Cloud-based solutions allow you to deploy using automation and scripting tools. Of course, you'll need to thoroughly configure and test in a lab to ensure proper setup. However, this means you can find and eliminate human errors before deploying to branch locations. And should you need to resolve an issue at multiple sites, the cloud allows you to automatically troubleshoot problems and implement fixes remotely.
Easier on staff — Zero touch provisioning means deployments require little IT staff involvement. Some solutions, such as ZPE Cloud, only require someone to physically plug in and install devices. There's no more need to coordinate specialized staff for on-site configuration and provisioning. Even inexperienced personnel can plug in appliances, which then connect to your NOC and self-configure right out of the box.
Cloud-based solutions streamline your out-of-band network deployments, especially at remote locations. There's even more that's available to keep your network secure, stable, and flexible, detailed in the complete tech brief.
Download the Tech Brief