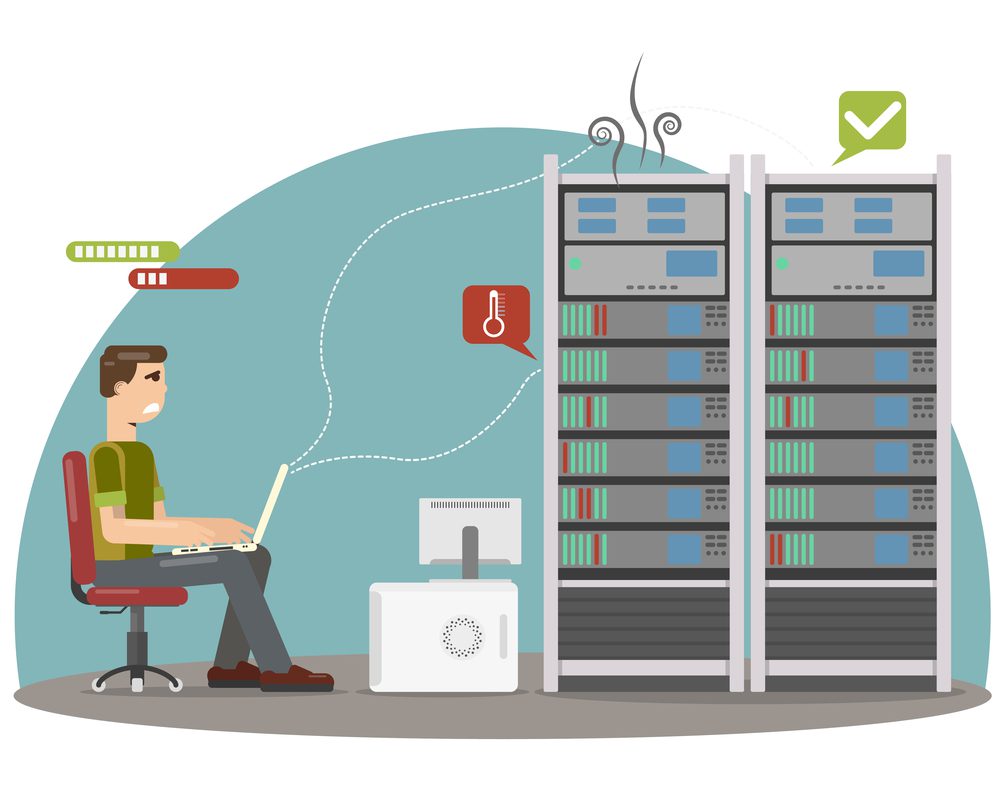 Today, many businesses are completely unable to operate without their data center infrastructure, so data center downtime is getting more and more expensive. According to Uptime Institute's 2021 Global Data Center Survey, over 60% of respondents lost more than $100,000 to downtime, with 15% reporting losses of over $1 million.
While there are many causes of downtime, one factor you can't afford to overlook is data center environmental risks. In this blog, we'll describe some of the most significant environmental risks in your data center, as well as the practical solutions that can save you millions.
Data center environmental risks you need to be aware of
The biggest data center environmental risks include:
Temperature
There is an optimal temperature range at which your data center devices work best. According to the American Society of Heating, Refrigerating, and Air-Conditioning Engineers (ASHRAE), the recommended temperature range for your data center is between 64° and 81° F (or 18° to 27° C). When the ambient temperature rises above that range, your equipment runs the risk of overheating, which can cause permanent damage to your expensive appliances.
Humidity
ASHRAE recommends keeping data center humidity around 50%, with a minimum of 20% and a maximum of 80%. If the air in your data center grows too humid, moisture may collect on the internal components of your appliances and cause corrosion, shorts, or other failures. Unfortunately, the air conditioning systems that keep your data center cool also contribute to ambient humidity, increasing your risk. On the other hand, if humidity gets too low, you run the risk of electrostatic discharge (ESD) damaging your equipment. In addition to humidity, you're also at risk of moisture from water leaks, fire suppression systems, spills, and other sources damaging your data center equipment.
Fire
Data center fires are relatively rare, but they can still be catastrophic when they do occur. For example, a fire at a French data center resulted in an estimated $122 million in losses. A fire could directly burn your equipment, raise the ambient temperature beyond acceptable limits, or activate automatic fire suppression controls that damage your devices.
Power failure
Managing power flows, and loads is a massive aspect of data center infrastructure management (DCIM). Though universal power supplies offer protection against short-term outages and power surges, a long-term loss of power could eventually bring down critical systems and appliances. For example, a power outage at one of Amazon's data centers affected major clients like Slack and Hulu.
Physical security
Most data centers provide some level of physical protection against unauthorized access, such as biometric door locks and CCTV cameras. However, suppose someone is able to get past those measures—perhaps because they're authorized to enter the facility for other reasons—they could potentially tamper with your equipment, either damaging it or trying to breach your network.
Air quality
Any particulates in the air could potentially damage your data center infrastructure. For example, gaseous contaminants and ground-level ozone can cause oxidation on internal components, and dust can clog up vents and lead to overheating.
Practical solutions for the biggest data center environmental risks
The first and most obvious solution to prevent these data center environmental risks is an environmental monitoring solution. This usually involves a series of sensors that detect and report on conditions within your rack, connected to a terminal console server or gateway router that reports back to your monitoring team at HQ.
One limitation of many environmental monitoring systems is maintaining your virtual presence in the data center even if there's an outage. If your main ISP connection to the data center goes down, for instance, you need eyes and ears on the situation to ensure it's not a symptom of a larger problem (such as a power outage or fire). The answer to this problem is remote out-of-band (OOB) management. OOB gives you a dedicated network connection to your critical remote infrastructure – such as your environmental monitoring solution – so you have an alternate path in case of an outage.
Another challenge is that many environmental monitoring systems are designed for on-premises architectures, meaning you need to be on the enterprise network—either directly or via VPN—to manage the solution. To address that limitation, you should look for a cloud-based platform that gives your engineers access to these critical sensors and alerts from anywhere in the world.
Finally, your environmental sensors will collect a lot of data. You can set up automatic alarms and alerts to notify you when there's an issue. But, if you want to identify opportunities to optimize your data center infrastructure, you need more sophisticated data analysis and visualizations. For instance, you might use this data to create more efficient power control maps.
Environmental monitoring is the bare minimum required to detect and prevent data center environmental risks. However, a robust environmental monitoring solution will also provide cloud-based control from anywhere in the world, remote OOB management for uninterrupted access, and sophisticated data analysis tools so you can optimize your data center operations.
Addressing data center environmental risks with a comprehensive solution
The Nodegrid solution from ZPE Systems addresses data center environmental monitoring with a comprehensive range of environmental sensors, including temperature and humidity, smoke, airflow, dry contact, dust and particulate, and more. When you connect your environmental sensors to a Nodegrid device in your data center, you get secure, 3rd-generation OOB access through a high-speed 4G/5G cellular connection.
You can monitor and control your sensors from anywhere in the world through ZPE Cloud, a vendor-neutral, cloud-based infrastructure management portal. ZPE Cloud includes comprehensive alerts and data visualizations, and you can dig into your data even deeper through Nodegrid Data Lake. Nodegrid is a complete solution for preventing, monitoring, fixing, and learning from your data center environmental risks.
Address your biggest data center environmental risks with the Nodegrid solution.
Learn more about how data center environmental monitoring can stop disaster before it strikes, or contact ZPE Systems today.