How can you overcome the challenges of network automation?
Network automation is key to simplifying administration. As infrastructures become increasingly complex, IT teams everywhere struggle to optimize their enterprise networks and minimize downtime. This brings challenges like:
Huge deployments with aggressive roll-out deadlines
Growing lists of manual tasks just to maintain normal operations
Failing to make infrastructure and services more predictable and reliable
All of these call for quick changes and rapid response times that only network automation can deliver. But the truth is, automation is difficult to implement. With so many vendors and technologies integrated into your infrastructure, how do you even begin to implement automation? It's certainly not a "one size fits all" solution, and is instead as unique as each organization.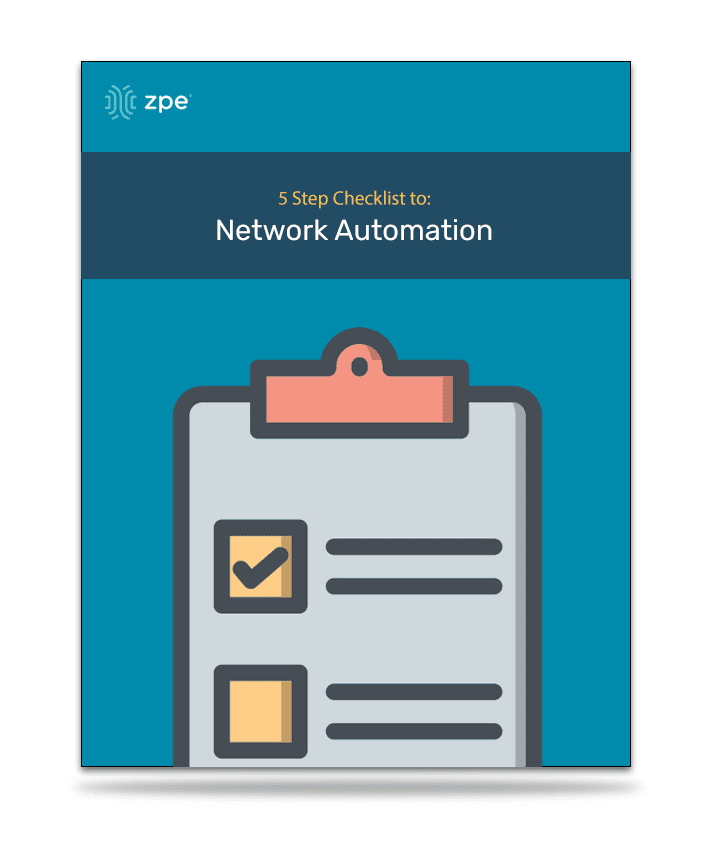 Follow this 5-step checklist to network automation
The good news is, we've put together this checklist to make implementation less daunting for you.
Here are five best practices for adopting network automation.
1.  Discover and identify
You first want to find out what you can and can't automate. Focus on things that improve business value and the end-user experience. A key value proposition of network automation is how quickly it scales, so identify your most important capabilities and services that need rapid scaling.
Bring in cross-team collaboration. Discuss and align all input and output dependencies, along with interoperability requirements for each of the building block components.
For manual processes, optimize them before you automate them. This ensures you're as efficient as possible, and provides a strong foundation for implementing the automation process (what must be automated vs what shouldn't be automated).
Take inventory of the state of your network by identifying components and configurations in your data centers.
Identify and list manual tasks and workloads, their dependencies, and time-consuming, error-prone activities. Example: If you spend tons of time on requests for routine changes, find the requests that bog you down most.
Identify the scripting requirements for successful automation. Which language(s) do you need? Do you need more training, or a bigger headcount?
Tip: Automate everything you can, even niche and non-recurring things like:
Scheduling tasks
Insights into servers and nodes, and their configurations
Patching, updating, and monitoring & reporting tasks
Once you've identified the tasks for network automation, it's time to determine the process, based on the tasks the automation will perform. Build a decision matrix to determine how different network functional blocks interact with one another. Based on various network services, you can segment the infrastructure into different blocks and then analyze how they interact.
Automation solutions can be as varied as the systems and software found in the data center. As application environments get created, a number of manual tasks and vendors could introduce numerous opportunities for error.
On infrastructure and network services, automation must be segmented in small blocks so you can understand how each component of the infrastructure architecture interacts. This is where cross-team collaboration comes into play to help you identify the various dependencies.
3.  Simplify and standardize
In this step, your goal is to simplify and standardize work processes and requirements (inputs/outputs). This marks the start of your full-fledged automation solution. When you simplify the deployment process, you reduce the time-to-market for both new and existing workloads.
To simplify existing processes, you need to define standard network service configurations to respond to repetitive tasks and requests. By doing so, you can address more than half of the change requests and significantly reduce implementation time. For new requests, you can either work them atop the existing configuration, or the existing configuration to satisfy the new requests.
Insight: By defining the automation process early on, you define how to implement it at scale.
After identifying, simplifying, and standardizing the automation tasks, you can work on the smaller items from the list you created in Step 1. Start with simple tasks and then move on to more complex workflows.
Here are some tips:
Start small. Use trial and error to automate the easiest tasks, and work your way to automating more complex tasks. This approach helps you achieve successful implementation at every level, while allowing you to roll back small changes and quickly fix issues that may occur.
Define a testing strategy. With this in place, you can take advantage of maintenance windows by testing automated tasks to make sure they're working as best as possible.
Aim for a self-healing system capable of detecting events and applying necessary changes automatically.
Design the automation and workflow of each network component to deploy self-servicing capabilities. Also, be sure to associate incremental tasks so they align to create business services and activities.
With all the testing and planning taken care of, it's time to implement and manage your newly automated systems. It's important to remain vigilant while continuing to learn and grow, so that you can implement automation quickly, safely, and efficiently. Fine tune your process, and focus on more than improving uptime — strive for continuous improvement of how your network can respond to issues and changes.
Part of managing your automated systems is to not just fix issues as they occur, but to constantly monitor and re-test tasks. Even seemingly non-impactful changes can break automated tasks, which can leave you with network disruptions and outages. To address and prevent this, test your automated tasks regularly to ensure that they continue to perform as needed.
Tip: Make sure your network documentation is centralized, accessible, and editable. When you make changes, always update and re-verify your documentation. This ensures accurate information is available for those who need it most.
Need more help with network automation?
For specialized help with your unique network automation challenges, contact ZPE Systems.