Did you know there's an easy way to consolidate your Out-Of-Band data center management – and save money?
For all that IT provides, there is a constant cry from businessmen to cut costs, find cheaper vendors, outsource whatever can be outsourced – and provide better service.
Maintaining and upgrading your data center IT systems is critical to business continuity. For most businesses, maintaining this ever changing multi-vendor environment — using many different and expensive proprietary management tools — just doesn't scale.
---
What is the solution?
To cut costs while improving data security and DevOps productivity, businesses need a smart, consolidated, vendor-neutral Out-Of-Band IT infrastructure management solution. A flexible solution that replaces dozens of other IT device administration tools saves you time and simplifies Out-Of-Band management.
ZPE Systems automates and consolidates management of your physical and virtual IT infrastructure while helping you cut costs to gain competitive advantage. ZPE Systems' vendor-neutral Nodegrid™ family of products unifies your Out-Of-Band management of hardware, virtual machines and converged infrastructure. Nodegrid scales to your company's needs with Nodegrid Manager® for software-defined infrastructure, Nodegrid Serial Console™ for legacy servers, PDUs and network gear.
---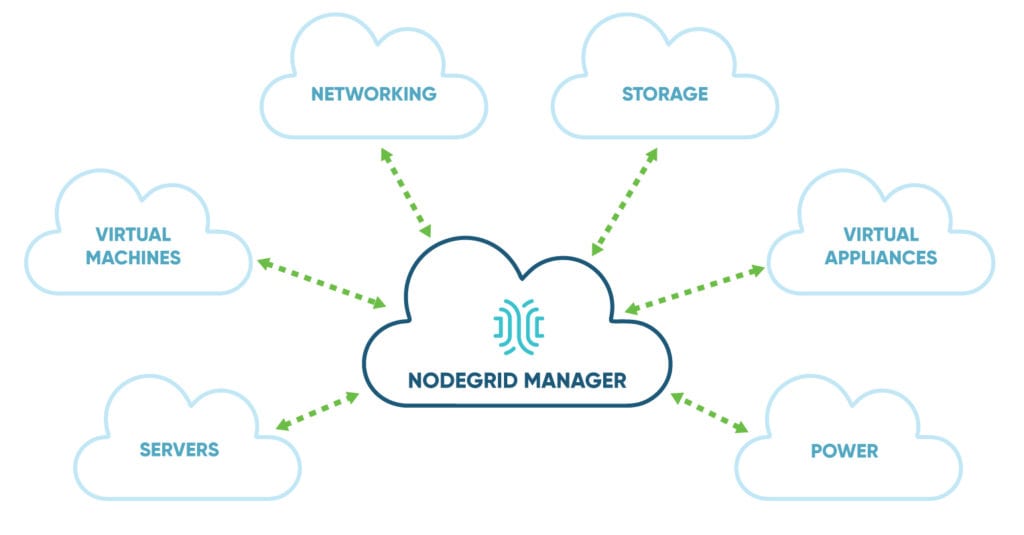 Nodegrid Manager is the industry's first and only Software-Defined Infrastructure virtual appliance that provides access and control of server, storage, networking, virtual machine, PDU and UPS devices from one screen. Nodegrid Manager is great for heavily software-based companies.
The Nodegrid OS core engine utilizes a unique technology stack that allows for policy-based automated discovery and configuration of device consoles to minimize configuration and maintenance. The core engine utilizes a unique interface abstraction layer which provides translation of the many protocols and methods required to access and control device consoles from multiple vendors. It also supports Environmental and Power Monitoring with NodeStash™ data collection, correlation, natural language search and dashboard and Vendor-Neutral Power Management for VMs, IPMI and PDU's
A flexible, unified interface with Web GUI, CLI (for scripting) and RESTful API enables automated customization and integration of your console portals and applications.
Cluster multiple Nodegrid Managers together for a complete 360° view of all your assets via a secured and resilient internal cloud. Find any device quickly using natural language search to quickly access and control IT assets. Bookmark common devices for instant access.
---
Nodegrid Serial Console is the data center industry's next generation serial console switch and the highest density console in the world. Nodegrid Serial Console boosts productivity, multi-user access and reduces infrastructure costs with the latest technologies. Open modular hardware design, blazing fast CPU speed and more memory together with the latest 64-bit Linux OS enable lightning fast response times. Support for Docker Containers enables feature expansion. Multiple industry-first security measures protect your business, including bare metal booting and configuration security checksum. It also supports Zero-Touch Provisioning for easy and simple configuration and Browser-in-a-Container for secure HTML5 navigation to IT infrastructure devices without deprecated NPAPI/Java code viewers. Designed by industry veterans, Nodegrid Serial Console is available in many 1U configurations—96, 48, 32 and 16 port models.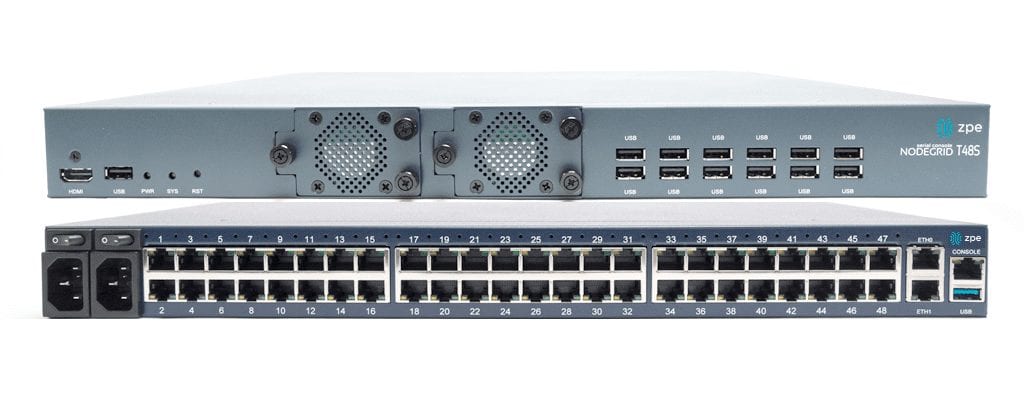 Ordering Details:
The Nodegrid Product Family Provides Robust Management Features:
Secure Out-Of-Band (and In-Band) access and control of numerous vendors' devices including: VM, server, IPMI, networking, storage, serial console and power
Docker apps integration and 64-bit direct Linux shell for powerful scripting
Industry exclusive security measures, including bare metal booting and configuration security checksum
Browser-in-a-Container for secure navigation without deprecated NPAPI/Java code viewers
Cross-device HTML5 remote console access
Policy-based authorization and authentication via AD/LDAP
Data logging, event notification and alarms
Environmental and Power Monitoring with NodeStash™ data collection, correlation, search and dashboard
Premise, Hybrid and Cloud device management
Vendor-neutral power management: Cyclades/Avocent, Raritan/Legrand, ServerTech, Emerson, APC/Schneider and more
Nodegrid Benefits
Minimizes MTTR, downtime and expenses with secure, centralized remote device access and control
Increases site reliability with open industry standard hardware, and simplified easy-to- use software
Remote vendor-neutral power control embedded on session (hot keys) or via web (buttons)
Avoid travel and access your device anytime and anywhere over the network
Increase productivity by accessing all your devices from a clustered system for a complete asset view
Increase security with encrypted, logged access to devices
Self-healing system based on actionable data and triggers
Extended automation and custom scripts based on actionable real-time data and alert triggers
Search for any device information, including custom fields, to quickly access your device
Easy integration with 3rd party management tools via APIs and CLI
Add further value with licensed features like Docker, Clustering and Managed Devices
Want to Know More? Let's Chat!
Still have questions about how easy it is to use Nodegrid Out-Of-Band management products? Give us a call or email us, we're happy to discuss how Nodegrid can support your environment.