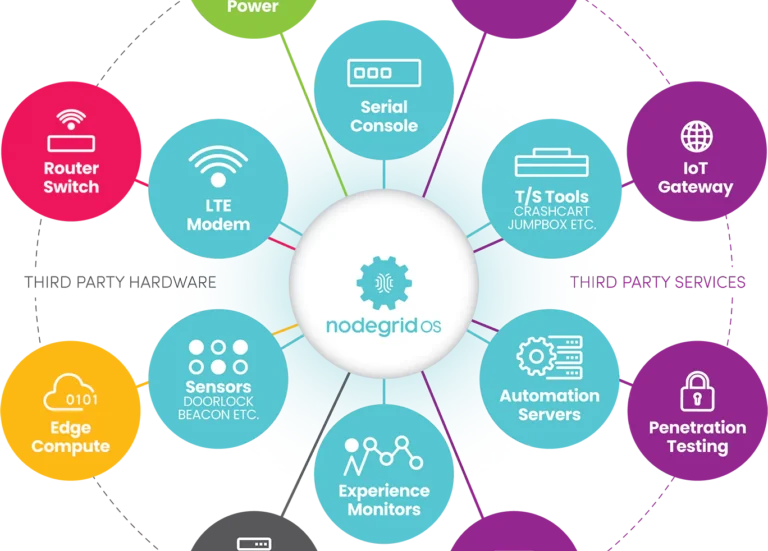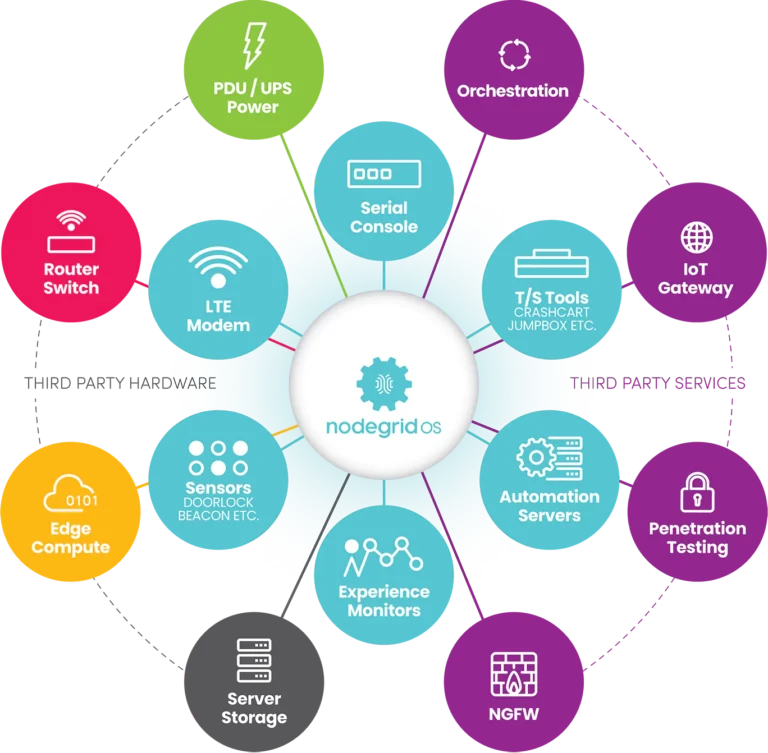 ZPE Systems' Services Delivery Platform accelerates time-to-market with any app, anytime, anywhere
IT teams can deliver instant business value with the on-demand services delivery architecture
Fremont, CA, April 25, 2023 — ZPE Systems' Services Delivery Platform is IT's 'easy' button for delivering instant business value. Instead of deploying dedicated NGFW hardware and Intel® NUCs, ZPE's Intel-based platform runs 3rd party apps at remote locations delivered via ZPE Cloud app marketplace. This speed and flexibility simplify global service delivery and fleet management for manufacturing, healthcare, finance, and other industries, where any app can be automatically deployed from the cloud.
Why is this important?
Private-cloud and on-prem services must run on dedicated systems, which causes infrastructure sprawl. This complexity pulls IT teams away from generating revenue, recovering from outages, and stopping ransomware attacks. Their job becomes managing low-level infrastructure and inefficient delivery pipelines. The Services Delivery Platform alleviates this by giving them the speed and flexibility to:
Secure remote locations with cloud-deployed pen test agents & other services

Segment edge networks regardless of interface type

Eliminate supply chain risks with hardened devices

Shrink attack surfaces with swift centralized patch management

Collapse device stacks into 1RU or less using virtual services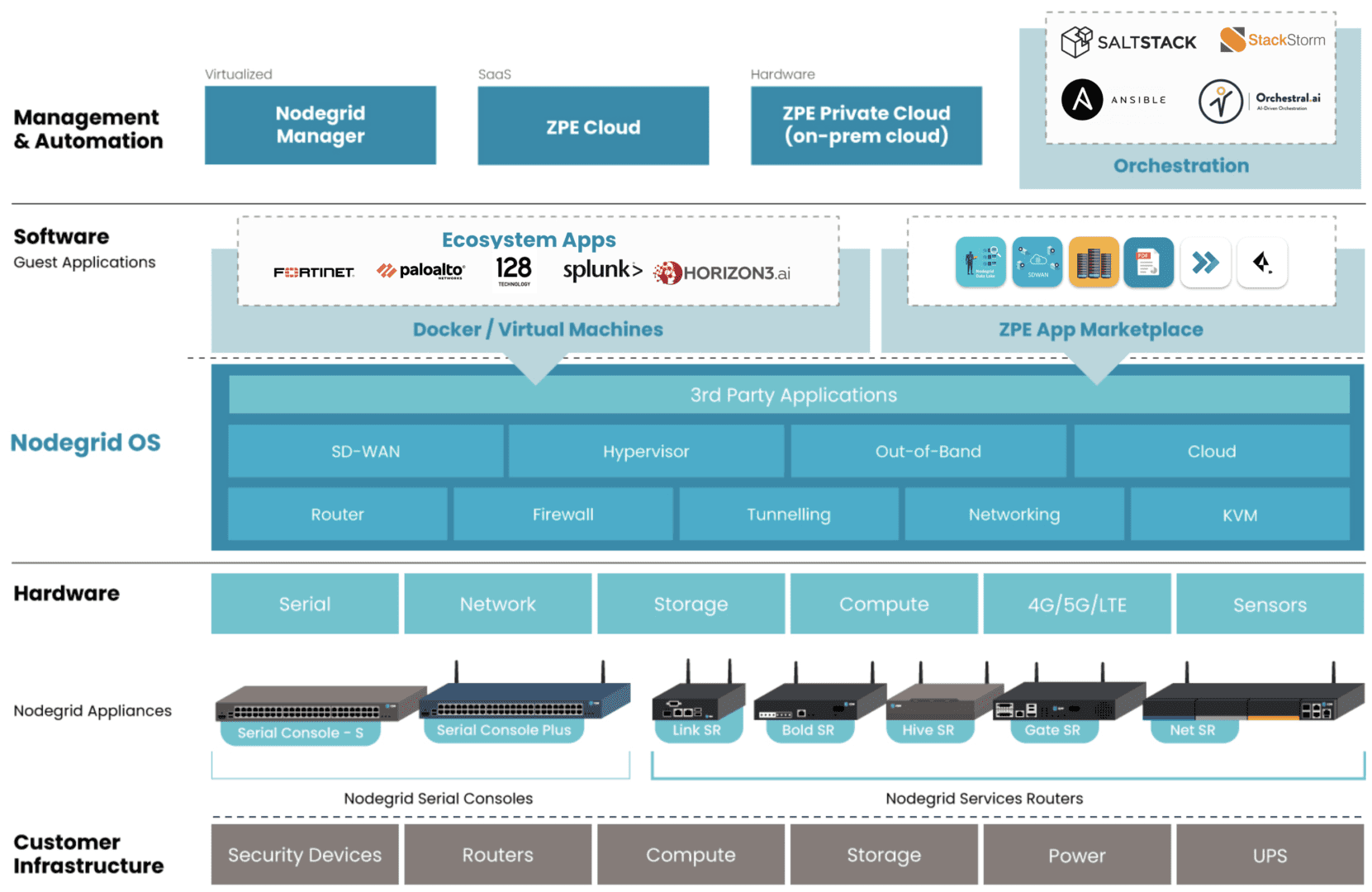 Graphic: ZPE's Services Delivery Platform is represented as blue blocks. Examples of 3rd-party hosted apps are represented in white blocks under Ecosystem Apps.
The Services Delivery Platform brings to life Gartner's concept of platform engineering. This platform-as-a-service model allows admins to tailor environments with the right apps for SD-WAN, NGFW, pen testing, and other functions, without battling vendor lock-in or changes in security posture. They also gain a consistent management experience across private-cloud and on-prem solutions.
Teams typically avoid platform engineering because there are no best practices for creating the proper control plane management network on secure devices.
ZPE Systems worked with Big Tech to define these best practices, which enterprises can now apply to private-cloud colo and edge deployments using the Services Delivery Platform. This establishes the resilient control plane management network and platform engineering component, both on a single, multi-function device connected to the cloud.
Enterprises accelerate revenue generation, reduce outage costs, and stop ransomware attacks using this architecture.
How does it work?
Nodegrid edge routers bring dedicated LAN and WAN links through multiple interface types (serial, ethernet, USB, IPMI). These create a secure control plane — a Double-RingTM management architecture — while eliminating the hardware attack surface with security features including TPM 2.0, encrypted disk, geofencing, and fully-signed Nodegrid OS.
This network is the foundation of the Services Delivery Platform. Along with hosting the management network, Nodegrid devices directly run VMs, containers, and any choice of app using the onboard multi-core Intel CPU and Linux-based Nodegrid OS. This OS also extends automation across environments and devices to give teams end-to-end activation and chaining of SASE, NGFWs, SD-WAN, and any cloud or on-prem solution.
"I've been in ops for a long time. Most of your day is spent just figuring out how to get your environments to work right," says James Cabe, Director, Technical Alliances at ZPE Systems. "The Services Delivery Platform is a game-changer. The whole thing sits right on the Nodegrid box and you can switch or swap out services whenever you need to. Just choose what you want to deploy and go. It's all done via separate control plane with no attack surface and no exposure to the Internet."
Where can I find more information?
Go to zpesystems.com/services-delivery-platform to learn more about the Services Delivery Platform.
If you're attending RSA Conference April 24-27, visit ZPE Systems at booth 4125 between north and south halls and ask for a demo.  Use this code for free RSA expo pass: 52EZPESYSXP