Cellular failover sets a new standard in high availability. When your primary WAN connection goes down, this wireless option keeps you safe from expensive outages. Compared to traditional redundancy strategies, cellular comes with a few very crucial advantages for your business and your network IT staff.
But first, let's see what cellular failover is and why your continuity plan needs to include it.
What is Cellular Failover?
Cellular failover essentially makes high availability possible through wireless carriers. Traditional redundancy strategies place secondary, tertiary, and other backup connections in the ground using land lines (T1, T3, MPLS, etc.), however these usually offer limited reliability. When your main line suffers an outage or disruption, it's likely that your wired backups will, too.
Using cellular failover, your backup connection is provided over 3G, 4G LTE, and even 5G networks, instead of through physical connections in the ground.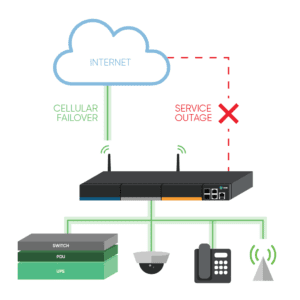 ---
Why Do You Need Cellular Failover?
Wired connections are expensive to add, and most of the time they follow the same path as your main line. This means that when something disrupts your primary connection — such as a nearby construction crew that accidentally digs through your line — your wired backups go down as well. Cellular failover offers backup connectivity wirelessly, so issues like this won't affect your network.
Gartner estimates that downtime costs an average of $300K per hour. This can cripple your organization while you wait for a temporary or permanent fix to your wired solutions, which can take hours or days at a minimum. Most wireless carriers, on the other hand, provide network uptime of 99.5% or more, which means you don't have to wait for cable repair or new lines to be trenched. The right cellular failover solution keeps you covered automatically and seamlessly.
Your business continuity plan should include cellular failover, because it:
Provides backup connectivity for your production network and your critical functions

Offers a reliable, isolated, and secure path for out-of-band management (OOB)
---
What Business Benefits Come With Cellular Failover?
Cellular failover offers more reliability and flexibility than wired options.
Stay disruption-proof: With cellular failover, you don't have to wait for your main connection to come back online. When your primary link is unavailable, cellular failover automatically kicks in to handle your network traffic. And because many carriers have robust and reliable networks that operate for years without disruption, your business can keep going regardless of what happens to your underground connections.

Set up & scale fast: Deploying new locations often means waiting weeks for wired connections to be installed. On top of this, these wired connections can leave you with a single point of failure at each location (such as when a router or switch goes down). When you introduce wireless connectivity via cellular failover, you can deploy in hours or less without waiting for crews to install physical lines. This means your business can scale quickly, whether you're setting up permanent branch locations or temporary kiosks.

Fix issues remotely: Cellular failover via ZPE's Nodegrid allows your backup connection to also serve as an OOB path. If a network problem arises at one of your branch locations, such as a device becoming unresponsive, your IT staff can use your wireless redundancy path to access the network and resolve the device issue. You don't have to spend time and money bringing in on-site support.
---
How Do Network IT Staff Benefit?
Because wireless connectivity can serve as an OOB management path, your network IT staff also benefit from having cellular failover at their disposal.
During outages, cellular failover allows your admins to maintain visibility and control of your network. Instead of having to go on-site to each location and physically connect to each device, your staff can remotely connect to monitor your network, troubleshoot issues, and make adjustments as needed. This helps streamline network management processes and tasks by offering a convenient access method to branch locations and remote sites.
When it comes to deployment, cellular failover not only helps you get sites online faster, but it also offers staff the peace of mind that comes with a more flexible, resilient link. Should issues arise during deployment, your wireless connection can kick in to help finish the job. If your scaling strategy takes advantage of methods like zero touch provisioning, you don't have to wait for your primary link to be available. Cellular failover helps staff get sites up and running quickly, and gives them a secure pathway to manage your network before, during, and after each deployment.