Watch us kick off Networking Field Day 27!
View our live presentation and demo of Gen 3 Out-of-Band and our Zero Pain Ecosystem, recorded live at Networking Field Day 27. Watch now or download the presentation to discover:
Why current solutions are too vulnerable to downtime
Why we created Gen 3 Out-of-Band & the Zero Pain Ecosystem
How tech giants use Gen 3 to automate critical IT & boost uptime
Watch or download now using the buttons below!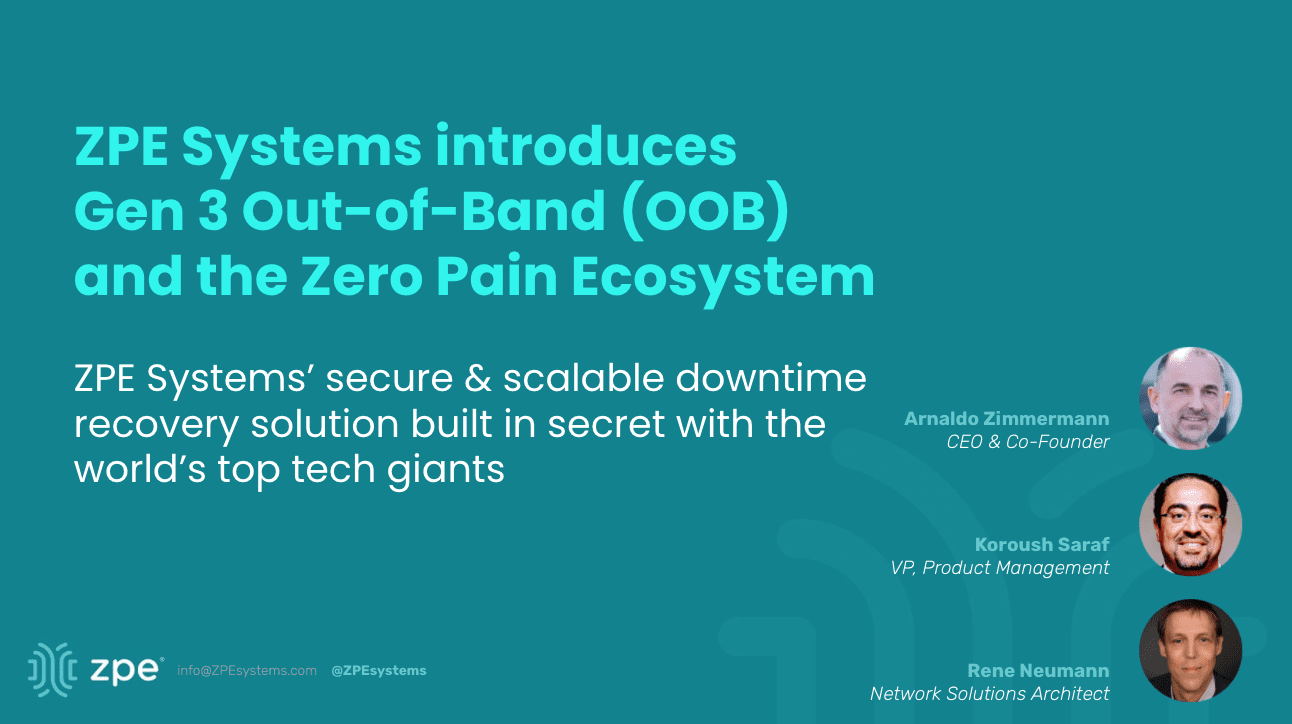 Agenda:
---
Problems that led ZPE to develop the Zero Pain Ecosystem
Explore the gaps in existing solutions and the downtime-inducing issues that inspired development of our Zero Pain Ecosystem. See ZPE's core elements that enable the world's largest enterprises to improve network reliability, address personnel & expertise shortages, and strengthen weak security postures. Learn about the latest Gen 3 requirements and see the blueprints for implementing the Zero Pain Ecosystem in data center, campus, colocation, branch, and edge environments.
---
How ZPE customers use Gen 3 OOB to automate remote critical infrastructure and edge networks
See how ZPE transformed critical data center infrastructure for tech giants, and extended this technology to enable the same openness, security, and scalability for remote critical infrastructure. Explore modern use cases for Gen 3 OOBI, end-to-end automation, NetOps / NetDevOps, next-gen SD-Branch gateways, and AIOps.
---
Demo No. 1: Hands on with Gen 3 OOB to resolve edge operational challenges
Live demo of a real customer deployment. We will remotely demo an IT admin in Europe managing infrastructure as if they are virtually present in California. Including connectivity, security, automation of critical edge infrastructure.
---
Demo No. 2: Go beyond standard OOB and explore the automated Zero Pain Ecosystem
Demo 2 goes beyond the standard of remote access. ZPE will show the open ecosystem that makes IT wishes come true by enabling flexible automation & orchestration by Zero Touch/Zero Trust Provisioning, and open 3rd party orchestration stack as well as 3rd party tools like Rumble scanners, pen testing, and automation playbooks.
Liked what you saw?
Check out our other Network/Security Field Day Presentations
Introduction to ZPE Systems
Global Data Center Infrastructure Management & Orchestration with ZPE Systems
Deploying & Managing Critical Remote Edge Infrastructure with ZPE Systems Nodegrid
Tour ZPE Systems' Nodegrid and ZPE Cloud
ZPE Introduction: Why Cybersecurity for Enterprise Can't Be Solved By One Vendor
ZPE Demo: Immutable Principles of Branch Deployment
ZPE Demo: Zero Pain Ecosystem – Launching Security Apps from ZPE's Cybersecurity Platform