Is Your Test Lab Lacking Network Automation? Is Manual Testing Still Taking Up Resources?
Without network automation, you're familiar with having to spend time and resources on manual testing. You need highly technical staff to be on-hand, who then spend days or weeks going through testing procedures. Even with basic automation, you're left with limited capabilities and plenty of time-consuming, manual work. Here's a look at different lab environments showing how manual testing compares to automated processes.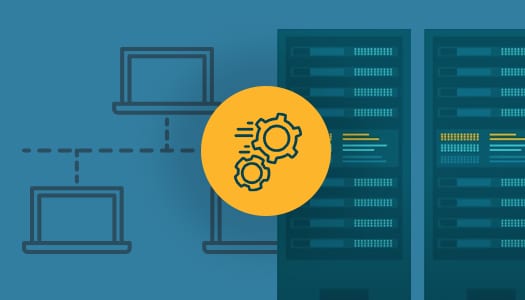 The Automation-Free Test Lab
If you haven't implemented any automation solutions, your test lab eats up your time and resources. Every procedure must be performed manually. Because of this, you constantly face issues like:
Having to invest lots of time — Each test must be initiated manually, which means many working hours spent in the lab. This can take days or weeks (or even longer) depending on your network needs.

Having to tie up critical staff — You can't just assign unspecialized staff to follow through with testing. With manual procedures, you need to put your most knowledgeable people on the job, which pulls them away from more critical functions.

Being vulnerable to human error — A simple typo can result in catastrophe (i.e. Amazon AWS outage of 2017). Human error is more prominent than you'd think, and is

actually the biggest contributor to downtime

. Without automation, you're vulnerable to human-induces mistakes both big and small.

Lacking analysis — When errors occur, you need to log data for analysis. Because this needs to be done manually, you might not prioritize this task, leaving issues without analyses. If you do store this data, you're open to human errors that could affect any analyses you perform.
---
The Somewhat Automated Test Lab
If you have implemented some automation solutions, you're on your way to a more efficient lab experience. However, there are still issues you may face, like:
Lacking concurrent sessions — Legacy console servers aren't capable of handling many concurrent sessions, which reduces the number of devices and connections you can support during testing.

Crashing — Your console servers have serial ports that can't use high baud rates (such as 115200bps) in all ports. As more sessions are established, users experience slowdowns due to limited session capacity. Ultimately, the solution crashes.

Frequent tweaking — Without a full automation solution, you need to tweak scripts regularly to accommodate any changes you make. Delays and disruptions can occur when, say, you need to replace devices or add new hardware.

Unsupported scripting — Some offerings only support certain scripting languages, leaving you to adapt. You either need to spend time and money to learn the supported languages, or add new team members who are familiar with the supported tools.
Ask yourself: Does your automation solution require you to monitor script/command execution? If so, can you really call it 'automation'?
---
The Advanced Test Lab Using Nodegrid
For network automation you dream of, Nodegrid delivers without compromise. The Nodegrid hardware and software support unlimited automation, testing, and data collection.
Save time — Nodegrid allows you to push configurations, software/firmware upgrades, and tests in bulk. And for a little extra time savings, Nodegrid devices boot more than a minute faster than competitor appliances.

Make deployments effortless — Use

zero touch provisioning

to automate the deployment process.

Get full automation — The Linux OS running on Intel x86 64-bit architecture means faster processing, support for Docker & Kubernetes applications, and support for common scripting languages like Python, Bash, Perl, and others.

Handle many concurrent sessions — You can support 20 concurrent sessions per port in all 48 ports, or 10 sessions per port in all 96 ports. And the reservation system allows users to reserve ports.

Tailor port settings — You can customize serial port settings so connecting is easy (i.e. require no additional text information or authentication).

Get full analyses — For data logging and auditing, you can capture and save serial data logs to a local file, NFS file, and/or Syslog server.

Set up groups — Create authorization permissions for certain groups, so they can efficiently access their own devices.
Download our ebook to learn more: How Automation is Transforming the Datacenter Landscape
Are you ready to let Nodegrid work for you? Schedule a demo today and see how you can benefit from network automation in your test lab.