Secure Access Service Edge is a new concept that's transforming the edge network. SASE delivers more flexible and secure network access, so your business can adapt to drastic changes and accommodate a distributed workforce.
Want to see it in action? Here's a 90-second explainer video to help you visualize business with SASE.
In a nutshell, SASE delivers a ton of benefits:
SASE combines networking and security in a cloud environment. This means you don't have to backhaul traffic through your main enterprise firewall, which causes slowdowns and degraded performance. Instead, you can deliver safe network access directly to users, which makes it easy to connect from anywhere. At the same time, this lets your main network breathe so business can continue without interruptions or lagging network speeds.

SASE is identity-driven. This means network connectivity is tied to users instead of to specific devices or access points. So when changes force you to accommodate remote work or distributed staff, your IT teams don't have to be burdened configuring countless laptops, smartphones, tablets, etc. Your workers can simply pick up and go, and connect to your network even using their own devices or public access points.

SASE converges network functions for secure and easy management. Accommodating a more agile edge network used to require adding purpose-built solutions to your stack. This made a nightmare out of deploying and scaling, and management became more complex because each solution came with its own UI, architecture, requirements, etc. With SASE, you can virtualize all your essential functions. This helps reduce your stack to make scaling simple, and centralizes functions so IT staff can manage your network in one place.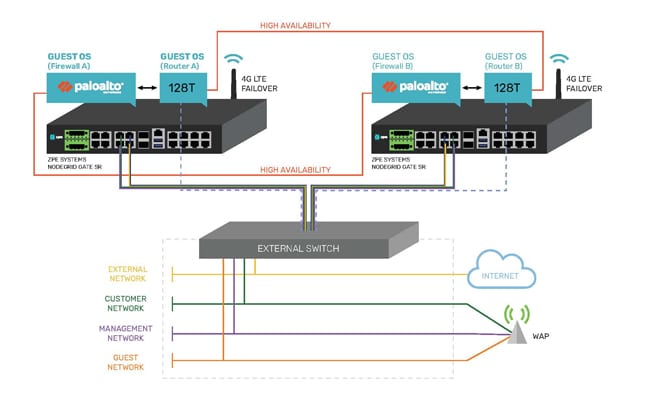 Why is SASE better with Nodegrid?
Nodegrid provides a SASE platform that's unlike other solutions on the market. This owes to all-in-one devices and the 64-bit, Linux-based Nodegrid OS. With more speed and compute power, Nodegrid offers even more flexibility through virtualization, capable of running multiple guest operating systems (guest OS) and directly hosting your choice of applications.
Nodegrid also supports automation and zero touch provisioning. In order to deploy new locations, just install your Nodegrid devices, and then provisioning can be executed automatically. This significantly increases security, since you can ship 100% unconfigured devices and then provision only when they're under your control. This also saves on deployment resources, because you don't have to send specialized IT staff to each site for time-consuming, manual setup tasks.
How does Nodegrid deliver SASE in the real world?
A global oil & gas provider needed to streamline their edge networking solutions.
Their hardware stack consisted of many devices that were difficult to deploy and manage. This was a major hurdle for the company, considering their remote sites were very limited by physical space constraints. Additionally, support costs continued to rise and IT staff were dispatched to fix even minor issues.
The company needed a streamlined solution that was more space- and energy-efficient, and that could also maintain a high availability environment. Nodegrid was the only platform that could meet all their needs.
Want to learn how the company cut their stack in half, maintained a secure & highly-available environment, and saved on support?