What is Network Management?
Enterprise network management must constantly evolve to account for new technologies, business requirements, risks, and challenges. In this guide, we'll define network management, describe some of your biggest challenges, and discuss the solutions that make your job easier.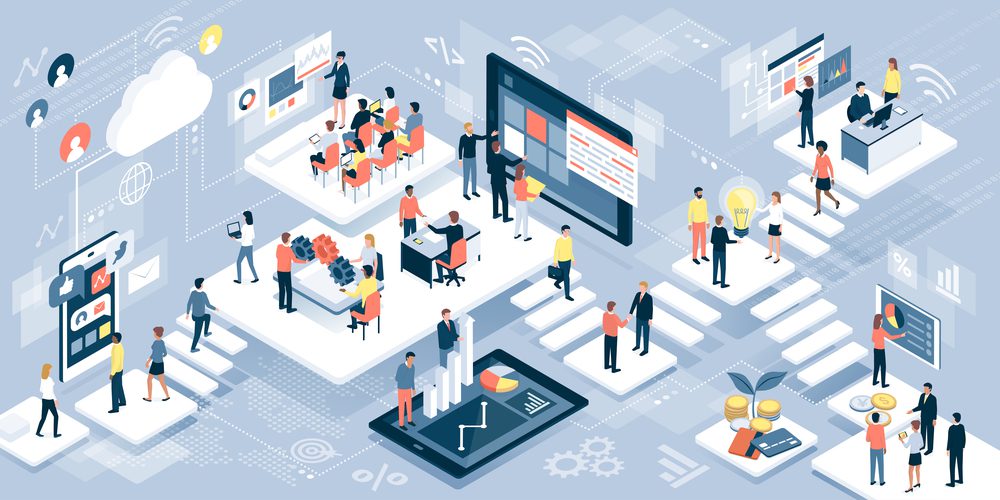 What is network management?
"Network management" describes all of the tasks performed and the technologies used to control an organization's network and infrastructure. Some examples include:
Installing, provisioning, and maintaining network devices and solutions like routers, switches, firewalls, and servers
Deploying feature updates and patching vulnerabilities in systems, devices, and applications
Monitoring network performance and optimizing traffic with load balancing and other routing technologies
Deploying, managing, and monitoring network security solutions and addressing potential threats
Troubleshooting and recovering networks and infrastructure during cyber attacks, hardware failures, and other outages
Network management objectives typically fall under the purview of network engineers, who design the network and handle high-level tasks, as well as network administrators, who are responsible for the day-to-day network operations.
Network management challenges and solutions
Collectively, these network management challenges could be summarized as a lack of resilience. A network's resilience reflects its ability to continue functioning and delivering critical services despite environmental risks, equipment failures, complexity, scaling demands, and cyber attacks.
A lack of resilience can cost organizations millions of dollars in recovery expenses and lost business. For example, when Sony was hacked in 2011, the PlayStation network was offline for 24 days, resulting in $170 million in fines, compensation, and lost revenue.
When an IT contractor at British Airways accidentally switched off a UPS (uninterruptible power supply) at a key data center, it took a week to fully recover operations, resulting in around $109 million in lost revenue. 
Let's dive into each of these resilience challenges and discuss how to overcome them.
The challenge: Data center environmental risks
A sudden change in data center environmental conditions could cause equipment failure that impacts the performance or availability of services, applications, or the network as a whole. More subtle environmental changes could also have long-term effects on the performance and lifespan of expensive hardware. For example, a slight but prolonged temperature or humidity increase could eventually overheat devices or corrode internal components, leading to unexpected shutdowns that take the network offline.
To prevent these environmental risks from damaging your infrastructure or disabling your enterprise network, you need environmental monitoring sensors to detect and monitor each of these factors. However, environmental monitoring solutions often present problems of their own, like:
Can you view or manage your sensors from outside the enterprise network, or do you need to be on-site or connected via VPN?
How do you connect to your environmental monitoring solution if there's a network outage?
What do you do with the massive amount of data being generated by your environmental monitoring sensors?
The solution: Nodegrid environmental monitoring
Nodegrid's environmental monitoring solution gives you a virtual presence in your remote data center and branch locations, with a full range of environmental sensors connected to a cloud-based platform that you can access from anywhere in the world. Plus, if you connect your environmental sensors to the Nodegrid Serial Console in your data center or the Nodegrid Services Router in your branch office, you'll get reliable out-of-band access to your monitoring system even during a network outage.
To use all the valuable data collected by your environmental sensors, you can activate the Nodegrid Data Lake application. This cloud-based data analytics and visualization platform tracks KPIs and other metrics, detects potential issues before they occur, and helps you identify opportunities to optimize your environment. In addition to your environmental sensors, Nodegrid Data Lake also taps into infrastructure, system, user experience, networking, and even previously hidden server and switch logs to bring all your data to light. 
Nodegrid delivers complete environmental monitoring and a virtual presence solution so network management teams can improve the performance and resilience of remote branch and data center network infrastructures.
The challenge: Recovering remote infrastructure
Another network management challenge for remote infrastructure is how to recover from failures as quickly and inexpensively as possible. To illustrate the problem, here are three potential scenarios:
Scenario 1: A data center hundreds of miles away goes offline in the middle of the night. How do you perform a root cause analysis and develop a fix?
Scenario 2: A branch office network is infected with a virus and needs to be taken offline before the infection spreads to the rest of the enterprise. How do you remove the virus while the branch is offline?
Scenario 3: The production network is hit by ransomware, and all enterprise applications, data, and infrastructure are unavailable. How do you rebuild and recover without reinfection?
Remote out-of-band (OOB) network management addresses all of these challenges by separating the network management plane from the data plane and providing a dedicated connection to your remote network infrastructure. That gives you an alternative path to your critical equipment, even if your main ISP connection goes down. In addition, you can use OOB solutions to create an isolated management infrastructure (IMI) to aid in recovery from cyber attacks and LAN outages.
However, some OOB solutions only work within a particular vendor's ecosystem, which means you're either locked into their products and features roadmap, or you're leaving critical appliances out of your OOB management umbrella. 
The solution: Nodegrid Gen 3 Out-of-band management
Nodegrid OOB management solutions from ZPE Systems use a variety of connection types, including 4G/5G LTE cellular, to ensure admins have 24/7 access to critical remote network infrastructure. Nodegrid Serial Consoles and Services Routers run the Linux-based, x86 Nodegrid OS, ensuring interoperability with mixed-vendor and legacy solutions. Nodegrid also supports VM and container hosting for your custom or third-party network management and automation applications. ZPE has worked with Big Tech over the last decade to develop Nodegrid into the first Gen 3 (or third-generation) out-of-band management solution, which means it supports end-to-end network automation, or what Gartner calls hyperautomation. 
Nodegrid enables teams to build a completely isolated management network on which they can rebuild infrastructure and restore data and applications without the risk of ransomware reinfection. Nodegrid's ability to run virtual network functions, VMs, and containers allows you to consolidate an entire infrastructure's worth of functionality into a single box, reducing the overhead and complexity involved in deploying an IMI. 
Nodegrid OOB improves network resilience by ensuring administrators always have the ability to troubleshoot and recover remote infrastructure without rolling trucks. Additionally, Nodegrid's vendor-neutral platform ensures full OOB coverage and unlimited control plane automation.
For more insight on upcoming network management challenges and solutions, read Enterprise Network Management Trends to Expect in 2023 and Beyond.
The challenge: Orchestrating hybrid network environments
Hybrid network environments use a combination of public and private cloud infrastructure, making them challenging to orchestrate. For example, applying enterprise security policies consistently across multiple vendors and platforms can be difficult. Learning how to correctly configure infrastructure settings in each environment also increases manual work and the likelihood of human error. Administrators often lack the comprehensive, 360-degree overview required to ensure optimal performance and security coverage.
Key tools for addressing hybrid network management challenges include SASE (secure access service edge), network automation, and DCIM (data center infrastructure management) solutions. And yet, each of these key tools comes with its own challenges. For example, SASE often requires hardware to host the solution and deploy software agents, adding to costs and management complexity. Hybrid network automation efforts and DCIM solutions are often hampered by vendor lock-in, which means you either need to purchase and manage multiple tools for each of your platforms, or leave gaps in your coverage.
The solution: Unified hybrid network orchestration with Nodegrid
Nodegrid's vendor-neutral, cloud-based platform delivers centralized control over hybrid network environments. The Nodegrid orchestration platform helps you overcome hybrid network management challenges with:
An open management platform capable of running third-party SASE, automation, and DCIM solutions.

The ability to push security and automation to third-party solutions.

A centralized control panel to orchestrate automation and security across your hybrid network architecture.
Nodegrid further simplifies network management by consolidating many devices into a single, complete solution. The fewer appliances you need to monitor, manage, and troubleshoot, the easier it is to orchestrate your hybrid network infrastructure. For example, the Nodegrid Hive SR is a 5-in-1 branch gateway that combines SD-WAN, security, compute, NetOps, and OOB in one vendor-neutral box.
Nodegrid uses open management platforms and consolidated networking devices to deliver streamlined hybrid network orchestration.
The challenge: Automating your network operations
Network automation improves network resilience by reducing the risk of human error. It also streamlines network infrastructure provisioning, speeding up deployments without negatively impacting quality. Some examples of network automation technologies include:
Zero-touch provisioning (ZTP) enables automatic device configuration deployments. With ZTP, a non-expert onsite user can plug a new device into power and network sources, and that device automatically downloads its setup files and executes its configuration with little-to-no human intervention. 
Software-defined networking (SDN) creates a software abstraction layer that decouples device configurations and network management processes from the underlying hardware. With SDN, admins can use software scripts, intelligent routing rules, and other automated tools to handle key network management workflows.
SD-WAN extends software-defined networking to WANs (wide area networks).
SD-Branch extends even further into remote branch LANs for greater automation coverage.
One challenge in automating your network operations is that most single solutions are unable to provide or facilitate all the necessary pieces to complete the network automation puzzle. That means you must often combine multiple boxes to get everything you want, increasing your network complexity and costs.
Another issue to consider is vendor lock-in. Your network likely includes different vendor solutions and platforms. Each system may allow for automation on its own within that vendor's ecosystem, but the hassle of managing multiple automation solutions without any centralized orchestration could be more trouble than it's worth.
The solution: Nodegrid Services Delivery Platform
Nodegrid makes it possible to roll up all the necessary pieces of the network automation puzzle into one complete solution. Nodegrid is a complete Services Delivery Platform capable of running custom and third-party applications for ZTP, SDN, SD-WAN, and SD-Branch, as well as DevOps automation tools for infrastructure as code (IaC), source code version control, and more. Nodegrid significantly reduces the hardware overhead at each business site, so instead of deploying 10 different boxes to get all the required functionality, you can deploy a single all-in-one solution.
You can also extend Nodegrid's automation to any connected solution on your network, so administrators can work with their preferred tools and scripting languages without sacrificing coverage. Nodegrid provides centralized orchestration by unifying network management and automation for the entire enterprise architecture in a single platform, allowing teams to significantly improve operational efficiency.
Learn more about how to build network infrastructure for automation and AI with the Nodegrid Services Delivery Platform in our Cisco Live Webinar.
The challenge: Securing enterprise networks
Cyber attacks have a huge impact on network resilience. According to Sophos, ransomware affected 66% of enterprises in 2022 alone, and 70% of those companies took longer than two weeks to recover. Ransomware encrypts critical systems, applications, and data, so the longer it takes to recover, the more business revenue – and customer trust – is lost. 
For example, a MOVEit vulnerability is currently being exploited in one of the biggest ransomware attacks of all time. While Zero Trust security policies and controls can help reduce your attack surface and limit the lateral movement of malicious actors on your network, there's no way to ensure 100% protection from these types of sophisticated attacks. That means organizations need to rethink their approach to resilience by focusing on better recovery strategies.
The solution: Building an isolated recovery environment with Nodegrid
For faster recovery from ransomware, malware, and other attacks, the experts at Gartner recommend building a designated, isolated recovery environment (IRE) that's fully separated from your production infrastructure. The IRE provides the hardware, systems, and tools needed to safely restore data and rebuild applications before they're pushed back to production.
As we mentioned earlier, Nodegrid OOB is the perfect solution for building an isolated infrastructure without adding too much cost or complexity. Nodegrid also goes a step further by hosting your troubleshooting and recovery toolkit, ensuring that teams always have access to the solutions they need for remote recovery, even if they can't access the production network. A Nodegrid IRE improves network resilience by streamlining recovery and minimizing the business impact of cyber attacks.
For more information about recovering from ransomware with an isolated recovery environment, download our whitepaper, 3 Steps to Ransomware Recovery.
Create a resilient network with Nodegrid
The Nodegrid platform is like a network management multi-tool that's customizable to solve your biggest challenges and create a resilient network infrastructure.
To learn more about building a highly resilient, automated network infrastructure with Nodegrid, download the Network Automation Blueprint.