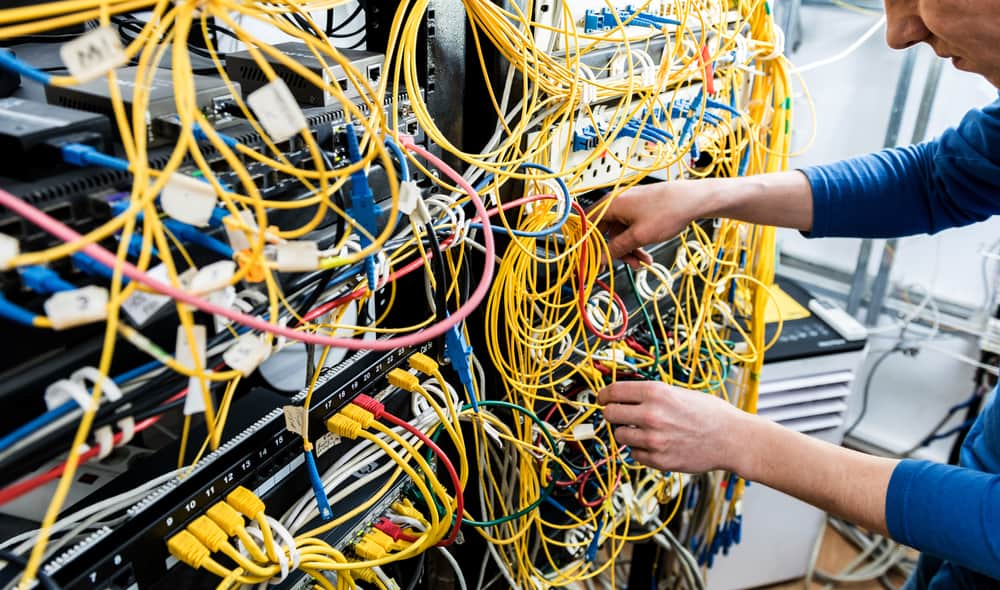 uCPE stands for universal Customer Premises Equipment. A uCPE box is a general purpose networking device used to run virtual network functions, or VNFs. VNFs are essentially software versions of network devices such as routers, switches, and firewalls. That means you can consolidate an entire networking tech stack into a single uCPE box, saving money and reducing management complexity.
Despite the promise of uCPE, the technology has been slow to catch on. In this article, we'll explore the reasons for the lack of popularity of early uCPE before discussing how newer generations overcome these issues to deliver cost savings, simplified management, and other benefits to enterprise customers.
The shortcomings of gen 1 uCPE
Early uCPE devices were generally provided by telecoms and ISPs to host their specific networking software. Customers didn't get to choose the software or virtualization solutions—they had to use whatever the vendor gave them. That meant enterprises didn't have the flexibility to swap out VNFs and software to get the specific features or pricing they wanted, and they couldn't continue using existing solutions that they really liked.
However, the larger issue was that the virtualization technology itself was ahead of its time. Many organizations still didn't have use cases that justified the business disruption and expense of swapping out networking infrastructure with virtualized solutions. Plus, software-based networking was so new that many network administrators and engineers didn't have the skills and experience needed to configure, deploy, and manage fully virtualized tech stacks.
Due to these limitations, enterprises showed minimal interest in uCPE for a long time, leading many to believe that the technology would die out entirely. Instead, forward-thinking hardware and software vendors continued to improve uCPE technology to overcome these shortcomings. In addition, enterprises have been pushing their computing and business operations out to remote locations at the network edge, resulting in the rapid adoption of SD-WAN (software-based wide-area networking) solutions for distributed network management. A greater interest in software-based networking technology, and a need for hardware capable of running that software, has led to a renewed enthusiasm for uCPE.
The next evolution of uCPE
The current generation of uCPE focuses on delivering a truly universal, vendor-neutral platform from which to host, manage, and troubleshoot an entire consolidated tech stack. This is provided in two parts:
The device itself, which runs on an open, Linux-based operating system and supports multiple pinout standards.
An orchestration platform which consolidates the monitoring and management of all uCPE solutions behind a single pane of glass.
Through its a vendor-agnostic hardware, software, and orchestration platform, uCPE benefits enterprise customers in numerous ways, including:
Vendor freedom
Next-gen uCPE devices are capable of hosting any software or virtualization solution from any vendor. This gives enterprise customers the ability to shop around for the best features and pricing for their particular use case. If customers already have a software-based networking solution that works well for them, they can simply migrate it to the uCPE with minimal hassle.
Tech consolidation
A single uCPE box can take the place of an entire rack of networking equipment, reducing the number of devices to install, license, and maintain. This is especially vital for organizations that want to expand their operations to branch offices, edge data centers, and even hard-to-reach locations like oil rigs and research stations. Tech consolidation reduces the time and expense required to deploy remote infrastructure.
Centralized management
The current generation of uCPE includes an orchestration platform capable of observing and controlling the entire distributed network of uCPE boxes and connected infrastructure. Enterprises can deploy hundreds or even thousands of uCPE boxes to locations all over the globe, but they only need to log in to one platform to manage them all. uCPE gives organizations the ability to orchestrate network functions, monitor remote infrastructure, and troubleshoot and respond to issues from behind a single pane of glass, which results in simplified and optimized network management.
SD-WAN capabilities
As organizations have sped up their SD-WAN adoption plans in response to the rise of remote work, edge computing, and distributed network management, the need for universal networking hardware has also quickly increased. Next-gen uCPE devices are the perfect hosts for SD-WAN software solutions because they allow for easy integration with the underlying WAN infrastructure, which run as VNFs on the same box. That means enterprises don't need to invest in new SD-WAN-capable routers and gateways for each remote site. Plus, with a uCPE orchestration platform, it is easier to view and control the entire SD-WAN architecture. 
To take advantage of the benefits promised by uCPE technology, you need to ensure that you choose a platform that's truly vendor-neutral to support your choice of SD-WAN and VNF solutions. The hardware also needs to be powerful enough to run your entire edge networking stack from a single box.
Universal network management with Nodegrid
Nodegrid is a next-gen uCPE platform that delivers universal infrastructure orchestration for enterprise customers. Nodegrid's flexible hardware and open OS give you the freedom to bring your choice of networking devices, SD-WAN solutions, and VNFs. Nodegrid devices are built with CPU and memory headroom and expansive storage options so you can run your entire branch from a single box. Plus, the ZPE Cloud infrastructure orchestration platform gives you complete control over your distributed network, including third-party automation playbooks and workflows.
Ready to learn more?
To learn more about Nodegrid next-gen uCPE, contact ZPE Systems today.