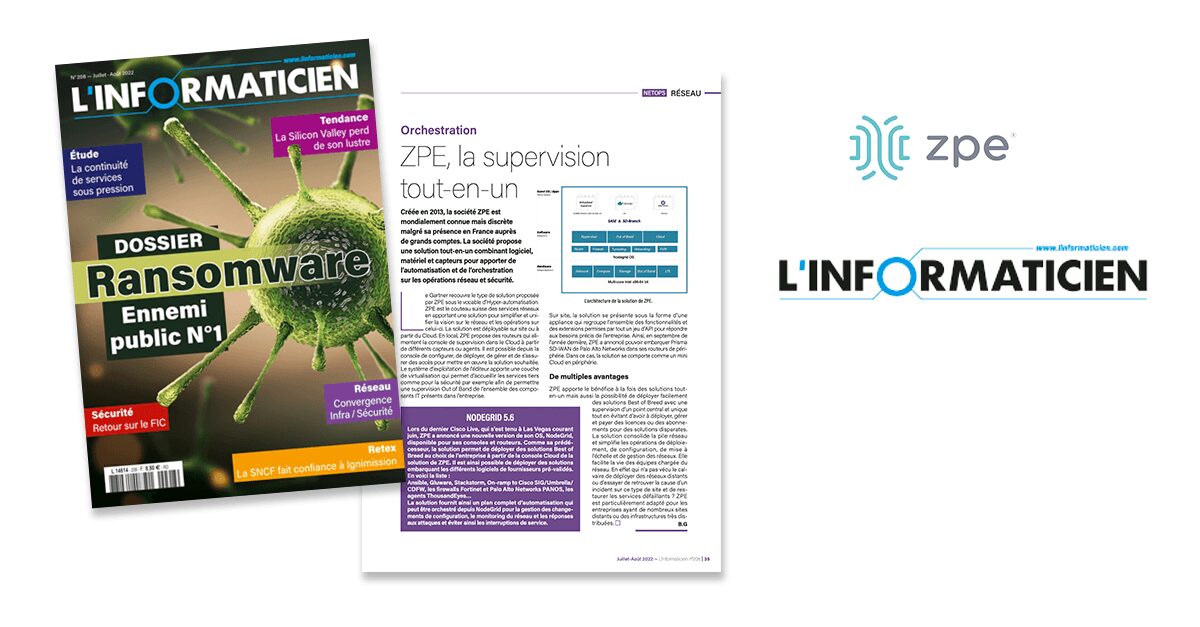 ZPE, All-in-one Supervision
Founded in 2013, ZPE Systems is world famous but discreet despite its presence in France with large accounts. The company offers an all-in-one solution combining software, equipment and sensors to provide automation and orchestration on network operations and security.
Gartner covers the type of solution offered by ZPE under the term of Hyperautomation. ZPE is the Swiss army knife of network services by providing a solution to simplify and unify the vision of the network and the operations on this one. The solution can be deployed on site or from the Cloud. Locally, ZPE offers routers that supply the supervision console in the Cloud from different sensors or agents. It is possible from the console to configure, deploy, manage, and ensure access to implement the desired solution. The publisher's operating system brings a layer of virtualization which makes it possible to accommodate third-party services such as for security, for example, in order to allow Out-of-Band supervision of all the IT components present in the company. On site, the solution comes in the form of an appliance which brings together all the functionalities and extensions allowed by a whole set of APIs to meet specific business needs. Thus, in September of last year, ZPE announced that it could ship Palo Alto Networks Prisma SD-WAN in its edge routers. In this case, the solution behaves like a mini Cloud at the edge.
Multiple advantages
ZPE brings the benefit of both all-in-one solutions but also the ability to easily deploy best-of-breed solutions with a supervision from a central and unique point, while avoiding the need to deploy, manage, and pay for licenses or subscriptions for disparate solutions. The solution consolidates the network stack and simplifies the operations of deployment, configuration, updating network scale and management. This makes life easier for the teams in charge of the network. Who has not experienced the ordeal of deploying remote networks or to try to find the cause of an incident on this type of site and to restore the faulty services? ZPE is particularly suitable for companies with many sites or highly distributed infrastructures
Nodegrid 5.6
During the last Cisco Live, held in Las Vegas during June, ZPE announced a new version of its Nodegrid OS available for its consoles and routers. Like its predecessor, the solution makes it possible to deploy best-of-breed at the choice of the company from the Cloud console of the ZPE solution. It is thus possible to deploy solutions embedding the various software from pre-validated suppliers.
Here is the list:
Ansible
Gluware
Stackstorm
On-ramp to Cisco SIG/Umbrella/CDFW, Fortinet, Palo Alto Networks' PANOS firewalls, ThousandEyes agents
The solution thus provides a complete automation plan that can be orchestrated from Nodegrid for configuration change management, network monitoring and response to attacks and thus avoid service interruptions.