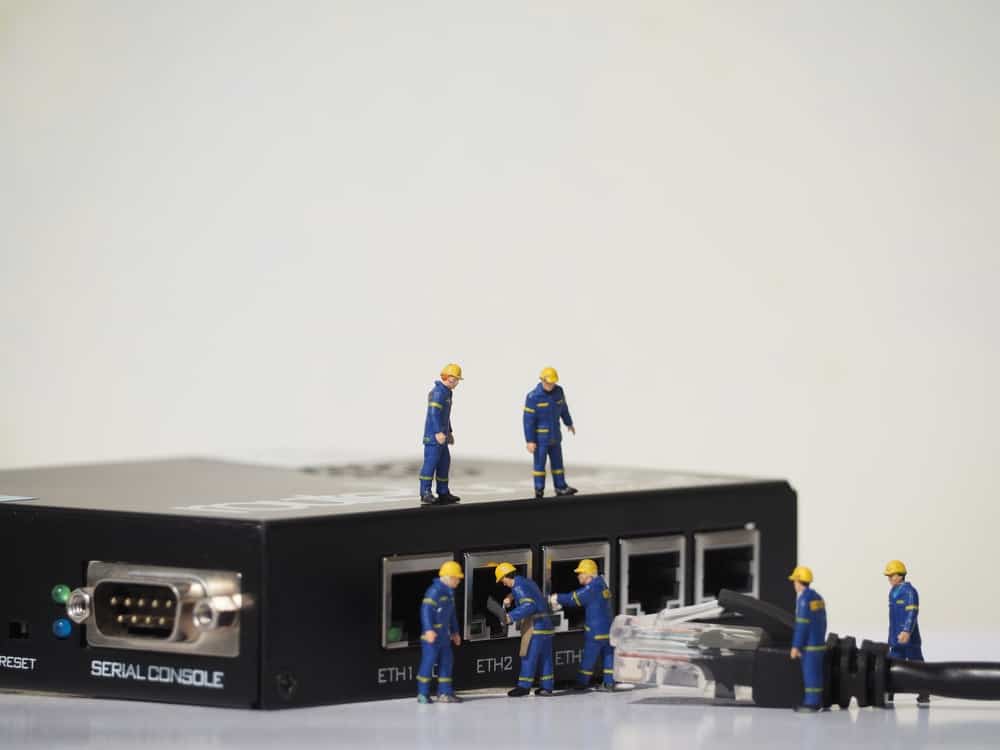 Serial consoles have been used to manage business networks since the 80s, but things have changed significantly since then. What is a serial console's role in modern enterprise networks? In this blog, we discuss the history and evolution of serial consoles as well as the exciting functionality provided by the latest generation.
What is a serial console?
A serial console—a console server, terminal server, serial console router, or serial console switch—is a networking device used to manage other devices. It connects to servers, switches, routers, and other equipment using the serial port (hence the name). Network administrators can then use the serial console to access all connected devices in the data center, server room, or network closet in which it's installed.
Serial consoles allow admins to manage critical infrastructure without needing to log in to each separate device individually. A serial console also provides out-of-band (OOB) management, creating a completely separate network that's dedicated to infrastructure management and troubleshooting. OOB management allows you to remotely troubleshoot, monitor, and administer your infrastructure, and more.
How serial consoles have evolved over time
A basic serial console—also called a Generation 1 serial console—provides consolidated remote access to critical infrastructure. It uses a secondary network connection (such as a dial-up modem or cellular SIM card) so admins can control and troubleshoot equipment without relying on the main production network. Using a Gen 1 serial console, admins can access each connected device's CLI (command line interface).
Gen 1 serial consoles are relatively limited in control, security, and automation. For example, many Gen 1 serial consoles can only manage devices from the same vendor (or a small pool of supported manufacturers). A Gen 1 serial console also lacks in-depth security features like hardware encryption, and generally can't integrate with third-party Zero Trust Security policies and controls. Plus, most Gen 1s completely lack automation capabilities, or limit you to basic CLI scripts for single tasks.
Gen 2 serial consoles
Frustration over these limitations led to significant advancements in the second generation of serial consoles, or Gen 2. With Gen 2 serial consoles, admins get more control, added security features, and expanded automation capabilities.
For instance, most Gen 2 consoles offer management functionality for third-party devices. These serial consoles also have some built-in security features like Trusted Platform Module (TPM) and frequently support advanced authentication methods like AD/LDAP, Kerberos, and RADIUS. Gen 2 serial consoles also allow for greater automation using Python scripts, APIs, and zero touch provisioning (ZTP).
While Gen 2 serial consoles offer more multi-vendor support than their extremely limited predecessors, they still fall short of true vendor neutrality. For instance, managing third-party and legacy devices often requires expensive adapters or complicated configuration tweaks. Many Gen 2 serial consoles also lack support for Zero Trust integrations such as SAML 2.0 (e.g., Okta, Ping, DUO), making it impossible to completely secure your out-of-band network.
Finally, while Gen 2 serial consoles introduce more automation capabilities, their closed architectures make it impossible to implement end-to-end NetDevOps automation. For example, you might only be able to use one specific scripting language or an approved set of playbooks. It's also common for Gen 2 serial consoles to only support ZTP of connected devices from the same vendor, so you're either limited in your automated provisioning capabilities or your choice of infrastructure solutions.
Gen 1 serial consoles provide remote, out-of-band management of multiple devices using CLI commands and scripts over a serial connection. Gen 2 evolved to incorporate more devices, more security features, and more automation capabilities. However, the serial console needed to develop even further to handle the needs of a modern enterprise network.
What is a serial console's role in modern enterprise networks?
Today's enterprise network is larger, more complex, and more distributed than Gen 1 serial console developers could have possibly imagined. Network administrators and engineers need to monitor, manage, and troubleshoot infrastructure devices from many different vendors in many different locations. Networks are also constantly threatened by cybercriminals using sophisticated hacking techniques and state-of-the-art malware. Plus, modern businesses must ensure near-constant availability and optimal network performance to stay competitive. Gen 1 and Gen 2 serial consoles simply can't deliver the control, security, and resilience required by enterprise networks today.
The new Gen 3 serial console addresses older generations' limitations through true vendor neutrality, multi-layered zero trust security, and end-to-end automation capabilities.
Total infrastructure control
Gen 3's complete vendor neutrality makes it possible to extend your automation capabilities—including zero touch provisioning—to every physical and virtual asset in your environment, regardless of manufacturer. Gen 3 serial consoles also give network administrators a virtual presence in remote network locations (like data centers and branch offices) through which they can monitor environmental conditions in the rack, power-cycle and enter the BIOS menu of devices, manage power load distribution, and more.
This control is delivered via high-speed OOB (such as a 5G/4G cellular SIM card), giving you 24/7 remote access to critical enterprise infrastructure, even during an ISP outage. Plus, Gen 3 serial consoles use centralized cloud management, which means engineers can manage and troubleshoot remote infrastructure from anywhere, anytime.
A Gen 3 serial console is based on an open architecture, x86 OS, that supports integrations with your choice of infrastructure solutions, cloud services, and automation toolkits. It also includes flexible port configurations and legacy pinouts to control a variety of devices, such as PDUs, IPMI devices, and environmental monitoring sensors.
Comprehensive security
On a hardware level, Gen 3 serial consoles use features like encrypted disks, UEFI secure boot, and TPM 2.0 to ensure unauthorized users can't access management functionality. Additionally, the OS is frequently updated and patched against new security vulnerabilities before they can be exploited. The Gen 3 serial console also automatically checks the integrity of all newly integrated hardware and software to ensure there are no backdoor vulnerabilities.
A Gen 3 serial console's vendor-neutral platform supports easy integrations with a variety of zero trust security controls. For instance, you can manage user access to a Gen 3 serial console through third-party Identity and Access Management (IAM) solutions, allowing you to follow zero trust best practices like 2FA, SSO, and dynamic trust verification. A Gen 3 serial console can also integrate with on-premises and cloud-based network security solutions such as next-generation firewalls (NGFW), Secure Access Service Edge (SASE), and Security Service Edge (SSE).
A Gen 3 console includes robust onboard security features, which reduces the risk of an attacker using a stolen serial console to access your management network (and ultimately, your production systems and data). Its open architecture also enables integration with zero trust security controls and providers.
End-to-end automation
The open architecture of a Gen 3 serial console makes it possible to integrate with your choice of infrastructure automation and orchestration tools, or directly host VMs and Docker containers so you can run your own tools. With a Gen 3 serial console, you can use solutions like Ansible, Chef, Puppet, or Kubernetes to automate deployments. You can also use any API you want to automate any workload you need to, no matter how complex.
Gen 3's advanced automation capabilities enable full pipeline automation so you can achieve NetDevOps transformation. Gen 3 serial consoles also facilitate immutable infrastructure, allowing faster and more agile deployments, updates, and replacements of critical network resources.
With a Gen 3 serial console, you can create a fully-automated network environment. This allows engineers to work more efficiently and reduces the risk of human error causing an outage or security breach.
Nodegrid Serial Console Plus (NSCP)
A Gen 3 serial console, like the Nodegrid Serial Console Plus (NSCP), gives you complete remote control over every component of your network infrastructure, regardless of location or manufacturer. Nodegrid also secures your OOB management network using zero trust security best practices and comprehensive onboard features. Finally, the Gen 3 NSCP allows you to automate whatever tools you want to use, so you can efficiently manage a complex enterprise network without sacrificing speed, security, or control.
Learn more about Gen 3 serial consoles:
→   Comparing the Best Console Servers for Data Centers in 2022
→   What Makes a Gen 3 Serial Console?
→   Why You Need a Next-Gen OOB Console Server
What is a serial console's role in modern enterprise networks?
Schedule a demo of the Gen 3 Nodegrid Serial Console Plus to see for yourself!