Providing low-level remote access and automation saves hundreds of hours per month for the university's small IT team
One of the largest universities in the United States fosters academics and research for nearly 40,000 students, staff, and researchers. The university sits among the top 10 schools for engineering, and heavily integrates technology into all disciplines, including engineering, computer sciences, and agricultural studies.
The university received a grant to expand, update, and connect their network of campuses, while enhancing infrastructure and mobility, resiliency, and campus amenities.  But having more than 200 on-campus buildings presents a challenge. The campus is home to academic facilities as well as a hospital, airport, 60,000-seat sports stadium, and dozens of leased spaces for local businesses. This makes the university equivalent to a small city, and its network infrastructure is what keeps it all connected.
Their small IT team was responsible for maintaining more than 10,000 management devices, most of which were long past EOL and frequently failing. They needed a refresh, but with a solution that could also reduce the hundreds of hours they spent every month on travel and on-site work. To maximize their day-to-day efficiency, they required a solution that could overcome these operational gaps:
Reducing the 100-150 hours of monthly travel times, by giving engineers the ability to fully access their stack remotely

Reducing the 80-120 hours of monthly on-site work required to maintain the 99.999% SLA, by automating manual jobs such as patching and firmware upgrades

Expanding their management headroom and use-case adaptability, by migrating to IPv6 and reducing the existing 6RU device stack
Download the full case study to see how ZPE's Nodegrid hardware and software solved these problems.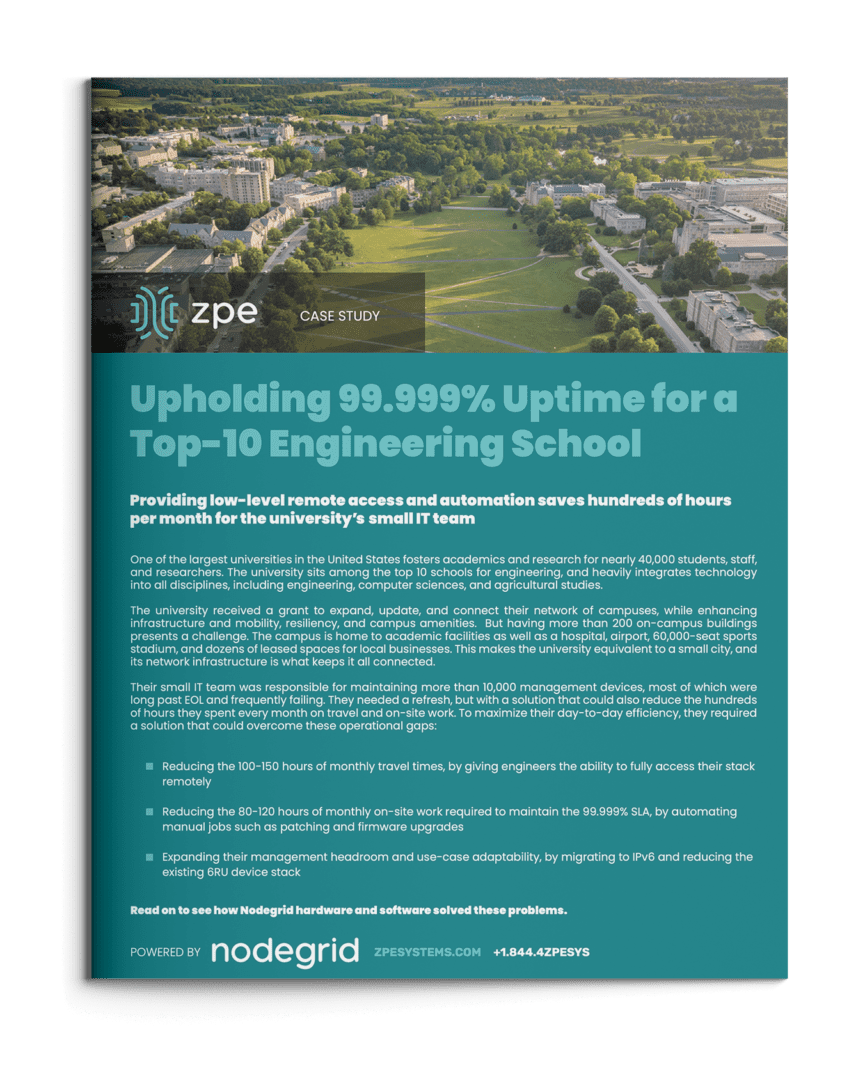 Download the full case study
Problems and Gaps
The university is one of the largest in the United States. It sits among the nation's top 50 schools for research expenditures, and heavily integrates technology into all disciplines, including engineering. Its main campus is home to more than 200 buildings that sit on over 2,500 acres of land. The campus is essentially a small city, and the university's network infrastructure keeps it all connected.
This network infrastructure, however, was well beyond EOL and in disrepair. But rather than simply upgrade to newer devices, the university's small IT team wanted to improve the overall quality of life well into the future. This meant addressing three gaps:
Inefficient management at scale — Each engineer spent an average of ten hours per month on travel alone, just to traverse the campus' wide footprint and get to each MDF/IDF closet.
Too much focus on ops — The aging infrastructure was on the brink of collapse and required each engineer to spend eight hours per month in on-site work, just to keep devices running.
Too many devices — The infrastructure includes roughly 10,000 devices to manage, which was exhausting IP on their limited IPv4 network and too rigid to fit in tight spaces, like their remote farm closets and research labs.
Solution
The university deployed the full lineup of Nodegrid devices, including the Nodegrid Serial Console, Nodegrid Services Routers, and Nodegrid Manager. These allowed them to overcome all three gaps using remote management, automation, and consolidated functionality, to save engineers hundreds of hours every month. Download the full case study to see the complete solution and benefits.