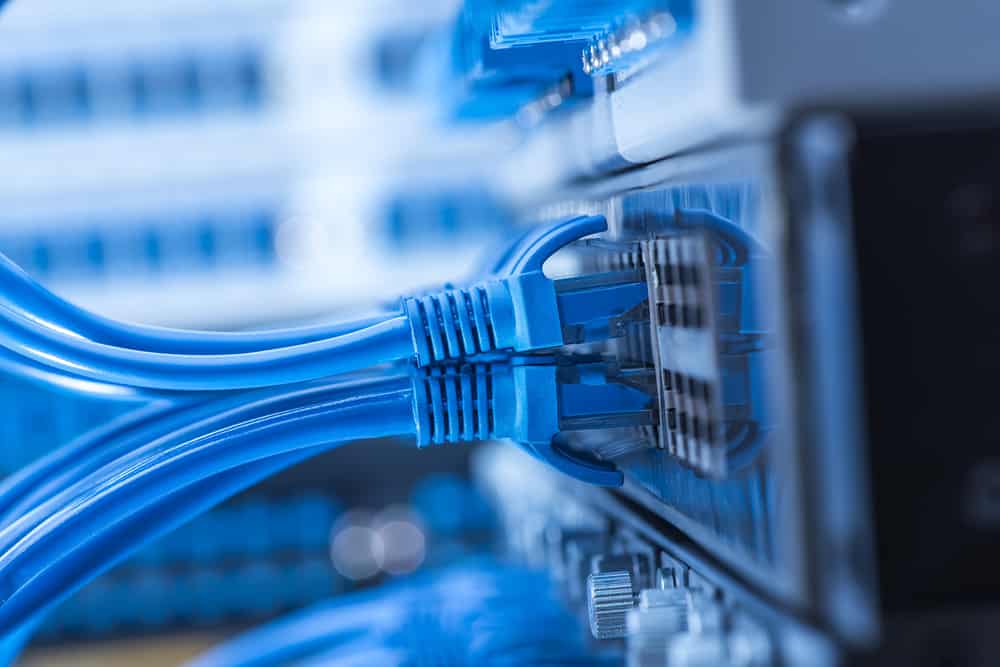 A gateway router is a crucial device for connecting remote IT deployments—such as retail stores, branch offices, or edge data centers—to the primary enterprise network. In this blog, we'll review Opengear's ACM line of gateway routers and explain their key features and limitations. In addition, we'll discuss some Opengear alternatives that provide greater customization, control, and functionality.
The Opengear ACM7000 Resilience Gateway
The Opengear ACM7000 is a compact form-factor network gateway and console server for small remote and edge deployments. The ACM7000 integrates with Opengear's Lighthouse software for centralized management and some automation capabilities. Out-of-band management is provided via the Smart OOBTM feature, with failover to an embedded 4G LTE cellular modem or an optional dial-up PSTN modem.
The Opengear ACM7000 combines gateway routing features with terminal server capabilities, enabling you to reduce the number of devices in your small remote deployments. The ACM7000 comes with 4-8 Cisco pinout serial ports and 4 USB 2.0 console ports, as well as 2 Digital I/O (DIO) ports and 2 High Voltage Digital Outputs (HVDO). Gateway router features include a stateful firewall, DHCP server, DDNS, and IP filtering.
The ACM7000's auto-response feature allows you to write custom scripts that are triggered by specific events such as power failures, environmental sensor alarms, or network outages. These scripts can alert administrators to problems and in some cases remediate issues without human intervention.
Opengear ACM7000 key features
Smart OOBTM management
Centralized management through Opengear Lighthouse
Integrations with Nagios NSCA & NRPE
Link Layer Discovery Protocol (LLDP) automatic device discovery
Failover to embedded 4G LTE cellular modem
SSL and IPsec VPN
Stateful firewall with IP filtering and port forwarding
Automatic monitoring, detection, and recovery from equipment faults
Opengear ACM7000 limitations
The Opengear ACM7000 is what's known as a 2nd generation, or Gen 2, OOB device. That means it provides reliable out-of-band management access and some automation capabilities for individual tasks and workflows. However, the ACM's automation is limited to a handful of supported integrations, specific scripting languages, and Lighthouse playbooks.
Some additional automation functionality—such as end-device zero-touch provisioning (ZTP)—is only available through upgraded versions of Opengear's Lighthouse management software. This makes it challenging to fully automate and orchestrate remote network infrastructure, which is crucial for NetDevOps transformation.
In addition, the ACM7000 only goes part of the way towards consolidating your remote network infrastructure. It combines gateway routing and OOB terminal server capabilities, with an option to add a 4-port Ethernet switch in the 7004-5 models. The Opengear ACM does not include built-in functionality for SD-WAN (software-defined wide area networking), though it has the ability to work with third-party SD-WAN architectures. It also doesn't support hosting for applications, VMs, or containers, which means you'll need additional hardware for things like edge computing and next-generation firewall (NGFW) software hosting.
To get full end-to-end automation of remote and edge network deployments while consolidating your tech stack and reducing operational complexity, you need a Gen 3 OOB gateway like the Nodegrid line of services routers from ZPE Systems.
Opengear alternatives: Nodegrid Services Routers
Nodegrid Services Routers, or SRs, are vendor-neutral, all-in-one branch networking solutions. Nodegrid delivers secure out-of-band management access via your choice of high-speed 5G/4G LTE cellular, Wi-Fi, and/or dial-up modem. Nodegrid hardware runs on the Linux-based, x86-64bit Nodegrid OS to ensure easy integrations with third-party software, including automation and orchestration tools like Puppet, Chef, Ansible, and RESTful APIs. Plus, the ZPE Cloud management platform provides centralized, web-based management of your multi-vendor environments.
Nodegrid's vendor-agnostic platform enables true NetDevOps hyperautomation, which is the ability to fully automate every task and workflow without compromise. That means more efficient management of remote, edge, and branch locations.
Plus, Nodegrid SRs are complete branch-in-a-box solutions, rolling up all your remote network technology into one compact device. For example, the Nodegrid Hive SR is a multi-function box that delivers gateway routing, SD-WAN, Wi-Fi, secure OOB, end-device ZTP, and VM/container/VNF (virtual network functions) hosting for small edge and branch deployments. Another option for more customized and scalable functionality is the modular Nodegrid Net SR (or NSR), which allows you to extend your solution with expansion modules for additional serial, Ethernet, USB, PoE+, and SFP ports as well as storage and compute modules.
Nodegrid Services Routers key features
Strong out-of-band management integration
Extensible applications with virtualization and containers
Zero Touch Provisioning (ZTP) over the WAN for fast and easy remote setup
Centralized, vendor-neutral management through ZPE Cloud and Nodegrid Manager solutions
Modern, open-architecture x86-64bit Linux Kernel with fast security patching
Failover to 5G/4G/LTE and Wi-Fi
SSL VPN & Secure Tunnel
DHCP server with extra IP addresses for remote site, or replace current router altogether
Embedded firewall with IP packet and security filtering, IP forwarding support
Selectable encrypted cryptographic protocols & cyber suite levels
Power control and monitoring to get alerts on device health and solve problems automatically
Orchestration support via Puppet, Chef, Ansible, RESTful
Nodegrid SR models and use cases
Nodegrid SRs are an alternative to Opengear ACM7000 gateways for organizations that need vendor freedom, end-to-end remote network automation, and consolidated technology stacks. With the Nodegrid solution, you get a unified network automation and orchestration platform from which to deploy, monitor, and control your distributed network architecture.
Learn more about remote, branch, and edge networking:
→   How to Choose the Best Branch Office Connectivity Solution for Your Network
→   Why Out-of-Band Remote Access is Critical for Branch Networking
→   Simplifying Network Edge Orchestration With a Single Platform
→   How to Use a Cloud Managed Gateway Router to Optimize OT Automation
Opengear ACM7000 product SKUs
| | |
| --- | --- |
| Product SKU | Description |
| ACM7004-2-L | 4 serial Cisco Straight pinout, ext power, dual 1 GbE Ethernet, Global 4G LTE-A Pro cellular, 2 DIO and 2 output ports |
| ACM7004-2-LMP | 4 serial Cisco Straight pinout, ext power, dual 1 GbE Ethernet, 4G LTE-A Pro cellular, 2 DIO and 2 output ports |
| ACM7004-5-L | 4 serial Cisco Straight pinout, ext power, 1 GbE Ethernet or fiber SFP, 4 port GbE switch, Global 4G LTE-A Pro cellular, dual SIM, 2 DIO and 2 output ports, global power adapter |
| ACM7004-5-LMP | 4 serial Cisco Straight pinout, ext power, 1 GbE Ethernet or fiber SFP, 4 port GbE switch, 4G LTE-A Pro cellular, dual SIM, 2 DIO and 2 output ports, global power adapter |
| ACM7008-2-L | 8 serial Cisco Straight pinout, ext power, dual 1 GbE Ethernet, Global 4G LTE-A Pro cellular, 2 DIO and 2 output ports, global power adapter |
| ACM7008-2-LMP | 8 serial Cisco Straight pinout, ext power, dual 1 GbE Ethernet, 4G LTE cellular, dual SIM, 2 DIO and 2 output ports, global power adapter |
| ACM7004-2 | 4 serial Cisco Straight pinout, ext power, dual 1 GbE Ethernet, 4 USB console ports, 2 DIO and 2 output ports, global power adapter |
| ACM7004-2-M | 4 serial Cisco Straight pinout, ext power, dual 1 GbE Ethernet, 4 USB console ports, PSTN modem, 2 DIO and 2 output ports |
| ACM7004-5 | 4 serial Cisco Straight pinout, ext power, 1 GbE Ethernet or fiber SFP, 4 port GbE switch, 2 DIO and 2 output ports, global power adapter |
| ACM7008-2 | 8 serial Cisco Straight pinout, ext power, dual 1 GbE Ethernet, 4 USB console ports, 2 DIO and 2 output ports, global power adapter |
| ACM7008-2M | 8 serial Cisco Straight pinout, ext power, dual 1 GbE Ethernet or fiber SFP, 4 USB console ports, PSTN modem, 2 DIO and 2 output ports, global power adapter |
Nodegrid Net Services Router (NSR) product SKUs
| | |
| --- | --- |
| Product SKU | Description |
| NSR-TOP1-DAC | 1 RS-232 serial, 1 USB 3.0 console port, 2 USB 2.0 console ports, dual 1GbE Ethernet, dual SFP+ Ethernet, 1 HDMI port, on-board switch, 5 slots, dual AC power |
| NSR-BASE-DAC | 1 RS-232 serial, 1 USB 3.0 console port, 2 USB 2.0 console ports, dual 1GbE Ethernet, dual SFP+ Ethernet, 1 HDMI port, on-board switch, 5 slots, dual AC power |
| NSR-LITE-DAC | 1 RS-232 serial, 1 USB 3.0 console port, 2 USB 2.0 console ports, dual 1GbE Ethernet, dual SFP+ Ethernet, 1 HDMI port, 5 slots, dual AC power |
| NSR-TOP1-SAC | 1 RS-232 serial, 1 USB 3.0 console port, 2 USB 2.0 console ports, dual 1GbE Ethernet, dual SFP+ Ethernet, 1 HDMI port, on-board switch, 5 slots, single AC power |
| NSR-TOP1-SAC-POE | 1 RS-232 serial, 1 USB 3.0 console port, 2 USB 2.0 console ports, dual 1GbE Ethernet, dual SFP+ Ethernet, 1 HDMI port, on-board switch, 5 slots, single AC and PoE power |
| NSR-BASE-SAC-POE | 1 RS-232 serial, 1 USB 3.0 console port, 2 USB 2.0 console ports, dual 1GbE Ethernet, dual SFP+ Ethernet, 1 HDMI port, on-board switch, 5 slots, single AC and PoE power |
| NSR-16ETH-EXPN | NSR 16 port 1GbE Ethernet expansion card |
| NSR-8ETH-POE-EXPN | NSR 8 port 1GbE Ethernet with PoE+ expansion card |
| NSR-16SRL-EXPN | NSR 16 port RJ45 Serial Rolled expansion card |
| NSR-16USB-EXPN | NSR 16 port USB Type A expansion card |
| NSR-8SFP-EXPN | NSR 8 port 1GbE SFP expansion card |
| NSR-16SFP-EXPN | NSR 16 port 1GbE SFP expansion card |
| NSR-DISK-EXPN | NSR Storage expansion card |
| NSR-COMP-EXPN | NSR Compute 4-core, 8GB DDR4, 32GB SATA expansion card |
| NSR-M2-EXPN | NSR M.2 / SATA expansion card |
| NSR-COVER | Accessory: NSR Cover Plate |
| M2-WIFI | Accessory: M.2 Wi-Fi |
| M2-CELL | Accessory: M.2 Cellular – Dual SIM |
| M2-S064 | Accessory: M.2 SATA 64GB |
| M2-S128 | Accessory: M.2 SATA 128GB |
Nodegrid Gate SR product SKUs
| | |
| --- | --- |
| Product SKU | Description |
| GSR-T8-BASE | 8 RJ45 serial rolled, 1 GbE Ethernet, 2 SFP+, 4 GbE Ethernet with built-in switch, 4 PoE+ GbE Ethernet with built-in switch, 2 GPIO ports, 1 digital out port, 1 relay port, 2 USB 3.0 Type A, 2 USB 2.0 Type A, 1 HDMI port, 32GB iSLC SATADOM |
| GSR-T8-UPG1 | 8 RJ45 serial rolled, 1 GbE Ethernet, 2 SFP+, 4 GbE Ethernet with built-in switch, 4 PoE+ GbE Ethernet with built-in switch, 2 GPIO ports, 1 digital out port, 1 relay port, 2 USB 3.0 Type A, 2 USB 2.0 Type A, 1 HDMI port, 128GB iSLC SATADOM |
| GSR-PSU | Accessory: 54VDC external 100-240 VAC, 50/60 Hz power adapter |
| PCI-WIFI-B | Accessory: Mini PCI Wi-Fi |
| M2-CELL-C | Accessory: M.2 Cellular 4G/LTE with dual-SIM |
| GSR-SATA | Accessory: SATA Storage Expansion Kit (HDD/SDD not included) |
Nodegrid Hive SR product SKUs
| | |
| --- | --- |
| Product SKU | Description |
| HSR-N8-BASE | 1 RS-232 serial, 1 mini-USB console port, ext power, dual 1GbE Ethernet or SFP/vDSL, dual 10 Gbps cages for PON or SFP+, 4 10/100/1000/2.5 Gbps RJ45 with VLAN support, +12 VDC PSU w/regional AC cord options |
| CST-GEN-HSR-S | 1 RS-232 serial, 1 mini-USB console port, ext power, dual 1GbE Ethernet or SFP/vDSL, dual 10 Gbps cages for PON or SFP+, 4 10/100/1000/2.5 Gbps RJ45 with VLAN support, +12 VDC PSU w/regional AC cord options, M.2 NVMe 128 GB SSD |
| CST-GEN-HSR-SW4G | 1 RS-232 serial, 1 mini-USB console port, ext power, dual 1GbE Ethernet or SFP/vDSL, dual 10 Gbps cages for PON or SFP+, 4 10/100/1000/2.5 Gbps RJ45 with VLAN support, +12 VDC PSU w/regional AC cord options, M.2 NVMe 128 GB SSD, M.2 802.11ax Wi-Fi 6 dual-band, M.2 dual-SIM 4G LTE cellular |
| CST-GEN-HSR-4G | 1 RS-232 serial, 1 mini-USB console port, ext power, dual 1GbE Ethernet or SFP/vDSL, dual 10 Gbps cages for PON or SFP+, 4 10/100/1000/2.5 Gbps RJ45 with VLAN support, +12 VDC PSU w/regional AC cord options, M.2 dual-SIM 4G LTE cellular |
| CST-GEN-HSR-5G | 1 RS-232 serial, 1 mini-USB console port, ext power, dual 1GbE Ethernet or SFP/vDSL, dual 10 Gbps cages for PON or SFP+, 4 10/100/1000/2.5 Gbps RJ45 with VLAN support, +12 VDC PSU w/regional AC cord options, M.2 5G cellular |
| HSR-PSU | Accessory: 12VDC external 100-240 VAC, 50/60 Hz power adapter |
| HSR-WMNT | Accessory: HSR wall mounting kit |
Nodegrid Link SR product SKUs
| | |
| --- | --- |
| Product SKU | Description |
| LSR-T1-Base | 1 RJ45 serial rolled, 1 GbE SFP, 1 GbE Ethernet with PoE in, 2 GPIO ports, 2 digital out ports, 2 USB 2.0 Type A, 1 VGA port, 16GB SATADOM |
| LSR-T1-UPG1 | 1 RJ45 serial rolled, 1 GbE SFP, 1 GbE Ethernet with PoE in, 2 GPIO ports, 2 digital out ports, 2 USB 2.0 Type A, 1 VGA port, 128GB SATADOM |
| LSR-PSU | Accessory: 12VDC external 100-240 VAC, 50/60 Hz power adapter |
| PCI-WIFI-B | Accessory: Mini PCI Wi-Fi |
| M2-CELL-B | Accessory: M.2 Cellular 4G/LTE with dual-SIM |
| LSR-SATA | SATA Storage Expansion Kit (HDD/SDD not included) |